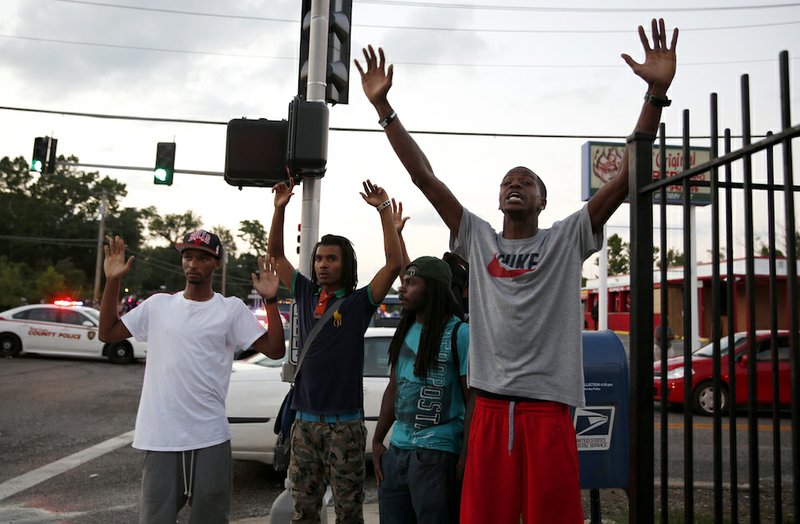 Protesters yell at police Monday, Aug. 11, 2014, in Ferguson, Mo. The FBI opened an investigation Monday into the death of 18-year-old Michael Brown, who police said was shot multiple times Saturday after being confronted by an officer in Ferguson. Authorities in Ferguson used tear gas and rubber bullets to try to disperse a large crowd Monday night that had gathered at the site of a burned-out convenience store damaged a night earlier, when many businesses in the area were looted.
FERGUSON, Mo. — Police in riot gear fired tear gas into a crowd of protesters in a St. Louis suburb where an unarmed black teenager had been fatally shot by police over the weekend, as tension rose even amid calls for collective calm.
Between two nights of unrest, a community forum hosted by the local NAACP chapter Monday night drew hundreds to a sweltering church in Ferguson, the nearly 70 percent black St. Louis County suburb where an unarmed 18-year-old, Michael Brown, was shot multiple times by a police officer.
Ferguson Police Chief Tom Jackson said a large crowd that gathered throughout Monday at the site of a burned-out convenience store turned rowdy at nightfall, throwing rocks at police. Officers used tear gas and shot "beanbag rounds" meant to stun them, he said.
St. Louis County police spokesman Brian Schellman said there were at least five arrests and no reports of looting. Nearly three dozen people were arrested after a candlelight vigil Sunday night when crowds burned stores, vandalized vehicles, assaulted reporters and taunted officers.
"People are tired. They have reached the end of their rope," said Ruth Latchison Nichols after the NAACP forum, where many more were left waiting outside once the pews reached capacity. "Enough is enough. This is a state of emergency."
Early Tuesday, the streets of Ferguson were once again calm. A handful of police officers sat in patrol cars near a burned out gas station, vastly outnumbered by the news crews putting together their early reports.
Read Wednesday's Arkansas Democrat-Gazette for full details.
Sponsor Content