WASHINGTON -- Arkansas agriculture and business groups applauded the Cuba trade, travel and diplomatic policy announced by President Barack Obama on Wednesday.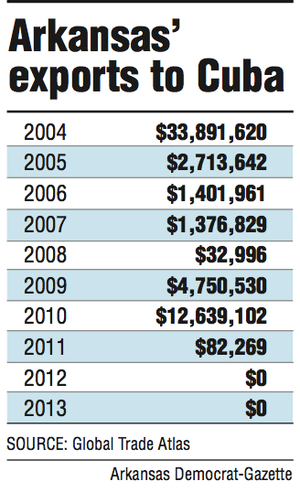 Photo by Source: Global Trade Atlas / Arkansas Democrat-Gazette
A listing of Arkansas' exports to Cuba from 2004 to 2013.
Arkansas has pushed to improve relations with Cuba for decades. The state Legislature has repeatedly passed resolutions calling for Congress to lift its embargo on Cuba. Governors, members of Congress and industry leaders repeatedly have visited Cuba.
Members of Arkansas' congressional delegation were divided over the president's actions, with some saying it sets a dangerous precedent and others lauding it as the only way to move forward.
Cuba has been under a U.S. trade embargo since October 1960, shortly after Fidel Castro took power there and months before he declared communist rule. It would take congressional action to fully lift the embargo.
Obama announced that he is easing America's policy on Cuba by restoring diplomatic relations, reviewing Cuba's designation as a state sponsor of terrorism, and increasing travel and trade to and from the island country that is 90 miles from Florida.
The move could have big implications for rice and poultry exports, which have been stymied by a 2005 U.S. policy that requires Cuban buyers to pay cash and go through third-party banks.
Arkansas exported nearly $34 million in goods to Cuba in 2004, according to the Arkansas Economic Development Commission, but by 2011, exports to Cuba had dropped to $82,269 and then to nothing in 2012 and 2013. The state exported $5.6 billion worldwide in 2011, sending $1.4 billion worth of goods to Canada that year and $678.9 million to Mexico.
Arkansas agricultural industry groups and companies said they are ready for the opportunity to export more food to Cuba.
Bill Reed, spokesman for Riceland Foods in Stuttgart -- the nation's largest miller and marketer of rice -- said Wednesday that Riceland is in a position to quickly fill any orders from Cuba.
"There is a supply of rice here [from the 2014 crop], and we would be certainly very interested in offering prices for delivery to Cuba," Reed said. "It would be a matter of just milling the rice and getting it shipped."
Currently, Cuba consumes 551,150 tons of long-grain rice each year, he said, valued at between $225 million and $275 million. "It would be a good chunk of business if the U.S. could capture all of that," he said.
Cubans prefer long-grain rice, the primary variety grown in Arkansas, and the island nation was the No. 1 market for U.S. rice before the trade embargo, Reed said. Today, Cuba gets its rice primarily from Vietnam and other Asian countries, he said. No U.S. rice has been exported to Cuba since 2006, even though the U.S. is generally among the world's top five rice exporters, he said.
Lower transportation costs could set U.S. producers apart from the competition. It currently takes six to eight weeks for shipments to arrive from Asia, he said. American companies could move the goods in a few days using smaller vessels that could visit many ports.
Worth Sparkman, a spokesman for Tyson Foods, said in an email that the policy change will be positive for U.S. agriculture and businesses. Sparkman wouldn't divulge the volume or sales of the company's export business to Cuba.
"We've been doing business with Cuba under the existing rules, and we welcome any reforms that will help simplify these transactions in the future," he said. Tyson has locations around the U.S. and internationally, and Sparkman did not specify from where the exports originated.
Arkansas Farm Bureau President Randy Veach said normalizing trade with Cuba could shore up commodity prices, which have fallen in recent months, by creating a new, more-open market for farmers.
The requirement that payments be cash and through third-party financial institutions has complicated efforts. Direct deals between Cuban and U.S. financial institutions will help, he said.
"That's going to streamline what we can do with Cuba, and that's going to improve our markets and give us another big market for the farmers and ranchers in Arkansas," Veach said.
Arkansas Agriculture Secretary Butch Calhoun said normalizing trade with Cuba "is going to be a real boon for Arkansas."
"I think it's hard to put a figure on how important it is for Arkansas agriculture, especially the rice industry," Calhoun said.
He said the state has sent many trade delegations to Cuba to prepare for the end of trade restrictions. He said he expects that over the long term, the Cuba market will be good for commodity prices, including rice, soybeans, corn and wheat.
Arkansas politicians have joined industry groups and others on trips to Cuba over the past few decades to maintain the state's relationship with that country.
In 1987, U.S. 1st District Rep. Bill Alexander sent two delegations to the island. He was ridiculed for trying to open trade with Cuba, rice farmer and Democratic activist Harvey Joe Sanner of Des Arc said. That attitude has changed, he said.
"The embargo has been very damaging to U.S. agriculture, and it hasn't done what they said it was going to do," he said. "I'm elated and sorry that it's taken this long."
Sanner said he met with President Castro twice on his trip there, and Castro said he "could be" interested in buying American rice.
Delta Grassroots Caucus Director Lee Powell, who also traveled to Cuba with Alexander in 1987, praised the policy change.
"The embargo has done absolutely nothing to change Cuba's authoritarian regime, and when a policy has not worked for 50 years, it's just common sense that it's time for a change," Powell said. "Once capitalism starts infiltrating Cuba, this will undermine the communist regime."
The embargo didn't seem to be working when former Arkansas Farm Bureau President David Hillman visited Cuba in 2000 with U.S. Rep. Marion Berry, D-Ark., and U.S. Sen. Blanche Lincoln, D-Ark., Hillman said.
"I didn't feel like it was effective then, and I certainly applaud the president for finally taking the right steps to establish normal relationships with Cuba," said Hillman, now a Democratic state representative from Almyra in Arkansas County.
Berry and Lincoln co-sponsored legislation in 2010 to lift the embargo.
In 2009, Arkansas Gov. Mike Beebe, a Democrat, visited Cuba with a contingent of lawmakers, economic development officials and business leaders.
Beebe spokesman Matt DeCample said the governor saw a "rich opportunity" in Cuba for Arkansas agriculture and was waiting to hear more details about the president's actions.
"If, in fact, we do see these changes and it does open up markets, we think that you'll see some very measurable benefits for both the rice and poultry industries in Arkansas," DeCample said.
Arkansas' congressional delegation was divided over the president's actions.
U.S. Sen. John Boozman, a Republican from Rogers, has long been a supporter of lifting the embargo.
"We've kind of been running the same play for decade after decade, and it hasn't worked," Boozman said. "I believe when you trade with people, trade goods and services, you also trade ideas, and that's how you change the world."
U.S. Reps. Tom Cotton and Steve Womack issued statements criticizing the change in U.S. policy, which came after a prisoner swap between the two countries.
"This is a dangerous approach. Little has changed in Cuba over the last five decades, yet we've given in to their demands," said Cotton, a Republican from Dardanelle, who will become a U.S. senator next year.
Womack, a Republican from Rogers, agreed.
"Too many Americans have paid the ultimate sacrifice for our freedom and the freedom of other nations to negotiate with a communist dictator notorious for the oppression of his people," he said.
U.S. Rep. Rick Crawford, a Republican from Jonesboro, said in a statement that he will be a voice for Arkansas businesses during the debate.
"While I welcome the restoration of trade between the U.S. and Cuba on behalf of Arkansas agriculture and manufacturers, Congress must proceed with caution and deliberation in response to the president's decision," he said.
Information for this article was contributed by Brian Fanney of the Arkansas Democrat-Gazette.
A section on 12/18/2014