WASHINGTON -- The United States will restore full diplomatic relations with Cuba and open an embassy in Havana for the first time in more than a half-century after the release of an American contractor held in prison for five years, President Barack Obama announced Wednesday.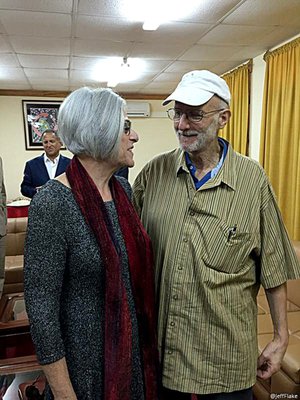 Photo by SEN. JEFF FLAKE / AP
Alan Gross and his wife, Judy, get ready to leave Cuba on Wednesday in the above photo posted on the Twitter account of U.S. Sen. Jeff Flake, R-Ariz. The U.S. government satellite telephone contractor had been held in a Cuban prison for five years after his arrest in 2009.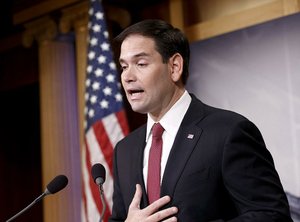 Photo by J. SCOTT APPLEWHITE / AP
"I intend to use every tool at our disposal in the majority to unravel as many of these changes as possible," Sen. Marco Rubio, R-Fla., a son of Cuban immigrants, said Wednesday about President Barack Obama's move to normalize relations with Cuba.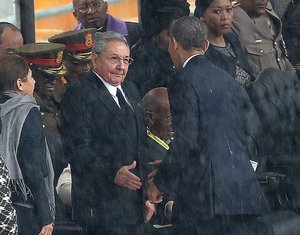 Photo by AP
Cuban President Raul Castro greets President Barack Obama during a memorial service Dec. 10, 2013, for South African leader Nelson Mandela. In an address to his nation Wednesday, Castro said "President Obama's decision deserves the respect and acknowledgment of our people."
In a deal negotiated during 18 months of secret talks hosted largely by Canada and encouraged by Pope Francis, who hosted a final meeting at the Vatican, Obama and President Raul Castro of Cuba agreed in a telephone call to put aside decades of hostility to find a new relationship between the United States and the island nation 90 miles off the U.S. coast.
"We will end an outdated approach that for decades has failed to advance our interests and instead we will begin to normalize relations between our two countries," Obama said in a nationally televised statement from the White House.
The deal will "begin a new chapter" and move beyond a "rigid policy that is rooted in events that took place before most of us were born," he said.
Obama has long expressed hope of transforming relations with the island nation, an aspiration that remained untenable as long as Cuba held Alan Gross, a U.S. government contractor arrested in 2009 and sentenced to 15 years in a Cuban prison.
Gross traveled on a U.S. government plane back to the United States on Wednesday, and the United States sent back three Cuban spies who had been in a U.S. prison since 2001.
U.S. officials said the Cuban spies were swapped for a U.S. intelligence agent who had been in a Cuban prison for nearly 20 years. Gross was not technically part of the swap, they said, but was released separately on "humanitarian grounds."
In addition, the United States will ease restrictions on remittances, travel and banking relations, while Cuba will release 53 Cuban prisoners identified as political prisoners by the U.S. government.
A decades-old U.S. embargo on Cuba will remain in place for now, but the president called for an "honest and serious debate about lifting" it, which would require an act of Congress.
"These 50 years have shown that isolation has not worked," Obama said. "It's time for a new approach."
Several congressional Republicans vowed Wednesday to do everything in their power to block Obama's move to restore relations with Cuba, which they said will make it harder to promote democracy there.
Addressing such critics, Obama said he shares their commitment to freedom.
"The question is how we uphold that commitment," he said. "I do not believe we can keep doing the same thing for over five decades and expect a different result."
At the same time Obama spoke, Castro spoke on Cuban television, taking to the airwaves with no introduction and announcing that he had spoken by telephone with Obama.
"We have been able to make headway in the solution of some topics of mutual interest for both nations," he announced, emphasizing the release of the three Cubans. "President Obama's decision deserves the respect and acknowledgment of our people."
Only afterward did he mention the reopening of diplomatic relations.
"This in no way means that the heart of the matter has been resolved," he said. "The economic, commercial and financial blockade, which causes enormous human and economic damages to our country, must cease." But, he added, "the progress made in our exchanges proves that it is possible to find solutions to many problems."
First call
Obama spoke with Castro by telephone Tuesday to finalize the agreement in a call that lasted more than 45 minutes, the first direct contact between the leaders of the two countries in more than 50 years, U.S. officials said.
Diplomatic relations between the United States and Cuba were severed in January 1961 after the rise of Fidel Castro and his communist government. Raul Castro took over the country's leadership temporarily in 2006 because of Fidel's health problems and was made president in 2008 after his ailing brother said he would not seek the post again.
Obama has instructed Kerry to immediately initiate discussions with Cuba about re-establishing diplomatic relations and to begin the process of removing Cuba from the list of states that sponsor terrorism, which it has been on since 1982, the White House said.
Officials said they would re-establish an embassy in Havana and carry out high-level exchanges and visits between the two governments within months.
Obama will send an assistant secretary of state to Havana next month for talks on Cuban-American migration and will attend a Summit of the Americas meeting along with Castro. The United States also will begin working with Cuba on issues such as counternarcotics, environmental protection and human trafficking.
In addition, the United States will ease some travel restrictions, including family visits; official visits; journalistic, professional, educational and religious activities; and public performances, officials said. Ordinary tourism will remain prohibited.
Obama also will allow greater banking ties, making it possible to use credit and debit cards in Cuba, and raise the level of remittances allowed to be sent to Cubans to $2,000 every three months from the current limit of $500. Intermediaries forwarding remittances will no longer require a specific license from the government.
U.S. travelers also will be allowed to import up to $400 worth of goods from Cuba, including up to $100 in tobacco and alcohol products.
Many U.S. lawmakers criticized the deal Wednesday.
Sen. Marco Rubio, R-Fla., a son of Cuban immigrants who may run for president in 2016, denounced the policy as "another concession to a tyranny."
"This whole new policy is based on an illusion, on a lie: the lie and the illusion that more commerce and access to money and goods will translate to political freedom for the Cuban people," Rubio said. "All this is going to do is give the Castro regime, which controls every aspect of Cuban life, the opportunity to manipulate these changes to stay in power."
Lifting the full trade embargo would require action by Congress, where both chambers will be led by Republicans starting in January.
"This Congress is not going to lift the embargo," Rubio said. "I intend to use every tool at our disposal in the majority to unravel as many of these changes as possible."
Several Republican lawmakers said Wednesday that they agreed with Rubio's position.
Some Democrats also were critical, including New York Rep. Eliot Engel, the top Democrat on the House Foreign Affairs Committee, and Sen. Robert Menendez, D-N.J., the chairman of the Senate Foreign Relations Committee.
Menendez, whose parents also fled Cuba during Fidel Castro's reign, said he was disappointed in Obama.
"I think the president's actions have created a challenge for us globally," he said. "There is no equivalence between an international aid worker and convicted spies who were found guilty of conspiracy to commit espionage against the U.S."
But Sen. Dick Durbin of Illinois, the Senate's second-ranking Democrat, hailed Gross' release and cast the normalization of relations as an opportunity to promote democracy in Cuba.
"Opening the door with Cuba for trade, travel and the exchange of ideas will create a force for positive change in Cuba that more than 50 years of our current policy of exclusion could not achieve," Durbin said.
Freed prisoners return
Gross landed at Andrews Air Force Base outside Washington shortly before noon Wednesday.
At a news conference in Washington later, Gross said he supported Obama's move toward normalizing relations with Cuba, adding that his own ordeal and the injustice with which Cuban people have been treated were "a consequence of two governments' mutually belligerent policies."
"Five and a half decades of history show us that such belligerence inhibits better judgment," Gross said. "Two wrongs never make a right. This is a game-changer, which I fully support."
Gross was in Cuba to deliver satellite telephone equipment that was capable of cloaking connections to the Internet when he was arrested in 2009. Cuban authorities, who tightly control access to the Internet in their country, initially said he was a spy, and a court there convicted him of taking in the devices without a permit as part of a subversive plot to "destroy the revolution."
Gross' health has been failing while he was imprisoned. After turning 65 in May, he told relatives that he might try to kill himself if not released soon.
Cuba has often raised the case of three of its spies serving federal prison time in Florida, saying they had been prosecuted unjustly and urging that they be released on humanitarian grounds. State Department officials insisted that the cases were not comparable and that Gross was not an intelligence agent.
The three Cuban agents were part of the Red Avispa, or the Wasp Network, in Florida. Obama used his clemency power to commute their sentences, and they were flown to Cuba by the U.S. Marshals Service.
The unnamed U.S. intelligence agent traded for them returned to U.S. soil on Wednesday as well. That agent, described by the Office of the Director of National Intelligence only as "a Cuban individual," has been imprisoned in Cuba for nearly two decades.
Officials said he was instrumental in identifying the Cuban agents who were sent back Wednesday.
He also provided information that led to the conviction of other Cuban spies in the U.S., including Ana Belen Montes, a Defense Intelligence Agency senior analyst; Walter Kendall Myers, a former State Department official; and his wife, Gwendolyn Myers.
Obama said his "sacrifice has been known to only a few," and called him "one of the most important intelligence agents that the United States has ever had in Cuba."
Gross worked for Development Alternatives, of Bethesda, Md., and had traveled to more than 50 countries as an international development worker. The company had a $6 million contract with the U.S. Agency for International Development to distribute the equipment that could get around Cuba's Internet blockade, and Gross had made four previous trips to Cuba in 2009.
The U.S. government has spent $264 million over the past 18 years, much of it through the development agency, in an effort to spur democratic change in Cuba.
The agency said in November that it would cease the kinds of operations that Gross was involved in when he was arrested, as well as those that allowed a contractor to set up a Twitter-like social network that hid its ties to the U.S. government.
After Obama's announcement Wednesday, USAID administrator Rajiv Shah said he will step down from his post in February.
Shah gave no public reason for leaving the agency he's led since 2000. In a statement released Wednesday morning, he said he had "mixed emotions" but did not elaborate.
Information for this article was contributed by Peter Baker, Michael R. Gordon, Julie Hirschfeld Davis, David Gonzalez and Randal C. Archibold of The New York Times; by Kathleen Hunter, Billy House, Heidi Przybyla, Derek Wallbank, Kathleen Miller, Angela Greiling Keane, Kristin Jensen and Terrence Dopp of Bloomberg News; and by Ken Dilanian, Nedra Pickler, Eric Tucker, Jack Gillum and Desmond Butler of The Associated Press.
A Section on 12/18/2014