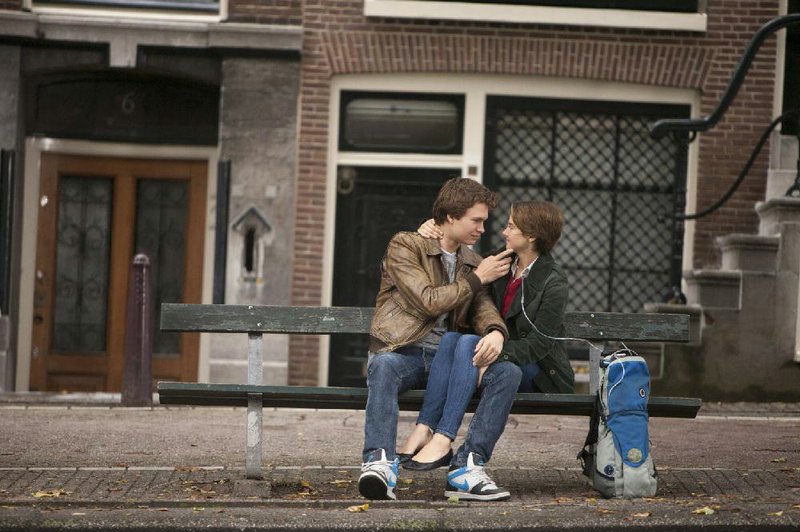 Gus (Ansel Elgort) and Hazel (Shailene Woodley) make an atypical screen couple in The Fault in Our Stars, a bittersweet romantic comedy adapted from John Green's popular young adult novel.
Resolved to reduce its viewers to tears, The Fault in Our Stars has thankfully been made with enough sincerity, wit and heart to earn them. Director Josh Boone (Stuck in Love) covers some potentially maudlin and off-putting subject matter with remarkable assuredness. For a movie involving cancer, youthful fatalities and other heartbreaking developments, The Fault in Our Stars is remarkably entertaining and achieves a balance most tightrope walkers would envy.
As the film's afflicted heroine Hazel Grace Lancaster, Shailene Woodley carries the film without seeming to break a sweat. That's remarkable because she's playing someone who can only breathe by lugging around an oxygen tank.
The Fault in Our Stars
87 Cast: Shailene Woodley, Ansel Elgort, Laura Dern, Nat Wolff, Sam Trammell, Willem Dafoe
Director: Josh Boone
Rating: PG-13, for thematic elements, some sexuality and brief strong language
Running Time: 125 minutes
Hazel has survived stage four cancer that has spread to her lungs. But for her, survival doesn't seem like much of a miracle. Her chances of living beyond her teens are dim, and all of her mother's (Laura Dern) happy talk only makes the lass feel more glum and alone.
From this description, Hazel might come off as dreary and morose as her situation. Thankfully, she has a barbed way of expressing herself that reveals a desire to make something of her short life that even she probably doesn't know that she has. Hazel laments that a Peter Gabriel song playing in the background won't make her problems go away the way it does in other movies, but Woodley plays Hazel so you never pity her.
It probably doesn't hurt that droll and handsome Gus (Ansel Elgort) has started attending her support group. Gus often comes off like an overconfident jock, and he was one until the Big C took one of his legs. He takes an instant liking to Hazel Grace, whom he calls by both given names. He begins reading An Imperial Affliction, the same dark, heavy novel she has been devouring.
Soon the pair are corresponding with the book's anti-social author (Willem Dafoe), in an effort to parse some of the book's more baffling passages. It's a given that Hazel and Gus will become bright spots in each other's lives, but screenwriters Scott Neustadter and Michael H. Weber (who also collaborated on 500 Days of Summer and The Spectacular Now), working from John Green's popular novel, have some ominous surprises waiting for them and the audience.
Elgort thankfully has more to do than look broad-shouldered, and the supporting cast is solid. It's a rare film that plays a young man (Nat Wolff) losing his eyesight to cancer for laughs, but Boone and the screenwriters never lose track of the seriousness of the subject matter.
They also manage to imbue the film with much of the book's literary feel without reducing it to shallow, talky stupor. For a movie that features lots of texting and keyboard-based conversations, Boone manages to keep the film interesting to look at and keeps the two-hour running time brisk.
Sometimes filmmakers behave as though they deserve congratulations simply because they've tried to address weighty subject matter. Well, these folks haven't cured cancer, but they have made a movie that might bring some comfort to those whose lives have been crashed by this very real affliction. That might be an accomplishment in itself.
MovieStyle on 06/06/2014
Print Headline: The Fault in Our Stars
Sponsor Content