The state House of Representatives has passed funding to continue Arkansas's private option Medicaid expansion, approving the bill after four attempts last month came up short.
The House voted 76-24 Tuesday in favor of the Senate version, which passed on its first try last month. It will next go to Gov. Mike Beebe.
It was the fifth vote for the private option bill in the House. No previous attempt got more than 72 votes.
Beebe said he was "obviously" pleased by the vote, which he said should have been an easier process than when legislators narrowly approved the private option last year. This time around, they had approval of the program from the federal government and a host of tax cuts passed based on its savings, he said.
"If anything, it was even more compelling this time to do it than it was last time — not to mention the fact you'd be throwing 100,000 people off healthcare" if it didn't pass, he said.
House Speaker Davy Carter, R-Cabot, who expressed optimism the bill would ultimately pass even as it fell short in previous attempts, applauded legislators for the passage.
"I think the story is about a lot of things and one is it's about political courage," he said. "I truly do believe this is an example set for the rest of the country."
The vote came after several speeches on the floor for and against the bill.
Rep. Kim Hammer, R-Benton, announced he would vote for the bill after previously opposing it.
"There are people who will be hurt if I don't vote for this," Hammer said. "And I don't want to see those innocent people hurt because of that."
Hammer — who joined Reps. Les "Skip" Carnine and Mary Lou Slinkard in switching to yes votes — said he had not "betrayed" opponents of the bill and would not shy from voting against it next year if the program is not successful.
"I haven't stepped away from it," he said. "I plan on coming back in January. And it better be successful. Otherwise it will be voted down."
Others reiterated their opposition to the bill, including Rep. Randy Alexander, R-Fayetteville, who said he would never vote for an Affordable Care Act bill because he thinks it cannot succeed.
"It's impossible, even if we could afford it," he said. "It will destroy quality healthcare in this country. And in the end, the poor will suffer most of all."
Carter expressed optimism the bill would ultimately pass, saying the House would vote each day until it did so.
But after the first four tries, the House stopped voting daily. Tuesday's vote was the first since Feb. 21.
The Senate voted 27-8 to pass the bill after Sen. Jane English, R-North Little Rock, agreed to shift from opposing the measure to supporting it in exchange for a statewide program that aims to better workforce training.
Carter vowed at the start of the fiscal session last month that the private option would pass both the House and Senate, adding that failing to do so would create a nearly $90 million hole in the budget.
The private option plan allows the state to buy private insurance for Arkansans with incomes of up to 138 percent of the poverty level using federal Medicaid money.
The program initially is covered entirely by federal funds, but the state by 2020 would have to pay for 10 percent of it.
Read more in Wednesday's Arkansas Democrat-Gazette.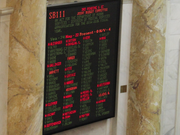 A caption previously accompanying a photo with this story contained an error about Rep. Randy Alexander's vote on the private option Tuesday. He voted against it.