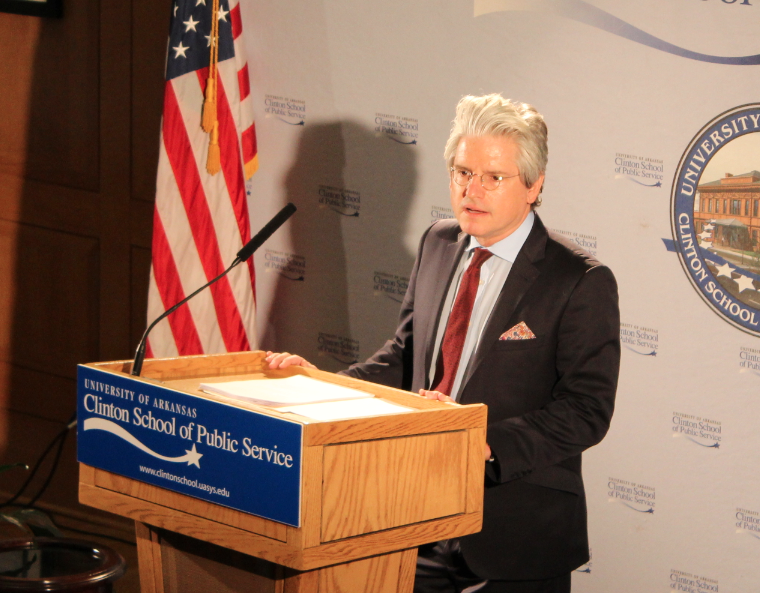 David Brock speaks Tuesday at the Clinton School of Public Service. ( Gavin Lesnick)
A onetime staunch critic of Bill Clinton who worked in the 1990s to expose scandals about the president says those "mudslinging" efforts were politically motivated and wrong.
But David Brock, who spoke Tuesday at the University of Arkansas Clinton School of Public Service in Little Rock in a return to Arkansas for the first time since the Clinton presidential years, said he is now committed to defending the Clintons from similar scandals he says are being manufactured through conservative misinformation.
Brock is the founder of Media Matters for America, a group that purports to work to correct misinformation as the 2016 election — and a potential Hillary Clinton campaign — looms.
It's a far cry from when Brock arrived in Little Rock in the early 1990s to plot a "campaign of dirty tricks ... to make sure Bill and Hillary Clinton would never make it to the White House," he recalled in a lecture at the Clinton School's Sturgis Hall titled "Countering the Culture of Clinton Hating."
"I was a part of what Hillary Clinton would later call the vast right-wing conspiracy," Brock said.
Though his pre-election efforts didn't stop a Bill Clinton win, Brock continued in what he called a "dirt-digging expedition" through his work at the American Spectator magazine's Arkansas Project.
That led to a story later dubbed Troopergate about Arkansas State Police troopers who claimed to have helped arrange sexual encounters for Bill Clinton when he was governor.
"I learned more than I bargained for," Brock said. "Getting to know the troopers and their handlers exposed me for the first time to the reality of Clinton hating, which I could see had its origins here in Arkansas among racists who deeply resented Bill Clinton's early embrace of civil rights."
Troopergate went national, but "almost none of those troopers' stories turned out to be true," Brock recalled Tuesday, adding he later learned a political group close to Newt Gingrich "paid those troopers to talk."
After the trooper story, which Brock called a "setup and a sham," a publisher commissioned him to write a "political hit job" on Hillary Clinton before the 1996 elections. But, he said, extensive research and interviews revealed a different story.
"What I found I knew my audience did not want to hear," he said. "As I did my reporting, I came to see what Hillary Clinton's admirers saw in her, what I think we all see in her today: a steadfast commitment to public service and a deep desire to affirm the good and virtues of politics, all too rarely seen in her generation."
Brock's outlook shifted, but he said his work before turned out to be a "rough model of things to come" in later election cycles. He called efforts to "tarnish" Hillary Clinton's record on the September 2012 Benghazi, Libya, attacks a "faint echo of the most outlandish charges that were surfaced by the Arkansas project 20 years ago."
"There used to be a respected intellectual conservative movement in the country that contributed to a healthy discourse," he said. "That movement now has been gutted by assorted billionaires and shock jocks who realize they can use fear and sensationalism to undermine honest debate."
Brock said political parties should commit to a "thoughtful debate" that focuses on real issues relevant to public office and not manufactured attacks. After all, Brock noted, those tactics didn't stop Bill Clinton from winning election and reelection.
"I know from personal experience that the best efforts of the right-wing to market political smut did not defeat the Clintons," he said. "The truth won out in the end, and it will again."
Sponsor Content