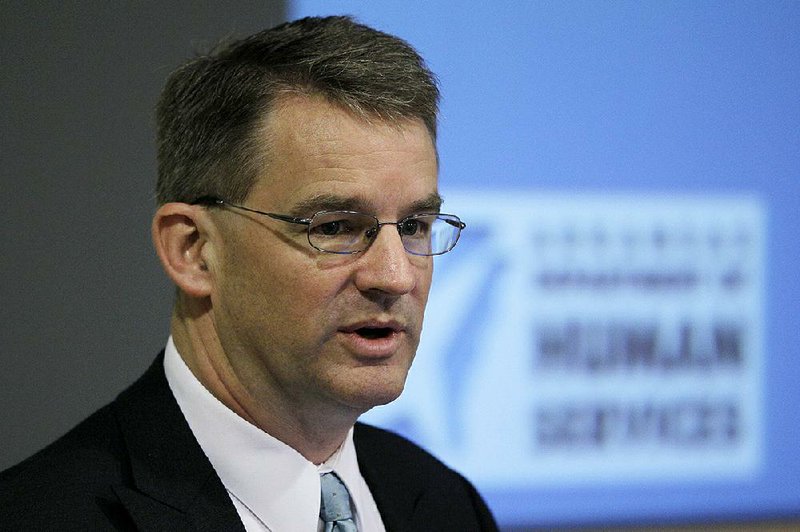 Arkansas Medicaid Director Andy Allison speaks Tuesday, July 2, 2013 at a public hearing in Little Rock on the state's plan to use federal Medicaid money to purchase private insurance for thousands of low-income residents. (AP Photo/Danny Johnston)
Arkansas Medicaid Director Andy Allison is resigning from his position effective June 1, according to a statement from the state Department of Human Services.
Allison informed the department of his decision Friday morning, saying he plans to "pursue other opportunities outside state government," the news release states. He has served as the department's Division of Medical Services and Medicaid director since November 2011.
Allison has led the Medicaid program through adoption of the private-option health insurance program, which the Legislature created to accommodate President Barack Obama's Medicaid-expansion plan.
"Gov. Beebe, John Selig and DHS Deputy Director Janie Huddleston gave me the opportunity to lead the most innovative Medicaid program in the country. It has been a once-in-a-lifetime opportunity, and I am deeply appreciative," Allison said in the release.
DHS Director John Selig said that Dawn Zekis, the Medicaid program's director of health-care innovation, will serve as an interim director for the state's Medicaid program while a national search is conducted for Allison's replacement, the release states.
Read Saturday's Arkansas Democrat-Gazette for more on this story.
Some information for this article was contributed by the Associated Press.
Sponsor Content