Message to Bigfoot: Come out, come out, wherever you are.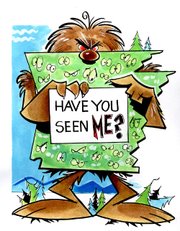 Real or not, the state's most famous creature muffed his chance to be a big-time TV star last year. He snubbed the cameras that came to the Miller County town of Fouke for an episode of the Animal Planet cable TV series, Finding Bigfoot.
The Finding Bigfoot crew moved on, opening this year's sixth season in Alaska. Episodes to come in the Sunday night series will take the search to Tennessee, New Jersey and off to Loch Ness in Scotland to see if they can find Bigfoot and the legendary sea serpent, Nessie, too.
But Arkansas' resident boogeyman of the bog could be in line for another opportunity. "There's always a chance of coming back," the series' executive producer, Keith Hoffman, says.
The team "loved it there," in Fouke, Hoffman says. He counts the made-in-Fouke horror movie, The Legend of Boggy Creek (1972), such an influence that, "I can only hope Finding Bigfoot inspires as many people."
Arkansas looms large, anyway. The show's Bigfoot hunters -- Matt Moneymaker, James "Bobo" Fay, Cliff Barackman and Renae Holland -- at least found the state's big footprint in monster-hunting history.
"I think Finding Bigfoot was successful in bringing awareness to new sightings in Arkansas, and for bringing The Legend of Boggy Creek movie to a whole new generation of Bigfoot enthusiasts," Bigfoot hunter and author Lyle Blackburn says.
Blackburn, from Texas, appeared in the Arkansas episode of Finding Bigfoot,
"Return to Boggy Creek." Also, he wrote the book on the Fouke monster: The Beast of Boggy Creek (2012, Anomalist Books).
Given more time and technology -- thermal imaging, maybe -- he expects a more diligent search around Fouke might turn up the real thing.
"It's possible," Blackburn says, "as I do think there is good probability that an unknown creature is surviving in the bottomlands of that area.
"I've traced sightings in the area back at least 100 years, and they are still occurring today. In fact, there are many sightings that occur all over Arkansas, not just in the Fouke area."
As for himself -- he's still looking, too, for that first glimpse of a tangled mystery.
ON TRACK
Bigfoot is practically everywhere except in plain sight. The monster has a website (foukemonster.net), a Facebook page, the Boggy Creek arts and crafts and Bigfoot festival in October in Fouke, an action figure, a T-shirt, a coffee cup, and deep roots in Arkansas.
Exhibits at Garvan Woodland Gardens in Hot Springs this summer included a 13-foot-high Bigfoot sculpture, Jolly Roger, made of 3,100 clumps of grass and other plants.
The big guy was such a popular sighting, he will be back with bells on for the park's Holiday Lights show Nov. 22 through December -- and back again in May as a "newly replanted Sasquatch," Garvan Gardens spokesman Sherre Freeman says.
The Northwest Arkansas Naturals baseball team's mascot is Strike the Sasquatch, another name for Bigfoot.
"Arkasquatch" is Arkansas writer Mark Spitzer's term for all sorts of Bigfoot sightings around the state. He notes more than 50 sightings in his book of poems about the unlikely Crypto-Arkansas (2013, Spuyten Duyvil) and adds, "that ain't even the half of it."
And sightings continue, logged and noted on Finding Bigfoot team leader Moneymaker's website. Moneymaker is founder and president of the California-based Bigfoot Field Researchers Organization at bfro.net.
The site records 87 Bigfoot-or-something sightings in Arkansas. Washington state has the most, 589; California second, 427; and Florida third, 289. But Arkansas has some howlers.
This, for example, a 2012 incident: A driver on Interstate 40 between Little Rock and Conway reported some sort of animal with gray hair like a "long-haired cow," but with an "eerie resemblance to Bigfoot," squatting right alongside the highway.
Other reports tell of giant footprints, heavy steps heard in the woods, trees shaking, screams in the night, and the "terrifying ordeal" of a coon hunter near Fouke. This man reported the grumbling creature scooped up and threw swamp water at him.
The site invites people to report things they've seen that might be Bigfoot, but warns: "Don't bother submitting jokes or fake reports."
NO FOOLING
Bigfoots have their funny as well as furry sides. In the TV Christmas classic, Rudolph the Red-Nosed Reindeer (1964), Rudolph teams up with a Bigfoot named Bumble.
The cartoon dog Scooby-Doo encounters "The Ghost of Bigfoot"-- a cranky but harmless faker in a monster get-up.
Phony Bigfoots have a whiskery history of their own. The term "Bigfoot" comes from news reports about gigantic footprints discovered in the woods in California nearly 60 years ago.
These prints were the work of prankster Ray Wallace, made with big feet carved of wood -- or so his family claimed when he died in 2002. The confession did little to stop Bigfoot in his tracks.
The creature slogs on, bearing serious questions. So many people have claimed to see Bigfoot, how could they all be wrong? If he's real, what is he? Why can't anybody take a good, clear picture of him?
"I think Bigfoot is blurry," comedian Mitch Hedberg answers in his stand-up routine. "It's not the photographer's fault. There's a large, out of focus monster roaming the countryside."
NAME THAT STINKER
Arkansans say Bigfoot, mostly, or Skunk Ape. Canadians say Sasquatch for the same or similar creature -- big and unkempt, sometimes stinky. In Japan, he's the hirsute Hibagon; in South Asia, the hair-raising Yeti.
A spotter's guide might come in handy:
• Height: 7 to 10 feet tall.
• Weight: 500 pounds, more or less.
• Eyes: Glowing red by some descriptions.
• Build: Ape-like, broad in the shoulders.
• Feet: The prints measure 15 inches heel-to-toe -- and longer.
• Temperament: Elusive, grumpy, solitary. But in case of more than one Bigfoot, they are Bigfoots -- not Bigfeet.
INTO THE WOODS
Two of the bearded behemoth's film appearances made him what he is today.
First is the best-known of all sworn-to-be-true Bigfoot sightings, the 1967 Patterson-Gimlin film. Bigfoot hunters Roger Patterson and Bob Gimlin professed to have captured a glimpse of their hairy quarry at Bluff Creek, Calif.
Believers find it compelling. Skeptics call it a bluff -- nothing more than some joker in a gorilla costume.
Five years later, Arkansas filmmaker Charles B. Pierce directed The Legend of Boggy Creek, based on accounts of Bigfoot sightings and encounters around Fouke, human population about 900, southeast of Texarkana.
The movie spun previous years of Bigfoot sightings into a case of the boggy boogies that never went away. The Old State House Museum in Little Rock showed it earlier this fall as a relic of state history.
The same way that Alfred Hitchcock's Psycho made people afraid of shower baths, Boggy Creek implanted the fear that something with a long, hairy arm might reach through the window.
More than $20 million in ticket sales later ($177 million in today's money) the nation's drive-in movie audience knew exactly where to find the monster, in Arkansas.
"The film presents an interesting portrait of Southern swamp culture in the 1970s," Arkansas native C.L. Bledsoe writes about it for the online Encyclopedia of Arkansas History and Culture (encyclopoediaofarkansas.net).
Pierce "used locals for actors," and "many played themselves and talked about their experiences," Bledsoe writes. Whether or not on purpose, the director achieved a "documentary-style" tone that made strange doings in the wilds seem all the more plausible.
Bledsoe's proof of the movie's lasting effect is that his latest novel, The Necro-Files: Tall, Dark and Hairy, comes from having Bigfoots in his head. The soon-to-come book is third in the now West Virginia-based writer's series of urban fantasy novels from Etopia Press.
Assistant mortician and supernatural detective Daisy Janney "stumbles upon a group of Bigfoots which are being experimented upon by a mad scientist," he says. "Bigfoots have certain powers in the book, such as teleportation and telepathy." Daisy "is trying to help the Bigfoots escape."
Back to Arkansas? Maybe so.
"Arkansas is a mystical, larger than life place," Bledsoe says. "There are a ton of legends about mythical creatures, ghosts, all sorts of stuff," and Arkansans "are open to the idea of something more being out there."
"I can't say that I think Bigfoot is real," he says, "but I would like to think it's possible. The world is a more interesting place with the possibility of things like Bigfoot in it."
Style on 11/16/2014