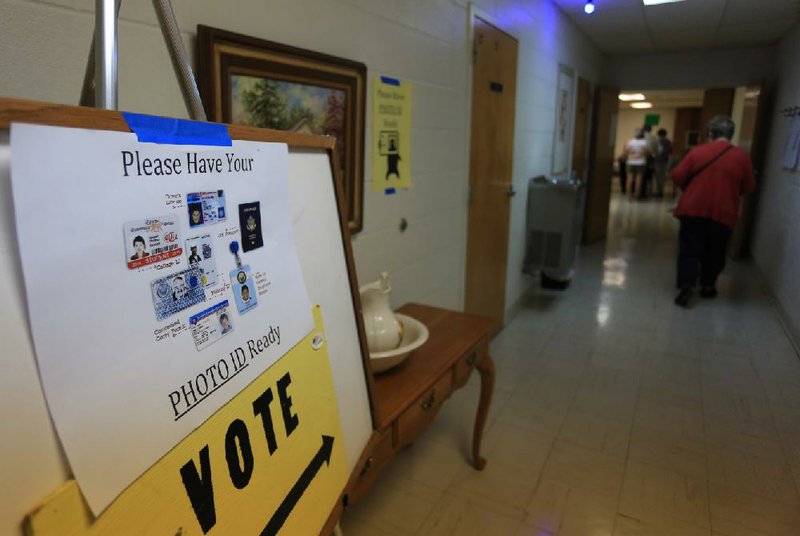 FILE — A sign at Woodlawn Baptist Church in Little Rock on May 24 reminded voters that a photo ID is required to cast ballots. The Arkansas Supreme Court on Wednesday ruled unanimously that the voter-ID law violates the state's Constitution. ( Rick McFarland)
The Arkansas Supreme Court has rejected a state law requiring voters to show identification when they vote.
In an opinion issued Wednesday afternoon (PDF), the court unanimously affirmed a Pulaski County circuit court judge who ruled the law was unconstitutional.
Associate Justice Donald Corbin wrote that the law's "added requirement of providing a proof of identity as a prerequisite to voting runs afoul of" the Arkansas Constitution, which "plainly states" a person who is an Arkansas resident, at least 18, registered to vote and a U.S. Citizen can cast a ballot.
"These four qualifications set forth in our state's constitution simply do not include any proof-of-identity requirement," he wrote.
In a concurring opinion, Associate Justice Courtney Hudson Goodson said the high court didn't need to even determine whether the act was constitutional on its face because an amendment to the state constitution requires legislators to get a two-thirds majority to pass such a law. It fell short of that when the act passed last year.
"Because the Act failed to obtain a two-thirds vote, it is invalid," Goodson wrote. "As a consequence, it is wholly unnecessary to decide whether the Act added a new qualification to voting as prohibited by" the Arkansas constitution."
Legislators last year passed the law requiring voters to show photo ID at the polls and then overrode a veto from Gov. Mike Beebe.
Pulaski County Circuit Judge Tim Fox struck down the law earlier this year, but suspended his ruling pending a decision from the Arkansas Supreme Court. The court heard arguments on the case two weeks ago.
Supporters of the voter-ID measure said it prevents fraud. Opponents questioned whether such fraud actually takes place and contended requiring identification places an unconstitutional burden on the right to vote.
The opinion from the state's high court comes less than a week before early voting, which starts Monday, and less than three weeks before Election Day on Nov. 4.
Read Wednesday's Arkansas Democrat-Gazette for full details.
Document
Voter-ID ruling
View
Sponsor Content