"Without milkweeds in the landscape, there will be no monarchs." -- Bringing Nature Home, by Douglas W. Tallamy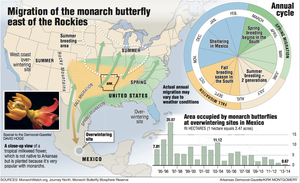 Photo by Kirk Montgomery
A map, graphics and photo documenting the migration of the monarch butterfly east of the Rockies.
A butterfly's flight path is anything but a synonym of the phrase "as the crow flies."
Arguably the most beautiful of insects -- and with a pleasant reputation too -- the butterfly looks almost out of control as it takes a roundabout way to flit from one place to another.
If the feat of a butterfly landing on its target seems remarkable, then how about one that travels up to 75 miles in a day?
That butterfly is the monarch, a species known for its annual 3,000-mile multigenerational migration from its wintering grounds in Mexico to as far as Canada and back.
But monarch numbers have dropped in the last 10 years, raising fears by observers that the iconic butterfly will disappear because of declining food supplies for its caterpillars.
Many species of adult butterflies visit a variety of flowers for nectar, but the caterpillar of each species is very specific about the plants it'll eat.
Monarch caterpillars eat only one thing -- milkweed.
However, farming practices and droughts have taken their toll
not only on milkweed but nectar sources for adults.
Homeowners can help by growing milkweed in landscapes, which also helps other species of butterflies, bees and hummingbirds.
Fall is the time to plan and work on next year's butterfly garden. Seeds of perennials need to be in the ground over the winter before they'll sprout in spring. Monarchs need milkweed, of course, but home gardeners can plant them in conjunction with other flowers that are attractive to the adults during their spring and fall migrations.
YEARLY TREK
In the fall, all monarchs east of the Rockies migrate toward a mountainous area of Mexico, landing at the Monarch Butterfly Biosphere Reserve. The insects cluster in the trees in the winter, surviving on stored fat built up as they stopped to eat while traveling through states including Arkansas. (West of the Rockies, they winter in California.)
These butterflies are the great-great-grandchildren of the monarchs that left the reserve the previous year. This will be their first and only trip to Mexico.
The Biosphere Reserve staff counts the number of acres of trees covered by monarchs. The greatest winter population of the last 20 years was 1996-97, when butterflies covered 20.97 hectares, or 52 acres. The 20-year average is 6.39 hectares, or 15.8 acres.
However, monarch numbers have declined in the last 10 years. In the winter of 2013-14, only 0.67 hectares, or 1.66 acres, of trees held butterflies.
"The forest area occupied by monarchs for 2013-2014 is the lowest recorded to date and continues the progression toward smaller winter numbers seen over the last decade," according to a recovery plan written in March by Orley R. "Chip" Taylor of the University of Kansas, founder and director of Monarch Watch. The organization researches the monarch and encourages conservation efforts.
In his report, Taylor linked the population decline to loss of milkweed from:
• The 2007 federal government mandate that fuels include ethanol. This drove up the demand for corn and soybeans, contributing to millions of acres of grassland being converted into cropland.
• Corn and soybeans were genetically developed to withstand herbicide treatments that kill other plants -- including milkweed.
• Three years of unfavorable weather.
In March, some secret alarm that only monarchs can hear will go off. The insects will hit the road north and mate. Along the way, the females will deposit fertilized eggs when they find milkweed.
A gardener wanting to offer these migrants a good supply of milkweed and other nectar-producing flowers can find seeds and advice from groups like Monarch Watch (monarchwatch.org) and the Xerces Society of Invertebrate Conservation (xerces.org/milkweed-seed-finder/).
Monarchs typically come through Arkansas in March through May, and southbound ones are seen September through October, according to Jim Edson, a geology professor with the University of Arkansas at Monticello. Edson was once a Monarch Watch liaison in Arkansas. He helped research monarchs, including tagging, which is used to see where butterflies go.
PLANT A FEAST
Owners of city homes and small acreage may not be able to offer fields of milkweed, but words of encouragement come from Angie Babbit, Monarch Watch communications coordinator.
"Plant as much as you have room for, and don't forget to leave space for those nectar sources. We encourage the use of native plants whenever available, and ask your local nurseries to carry pesticide-free native plants and milkweed. We suggest planting two or more species of milkweed and provide a habitat that is around 100 square feet. Smaller gardens also have tremendous value, because any amount of habitat is better than none."
Seven varieties of milkweed are commercially available in Arkansas, according to a guide called "Native Milkweeds" from the Xerces Society. (See related article.)
"When using milkweed in habitat restoration efforts, it is important to use wild-type plant materials that are as locally sourced as possible," the guide says.
Butterfly weed is the most common type in Arkansas, says Janet B. Carson, horticulture specialist for the University of Arkansas Cooperative Extension Service.
"It is the only member without a milky sap," Carson said. "It is a tough perennial which comes back year after year and thrives in full sun and dry soil. Orange is the most common color, but there are yellows and even a few bicolors."
FROM ROOT OR SEED
Perennial forms of milkweed can grow from root or seed, but can be tough to transplant because they have a taproot, Carson says. Tropical milkweed, which is not native to Arkansas and does not usually survive winters, can be started inside in February, she said.
MaryAnn King of Pine Ridge Gardens in London said she germinates the seed by putting it in a plastic bag with moist vermiculite. The bag goes in the refrigerator and is checked at three weeks. When the seed has started germinating, she transplants three or four to a pot.
"Of course, I have a greenhouse so I can do this in January and February," she said. Swamp milkweed is probably the easiest to grow of the native milkweeds.
To feed monarchs and other pollinators, the Natural Resources Conservation Service recommends these spring bloomers: blue star, Arkansas beardtongue, spiderwort, goat's rue, golden ragwort, redbuds and dogwoods.
Summer bloomers are milkweed, American beautyberry shrub, wild bergamot, slender mountain mint, rose mallow, purple coneflower, partridge pea, lance-leaf coreopsis, joe-pye weed, great blue lobelia, ironweed, woodland sunflower and goldenrod.
Fall favorites are gayfeather, also called blazing star; cardinal flower, native thistles and blue sage.
Internet resources include monarchwatch.org, monarchjointventure.org and journeynorth.org. For more tips about planting wildflowers, see Janet B. Carson's Oct. 18 article, "Gardens gone wild."
HomeStyle on 10/25/2014