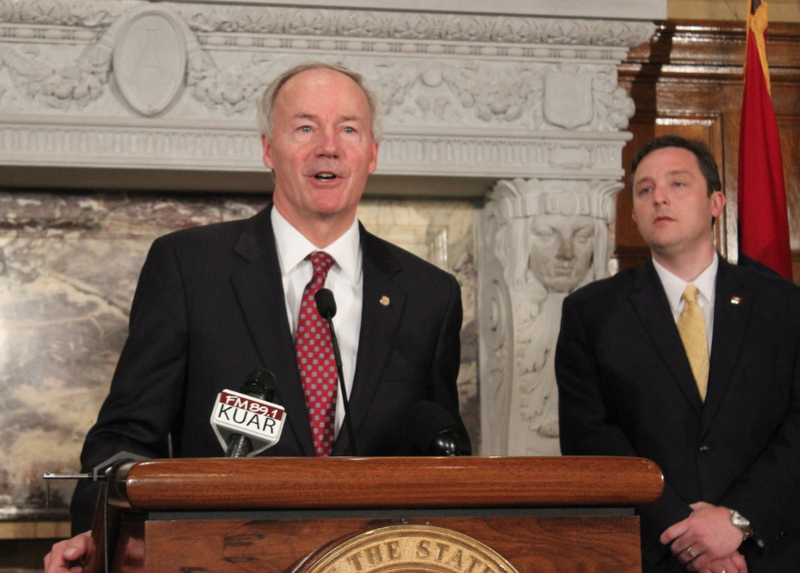 Gov. Asa Hutchinson on Wednesday, April 1, 2015, calls for changes to House Bill 1228 while House Speaker Jeremy Gillam looks on, at a news conference at the state Capitol in Little Rock. ( Gavin Lesnick)
Gov. Asa Hutchinson on Wednesday asked that legislators amend House Bill 1228 to better reflect terms of the federal Religious Freedom Restoration Act.
Hutchinson said he is asking that HB1228 be recalled so amendments can be added that bring it closer to the federal law. Or, he said, the changes could be made by new legislation.
"The bill that is on my desk at the present time does not precisely mirror the federal law," he said.
Hutchinson — who noted a "generational gap" and acknowledged his own son had signed a petition seeking a veto of HB1228 — said "another option" would be to use an executive order "to make it clear that Arkansas wants to be a place of tolerance. He added later that such an order "would not be the same as a legislative fix."
Hutchinson said he did not have a commitment from legislators that they will follow through on recalling the bill.
"I've communicated to them my desire," he said. "I've made my request to them."
Senate President Jonathan Dismang, R-Searcy, and House Speaker Jeremy Gillam, R-Judsonia, stood beside Hutchinson at times during the news conference.
Dismang said it would be "premature" to say whether there was support in the Senate since members hadn't seen any proposed change in the language yet. Gillam said the House is committed to working with both the Senate and Hutchinson.
"We're working through the process right now," Gillam said.
Rep. Bob Ballinger, lead sponsor of HB1228, didn't attend the news conference and said shortly afterward that he had not seen Hutchinson's full statement. But he expressed optimism an agreement would be reached.
"We're going to get everything worked out," Ballinger said when asked if he was disappointed Hutchinson didn't sign the measure as is. "I feel real good about it."
Hutchinson would not say whether he would veto the bill if the changes aren't made.
"I will just say I've asked the legislature to do that and I will make further comments after we determine what action they will take," he said when asked about a possible veto.
His comments come after a number of protesters, officials and businesses, ranging from the mayors and Chambers of Commerce of Little Rock and Fayetteville to Wal-Mart, asked Hutchinson to veto it. 
Opponents of the bill say it will lead to discrimination against gay people. HB1228's sponsor defends the measure as strengthening religious freedom protections.
Hutchinson made the announcement at an ongoing news conference at the state Capitol. Check back for updates or listen live in the player at left or at arkansasonline.com/liveaudio.
EARLIER
Gov. Asa Hutchinson will hold a 10:30 a.m. news conference Wednesday to discuss House Bill 1228, the legislation supporters say strengthens religious freedom but opponents decry as enabling discrimination.
Hutchinson has said previously that he would sign the measure into law, though Wednesday's appearance will mark his first public statements since HB1228 cleared the Arkansas House and was sent to his desk.
Audio from the news conference will be streamed live in the box at left or at arkansasonline.com/liveaudio beginning at 10:30 a.m.
Protesters have staged events at the state Capitol and outside the Governor's Mansion calling on Hutchinson to veto the bill and a number of businesses, groups and public officials, including Wal-Mart, Acxiom and Little Rock Mayor Mark Stodola, have made similar requests.
In a letter to Hutchinson on Tuesday, Fayetteville Mayor Lioneld Jordan said HB1228 sends the "wrong message" and could hurt investment in the state.
"Modern economic development principles that build strong states are ones that value diversity and inclusion, not stifle it," he wrote.
The Fayetteville Chamber of Commerce, meanwhile, joined the Little Rock Regional Chamber of Commerce in opposing the bill. The Fayetteville chamber wrote on Facebook on Wednesday that the bill "opens the door to potential discrimination against our fellow Arkansans" and asked Hutchinson to veto it.
The bill's lead sponsor, Rep. Bob Ballinger, R-Hindsville, has defended HB1228 as legislation aimed at protecting religious freedoms and similar in scope both to a federal law and statutes on the books in other states. He said he's been disappointed by protesters suggesting the bill is hateful.
"The reality is this bill, it really is about discrimination," Ballinger said Tuesday, shortly before the House took final votes on amendments to send HB1228 on to Hutchinson. "It's about discrimination against a person's religious beliefs and that the state shouldn't do that and that we should protect that at a higher level ... It is about protecting religion, and it has nothing to do with discriminating against any other group and won't have that effect."

Hutchinson HB1228 news conference (part 2)
Watch Video
Document Set
Religious Freedom Restoration Act
View All
Sponsor Content