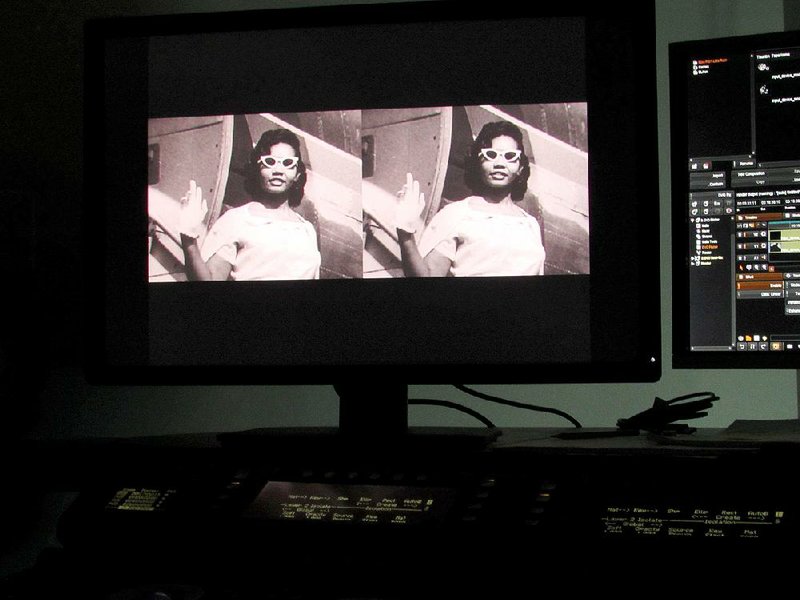 Original and restored images of Little Rock Nine member Melba Pattillo from the documentary Nine from Little Rock are displayed at the National Archives. (Arkansas Democrat-Gazette / SARAH D. WIRE )
WASHINGTON -- The National Archives has digitally remastered a film on the Little Rock Nine for the anniversary of its Academy Award win for best short documentary, 50 years ago today.
It is the fifth film the archives' Motion Picture Preservation Lab has restored to cinema quality. The film will be shown at the National Archives later in the spring and is available online.
The 18-minute, 30-second film, titled Nine from Little Rock, was never intended for American viewers but was shown in hundreds of cities around the globe, according to the archives. Commissioned by George Stevens Jr., head of the United States Information Agency, and directed by Charles Guggenheim, the film follows the lives of several of the nine black students years after they integrated Central High School in Little Rock.
The film is narrated by one of the Nine, Jefferson Thomas, who died in 2010. It shows him walking around Central High School, talking about the school being integrated in 1957.
"Hatred is easier to organize than understanding, and there was a minority in our state who found it to their advantage to bring hate to Little Rock in 1957," Thomas said at the beginning of the film.
Later, the film features vignettes of several of the Nine talking about life since the Little Rock crisis. At the end of the film, Thomas talks about whether integration was a success.
"I'm not sure I know enough yet to say what this all adds up to. I haven't counted all the victories since the first day we went to school here, but I know there's been at least nine," he said.
One of the Nine, Minnijean Brown-Trickey, initially didn't want to participate in the film, she said in a telephone interview last week. The United States Information Agency was created in 1953 to explain U.S. policies and people overseas.
"It was a propaganda film," Brown-Trickey said. "When I found out what it was going to be I actually refused to be a part of it."
But after the other students agreed to participate, she changed her mind. Because the film was meant for foreign audiences, it provided an unrealistically rosy view of U.S. race relations in 1964, she said. The film features Brown-Trickey on the campus of Southern Illinois University, where she earned a journalism degree.
"When they were filming, SIU has a lake, and across the lake on the fraternity row, white young men were screaming out racial slurs at the very moment that we're making a propaganda film to tell the world that we're all good and everything is fine now in the U.S. and oh, goody-goody," she said. "That was particularly disturbing to me."
In that scene, Brown-Trickey and several students ride bicycles up to a lake and then laugh together while sitting at a picnic table. In a voice-over, Brown-Trickey says she finally understands that the mob in Little Rock was afraid "that the Negro, who had done so much with no chance, might do so much more with an equal one."
Preserving the film as a part of American history is important, Brown-Trickey said last week, "as long as there is a social critique that goes with it: reality versus the film."
Nonetheless, she said she enjoyed the film and the experience.
"Politically I have no idea what its impact was when it was sent around the world, but for me it's a very personal view of my life at a particular point," she said.
Brown-Trickey said she was proud when the film won the Academy Award, but it was nearly 40 years before she saw it herself.
"There were so many being made it didn't really make any difference, but when I did see it, I thought 'Wow, this is cool,'" she said. "It's a view of us after 1957. Why not preserve it for posterity?"
The film copy of Nine from Little Rock was preserved, but not digitally restored, in 2007 to mark the 50th anniversary of the school's integration. That version is widely available.
The National Archives' Motion Picture Preservation Lab holds more than 700,000 reels of film made by the executive branch, federal agencies and the military, with more coming in by the day. While it digitizes about 600 reels a year, the lab has so far digitally restored only five, Supervisory Motion Picture Preservation Specialist Criss Kovac said.
Other restored films include: The March, a James Blue film documenting the 1963 March on Washington for Jobs and Freedom, and John Huston's 1946 film Let There Be Light, which looks at American soldiers struggling with emotional and psychological trauma known as shell shock. The film was made for the military, which subsequently banned it until the 1980s.
To restore a film to cinema quality, archivists first go through the laborious process of preserving, cleaning and repairing the physical film copy before digitizing it. At that point, archives employees spend months going through it frame by frame, retouching color, fixing scratches and defects, and aligning images and audio.
"Our job is to present what people at the time would have seen," Kovac said. "We're not in the business of perfecting it, which drives me crazy, but we have to be true to the original."
Sitting before three computer monitors in a darkened room, Kovac clicked through restored and original images from Nine from Little Rock, showing a scratch removed from one frame and how light was balanced in another.
The lab does at most two theater-quality restorations a year. Restoration of Nine from Little Rock took about 60 hours, she said.
"It's one of the most requested items in the archives," Kovac said.
The most requested item? Home movies of German dictator Adolf Hitler, filmed by his longtime companion Eva Braun. Allied forces seized the reels after World War II and spliced them together. Kovac said archivists have spent years restoring them.
While the goal is to digitize all films in the archives' collection, most will be preserved, repaired and left on film, Kovac said.
"If we were to touch everything in the collection once, it would take 300 years," she said.
Stacked to the ceiling in the basement of the Archives II facility in College Park, Md., the reels range from footage of Hawaiian volcanoes filmed by the National Park Service to recently declassified Russian newsreels intercepted during the Cold War.
Historians and researchers visit the facility and request access to the films or copies, some of which end up on History Channel shows or in documentaries, Kovac said.
Kovac said the lab tries to post frequently requested films on YouTube. The National Archives' YouTube channel includes clips of President Franklin Roosevelt's funeral, Japan surrendering to the Allied forces in World War II and construction of the Panama Canal.
Big studios have the time and money to properly maintain copies of big blockbusters, but preservation of less-known films, often called orphan films, is largely left to archivists, museums and a handful of small private companies that support them, National Film Preservation Foundation Executive Director Jeff Lambert said.
The foundation has helped restore more than 2,000 orphan films -- including documentaries, educational films and homemade movies -- across the country, Lambert said. That includes helping the University of Arkansas at Fayetteville preserve a 1963 film by Ozark Society President Neil Compton that encouraged the U.S. Army Corp of Engineers to abandon its plan to dam the Buffalo River. In 1972, the free-flowing Buffalo River was designated as the United States' first national river.
"They are not films that people are going to be able to use, such as a Hollywood blockbuster to make money," Lambert said. "There is not really an economic reason to save them. It's a historical and cultural reason."
SundayMonday on 04/05/2015
Print Headline: National Archives digitizes LR Nine film to mark its '65 Oscar win
Sponsor Content