The U.S. Department of Veterans Affairs owes Arkansas health care facilities approximately $24 million for care they've given to VA patients, according to the Arkansas Hospital Association.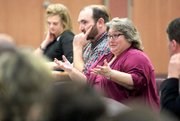 Paul Cunningham, executive vice president of the hospital association, said about 4,400 claims from about 60 Arkansas hospitals and nonprofits have been denied or are in limbo -- something he called a "critical issue" for a small, rural state.
Some of the claims date back two or three years, and at least one claim is 5 years old.
"In Arkansas, this is a big issue," Cunningham said. "We're living in an age right now that every reimbursement dollar is critical. We have 72 community hospitals in the state, and some that live, if not month-to-month, then week-to-week sometimes."
Representatives from many of the affected hospitals and nonprofits gathered Wednesday with VA officials in North Little Rock to air their problems with processing claims. They questioned why they are not being reimbursed in a timely way and why claims are turned down.
Sen. John Boozman's office coordinated the meeting, which representatives from the offices of Gov. Asa Hutchinson, Secretary of State Mark Martin and U.S. Reps. French Hill, Steve Womack, Rick Crawford and Bruce Westerman attended.
"When they [veterans] come home, they deserve our best," said Anita Deason, Boozman's military and veterans adviser. "They deserve our respect. They deserve our health care -- the best we can provide them. But, also, those who provide that care should be properly compensated."
VA patients are treated at non-VA facilities if there are emergencies and they can't reach VA hospitals in time; if VA facilities can't treat veterans in a timely manner; or if they need to see the kinds of specialists that their VA hospitals do not have on staff. Using private-sector care is a method the VA has used to shorten the list of veterans waiting for care.
Tina McClain, deputy chief of staff for the Central Arkansas Veterans Healthcare System in Little Rock, said in an interview last week that the system used non-VA care in instances when there weren't enough physicians or specialists to see all the patients requesting appointments.
"We'll certainly continue to outsource for service that we don't have to meet the demand," McClain said. "There are some services we don't offer at VA that we'll continue to outsource as we always have."
Cunningham, who gathered information about old claims in preparation for the meeting Wednesday, said some hospitals had only a few unprocessed claims totaling a few thousand dollars, while others had about 300 old claims worth $2.5 million to $3 million.
Joe Enderle, director of operations for the purchased care division of the Veterans Health Administration's Chief Business Office, said there are challenges with backlogged claims, but he expects those to be addressed by an ongoing restructuring of the system that pays non-VA facilities for providing care to veterans.
The staff that makes those payments was consolidated into the Chief Business Office in Denver after the Veterans Access, Choice and Accountability Act became law in August. Enderle said the move will "streamline and standardize processes" and allow for better monitoring of how claims are processed.
The VA has hired additional workers at claims processing offices and is ordering staff members to work overtime.
From May 2014 through February, the VA went through 2.1 million claims from non-VA health care facilities in the U.S., a 45 percent increase from the number processed in previous years, Enderle said.
Arkansas hospitals send their claims to the South Central VA Health Care Network, which is based in Pearl, Miss. The office decides whether to approve claims.
As of late March, about 74 percent of the claims being processed out of that office were "current," meaning the claims were less than 30 days old, the agency said.
Holly Shryock with the Veterans Health Administration's Chief Business Office said that "not long ago," only 30 percent were less than 30 days old.
"There's been massive improvement in a short amount of time," Shryock said.
Becky Cummings with Carelink in North Little Rock said the nonprofit has seen an increase since January in how many of its claims are processed, but many are being denied.
"We believe we now have a large volume that we're going to have to submit for reconsideration," Cummings said.
In addition to concerns over delays in processing claims and claims being denied, hospitals cited issues with communication, as well as problems with submitting medical records that go along with claims.
Hospital workers who call the claims processing call center are put on hold for long periods of time or disconnected, a few people mentioned Wednesday. Others said they wished there were an online resource where health care facilities could check the progress of their claims.
Some health care organizations first contacted Boozman's office last summer about not receiving payments from the government for treating VA patients.
One of those was Christian Companion Senior Care, an in-home care service based in Fort Smith.
Its owner, Lori Williams, said she had unpaid claims dating back to 2012 worth about $70,000. For a small business that brought in about $400,000 last year, "that's a lot of money," Williams said.
Because she wasn't getting reimbursed, Williams dropped VA patients as clients in August.
"All of this is wonderful, and I'm thankful you all are here trying to work this out," Williams told VA officials Wednesday. "But it doesn't help us one bit because we need to get paid."
White River Health System in Batesville has 260 unprocessed claims totaling $1 million, said Steve Lange, executive director of revenue cycle for the health system. Most of the claims are more than 180 days old.
"We track them consistently," Lange said. "I have people picking up the phone and taking notes on every call, and we still don't have responses. Regardless of how it happened or why, I just want to know what to do next."
Shryock made a list of all the problems brought up Wednesday. She said the VA would talk to its staff and look at the feasibility of making fixes.
Ken Griffin, Hutchinson's military liaison, asked that the VA send workers to central Arkansas to go through claims with the health care facilities, to which Enderle said, "That's a good idea."
Deason said there will be another meeting in August, and she wants VA staff members to be present to help individual facilities with their claims.
"We're on this journey together," she said. "And this is our first step."
Metro on 04/09/2015