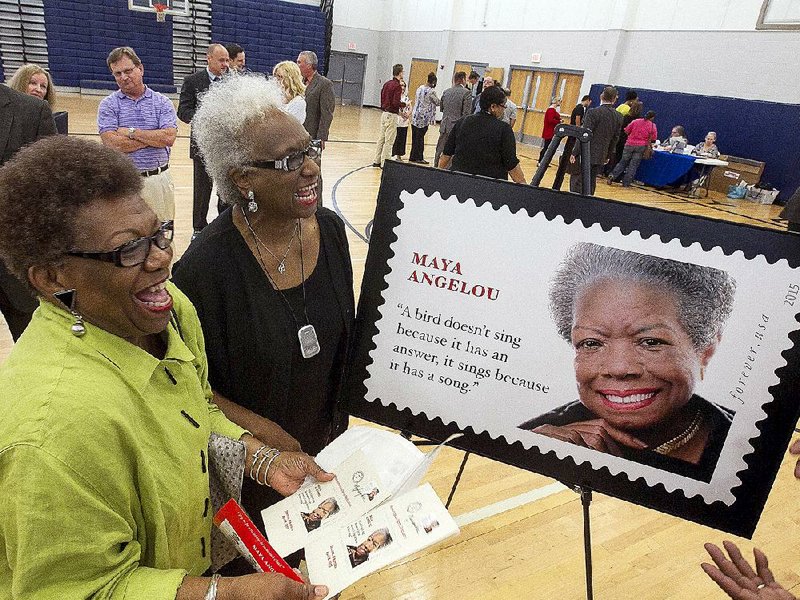 Barbara Powell-Jones (left) and Cheryl Batts of the Celebrate Maya Project admire the newly released stamp honoring Maya Angelou at a dedication ceremony Wednesday in Stamps. ( Arkansas Democrat-Gazette / Benjamin Krain)
STAMPS -- From a young age, the world-renowned poet and author Maya Angelou, who called Stamps her childhood home, endured stifling poverty, discrimination, a childhood sexual assault and a teen pregnancy.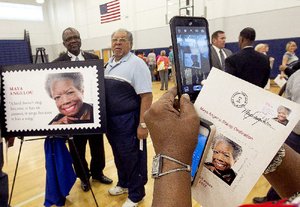 Photo by Benjamin Krain
State Rep. David Fielding, D-Magnolia (left) and Ben Rodgers of Camden pose for Cheryl Stuart of Stamps during the dedication Wednesday of the Maya Angelou stamp at Lafayette County High School in Stamps.
"Life wasn't fair to her. But she continued to work hard," U.S. Rep. Bruce Westerman, R-Ark., said Wednesday in the town of 2,100 people. "She continued to stay true to who she was, and in doing that, she blessed others."
Angelou died at 86 from an undisclosed cause on May 28 in Winston-Salem, N.C.
Westerman was among more than 200 people who gathered Wednesday in the Lafayette County High School gymnasium for the state's unveiling of the U.S. Postal Service's official Maya Angelou Forever Stamp. The dedication ceremony came a day after a Washington, D.C., ceremony commemorating the release.
The limited-edition stamp showcases Atlanta artist Ross Rossin's 2013 portrait of Angelou and the quotation: "A bird doesn't sing because it has an answer, it sings because it has a song."
No mention was made of Tuesday's revelation by The Washington Post that the quote was not Angelou's but was from Joan Walsh Anglund and originally appeared in Anglund's 1960 poetry collection. Angelou recited the poem's line throughout her life in numerous interviews, which led to its attribution to Angelou on several websites and even in a July speech by President Barack Obama.
Dozens of high school students filled the stands Wednesday to witness the event, cheering loudly after fellow student Savannah Aultman recited a poem inspired by Angelou's work, titled "What Does a Caged Bird Dream?"
"It is an honor for the students to see history being made for such a small community," said Opal Anderson, principal of Lafayette County High School. "It instills into them that through God, all things are possible. She gives them courage to take the road untraveled and when opportunity knocks to take advantage of it."
Born Marguerite Ann Johnson on April 4, 1928, in St. Louis, Angelou and her brother, Bailey Johnson Jr., were sent to Stamps when Angelou was just 3 years old to live with their paternal grandmother, Annie Henderson.
It was one of the defining moments in Angelou's career that spurred long-held friction between Angelou and the south Arkansas town, which some say still exists to a degree.
In her 1969 autobiography of her childhood, I Know Why the Caged Bird Sings, Angelou depicted Stamps as a segregated town.
"High spots in Stamps were usually negative: Droughts, floods, lynching and deaths," she wrote.
When contacted after Angelou's death, Stamps Mayor David Bright told the Arkansas Democrat-Gazette, "There's not a lot of celebration about her here."
After the publication of his statement, Bright said he received "so many calls" that everything "just snowballed."
"I knew somebody was going to do something and if the city didn't get in front of it, it was not going to look good for the city. Something should have been done years ago," Bright said in June.
That month, the Stamps City Council voted unanimously on a resolution proposed by the mayor to dedicate the city's park and Lake June to Angelou. The pond is mentioned often in I Know Why the Caged Bird Sings.
The Celebrate Maya Project -- which includes Arkansas authors, artists, community leaders and cultural and social advocates -- also was formed by volunteers to create events and initiatives, including a scholarship, to honor Angelou.
At an October memorial service for Angelou that was attended by several hundred people from around the nation and world, including Angelou's grandson Elliott Jones, Bright broke into tears as he spoke about the lessons he received by reading I Know Why the Caged Bird Sings for the second time since the early 1970s.
After Wednesday's ceremony, Bright again invoked Angelou's work. But this time, his eyes were animated as he drew a diagram in the air.
"We'll have a walking trail and a new pavilion by the pond," he said, then outlined an A-frame with his hands in the air.
"We want to renovate the school building and put a replica of her grandmother's store next to it for a museum."
As the owner of a general store that sold much-needed commodities during the Depression and World War II, Angelou's grandmother prospered in the town.
Bright said the city's grant funds are tied up until 2016, at which time he plans to apply for a $200,000 Southwest Arkansas Development District grant to fund the project. A statue of Angelou also is planned.
Bright envisions a finished product much like singer Johnny Cash's childhood home in Dyess. He hopes to someday include a writer's retreat facility.
"There is a lot of potential here for our community and for the state," Bright said. "We've gotten a lot of visitors here since Maya Angelou's death. Stamps is a destination now and to get here, you have to cross through the state of Arkansas. Stamps is a jewel for the state."
Wednesday's event drew people from all around the state and the nation who lined up at tables staffed by postal clerks in the gymnasium to purchase the commemorative stamp along with a special pictorial postmark cancellation.
Donna Colquitt and her husband, Charles, from nearby Lewisville purchased six flat sheets of stamps.
"We're going to frame three for our grandkids, two for our sons and one for us," Donna Colquitt said. "This is so wonderful. She would have been pleased. She had all kinds of problems that should have kept her down, but she succeeded anyway."
Those who wish to obtain the special pictorial postmark may submit a mail order request postmarked no later than June 8 that includes a stamped envelope or postcard with postage to: Maya Angelou Special Postmark, ATTN: Postmaster, 110 Thomas St., Stamps, Ark. 71860-9998.
A Section on 04/09/2015
Print Headline: Childhood home unveils Angelou stamp
Sponsor Content