A historic downtown Little Rock house was destroyed by fire Saturday afternoon.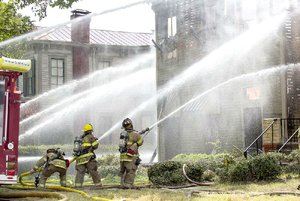 Photo by Melissa Gerrits
Little Rock firefighters extinguish flames that destroyed this house at 908 Scott St. on Saturday.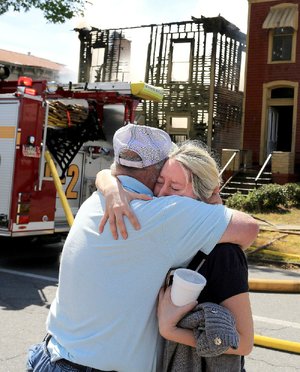 Photo by Rick McFarland
Dennis Carman hugs his daughter, Jennifer Carman, after she arrives Saturday to find a building she co-owned at 908 Scott St. in Little Rock destroyed by fire.
Little Rock Fire Department firefighters were called to a structure fire at 908 Scott St. at 2:18 p.m. Saturday and arrived at the blaze at 2:20 p.m. No one was injured in the two-alarm fire that obliterated the unoccupied house, built around 1874 by tobacconist Samuel Mandelbaum, and known as the Mandlebaum-Pfeifer House.
The cause of the fire was still being investigated Saturday.
"The neighbors called it in and said it was an unoccupied structure next-door," Fire Department Capt. Jason Weaver said. "Firefighters arrived on scene, and the battalion chief called for a defensive attack -- which means our guys will knock [the fire] down from the exterior and not proceed into the structure. The fire had proceeded too far, and the structure was weakened so it wasn't safe to go in."
Firefighters also doused the historic structure next-door, the Pollock House at 914 Scott St., as the flames from the southern wall of the building at 908 Scott St. shot into the sky. The Pollock House and a structure on the north side of the 908 Scott St. house were saved, although both were damaged.
"There was some slight damage to [the Pollock House], so firefighters put water on it to protect it and then went in to check for any extension into that house," Weaver said. "They were able to stop the fire on the exterior of [the house at 904 Scott St.]."
As firefighters drenched the raging flames, thick, gray smoke billowed across downtown Little Rock. About 100 people gathered in a parking lot across from the inferno, many holding smartphones or electronic tablets in the air, either taking photographs or shooting video of the fire.
The house at 908 Scott St. was a 3,800-square-foot Italianate residence. It was purchased in early 2014 by Jennifer Carman, who runs J. Carman Inc., an art advisory and appraisal service.
The house most recently had been an apartment building, but Carman, who also restores historic structures in Little Rock, had planned to renovate it.
She said Saturday afternoon that she had planned to move her offices into the house once it was renovated. The renovation was expected to be done by December, when the house was scheduled to be part of the Arkansas Historic Preservation Program's "Sandwiching in History" tour. That program provides lunchtime tours of historic buildings in central Arkansas.
Carman said the preliminary renovations on the house had not included electrical or plumbing work.
A distraught Carman, who said the house was insured with a builder's risk policy, fought back tears as she watched firefighters extinguish hot spots. Neighbors and friends approached her, offering condolences and hugs.
"My heart's broken," she said. "I dreamed of this so long that I can't even entertain any other dream. I want to bring it back. I feel determined to bring it back right now."
Metro on 04/12/2015