Gov. Asa Hutchinson supports legislation that would shift Arkansas' presidential primary election from May to March, and he would support such a bill in a future special session, a spokesman for Hutchinson said Tuesday.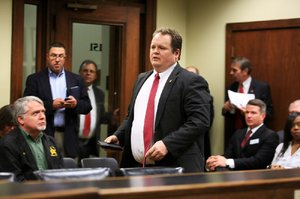 Photo by Rick McFarland
Rep. Nate Bell, R-Mena, walks back to the chairman's seat after he ran a Senate bill that would allow a candidate to run for more than one federal office simultaneously.
Such legislation would allow Arkansas to join some other Southern states in a regional presidential primary called the SEC primary by some of its supporters. The SEC is the Southeastern Conference, a college athletic conference that covers most of the South.
"Though the governor is supportive of moving the presidential primary, he has no intention of calling a special session for this issue," Hutchinson spokesman Kane Webb said.
"As to the money to pay for a separate presidential election, it's his understanding that the funds are in the budget for this," Webb said.
On Thursday, the Republican governor talked about the possibility of holding a special legislative session to consider recommendations from a legislative task force reviewing the future of the state's entire Medicaid program, including the private-option program that uses federal funds to purchase health insurance for some low-income Arkansans.
The task force is to make recommendations to the governor by Dec. 15, task force co-chairman Sen. Jim Hendren, R-Sulphur Springs, has said.
But the time frame for the special session remains hazy.
"There is no set date for a special session," Webb said Tuesday.
Sen. Gary Stubblefield, R-Branch, said Monday that Hutchinson told him about two weeks ago that he supports Senate Bill 389 to require Arkansas to hold its presidential primaries in March starting in 2016, and "we'll bring it up in a special session."
The governor determines what's on the agenda in special legislative sessions.
Stubblefield's SB389 would require presidential primaries to be held on the first Tuesday in March of the year in which the national convention is held. That would be March 1 in 2016.
Under the legislation, the Arkansas presidential primary would be held separate from the May primary for federal, state and local offices.
Georgia and Tennessee are holding their presidential primary elections on March 1, and legislation to move Alabama's presidential primary to that date is pending in Alabama's House after clearing that state's Senate, said Jared Thomas, a spokesman for Georgia Secretary of State Brian Kemp.
"Our intention is to join the SEC primary," Alabama Secretary of State John Merrill said Tuesday.
Legislation to shift Mississippi's presidential primary to March 1 died in the Mississippi Senate, Thomas said. "It did not make any political sense for Mississippi, and it did not make any economic sense," said Pamela Weaver, a spokesman for Mississippi Secretary of State Delbert Hosemann.
Texas already is required to hold its primary on March 1, said Alicia Pierce, a spokesman for Texas Secretary of State Carlos Cascos.
"They could call it the SEC primary or whatever they want. But we are acting on our own accord on this date," Pierce said
Stubblefield said he withdrew his SB389 from further consideration in the House State Agencies and Governmental Affairs Committee in the waning days of this year's legislative session after it cleared the Senate on March 27.
He said the House committee chairman Rep. Nate Bell, R-Mena, told him that he would kill the bill in the committee.
Bell could not be reached for comment by telephone Monday afternoon or Tuesday.
After Stubblefield introduced SB389 on Feb. 17, Bell tweeted "I oppose split primary" and "Will it be listed as donation to Huck?" -- an apparent reference to former Arkansas Gov. Mike Huckabee, who ran for the GOP nomination for president in 2008 and is considering doing so again in 2016.
The estimated cost of statewide primary elections is roughly $1.5 million, and the money "has already been appropriated, so this isn't a new request of funds. It is paid for out of the existing state election commissioners' budget," Laura Labay, spokesman for Secretary of State Mark Martin, said last month. Martin, a Republican, has backed SB389.
Stubblefield said he isn't supporting any particular candidate for president and that he proposed moving the presidential primary to March in concert with other states because "I just thought it would be a good idea" to give Arkansas more of a voice in who is selected as the party nominees.
Asked whether Hutchinson is supporting any presidential candidate, Hutchinson spokesman J.R. Davis said "it's too premature to talk about presidential politics in 2016 at this point."
In 2009, the Arkansas Legislature enacted a law to return Arkansas' presidential primaries to May after Arkansas held its presidential primary in February in 2008.
The state Board of Election Commissioners paid $1.7 million to counties for the Feb. 5, 2008, presidential primaries and $2.09 million for the May 20, 2008, primaries, according to board figures in December 2008.
In 2005, the state General Assembly enacted a law moving the 2008 presidential primaries to February. The state had been holding them in May.
However, record low turnout in the May primaries after a stronger turnout for the presidential primaries prompted some political figures, including then-state Republican Party Chairman Dennis Milligan of Benton, to suggest moving the presidential contests back to May.
The high turnout in February 2008 -- largely driven by the presidential candidacies of Huckabee and Hillary Rodham Clinton -- can't be expected every presidential election year, Milligan said at the time.
On Sunday, Clinton -- a former Arkansas first lady, former U.S. first lady, former U.S. senator and former U.S. secretary of state -- announced her 2016 bid for president.
Metro on 04/15/2015