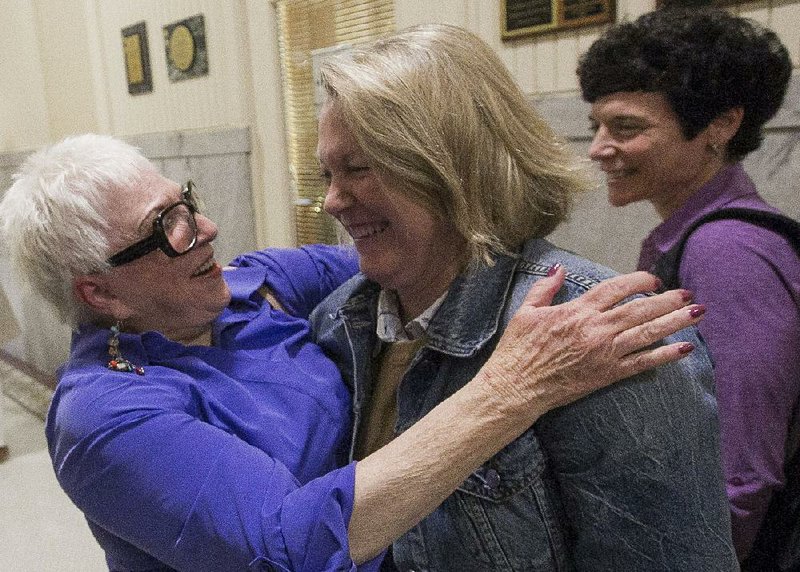 Rebecca Cowling (from left) celebrates Tuesday with Tippi McCullough, president of the Arkansas Stonewall Democratic Caucus, and Barbara Mariani, vice president of the group, after the city board's vote. ( Arkansas Democrat-Gazette / Benjamin Krain)
A Little Rock ordinance requiring city employees and businesses contracting with the city to agree to an expanded nondiscrimination clause passed with loud applause and little discussion Tuesday.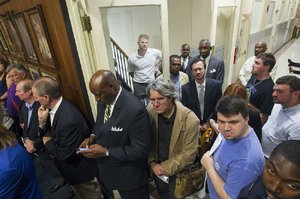 Photo by Benjamin Krain
Supporters of an anti-discrimination ordinance spill out into the hallway as they wait to speak Tuesday evening at a meeting of the Little Rock Board of Directors. To loud applause, the measure was approved on a voice vote before anyone spoke for or against it.
So now Little Rock's employees and contractors must agree to an updated anti-bias clause that prohibits discrimination based on "race, color, creed, religion, sex, national origin, age, disability, marital status, sexual orientation, gender identity or genetic information."
In addition, city employees must agree not to discriminate for those reasons or because of someone's political affiliations when making hiring or firing decisions, selecting vendors or dealing with the public.
More than 100 people filled City Hall for Tuesday night's Board of Directors meeting. The packed room had people lining the walls, with the crowd spilling out into the hallway and more than a dozen chairs set up in the downstairs lobby to allow others to watch the meeting through a live feed.
Typically, the board allows residents who signed up to speak for or against an agenda item to address the board, and then city directors discuss the ordinance before voting. Before the mayor could call on residents who submitted comment cards Tuesday, at-large City Director Joan Adcock motioned for an immediate vote.
In a roll call vote, the ordinance passed 7-2. Ward 1 City Director Erma Hendrix and Ward 7 City Director B.J. Wyrick voted against it.
City Directors Gene Fortson, Kathy Webb, Brad Cazort, Doris Wright, Lance Hines, Dean Kumpuris and Adcock voted in favor.
Ward 2 City Director Ken Richardson was absent, but he said at the previous week's agenda-setting meeting that he supports the nondiscrimination code.
After the vote, much of the audience stood up and clapped. Its yells of "woo" and applause sounded over Mayor Mark Stodola as he said, "This is certainly the right thing to do."
State Sen. Joyce Elliott, D-Little Rock, said as she walked out of the room along with others that "this is a good day for our city."
Some said, "Hallelujah!" One man yelled, "Let's get drunk; I'll buy!"
There had been questions about whether the ordinance's inclusion of protected classes that aren't listed in the state's Civil Rights Act would violate a new state law -- Act 137 -- that will take effect in late July.
The act bans cities and counties from creating new protected classes or enforcing a prohibition on discrimination based on a classification not already protected under state law.
City Attorney Tom Carpenter argued in an opinion issued Sunday that the ordinance wouldn't violate the act because each of the classifications are listed somewhere in state statutes, if not the Arkansas Civil Rights Act, which only lists "race, color, national origin, religion, sex, disability and genetic information" as classes protected against discrimination.
Much of the focus of the recent statewide discussion around local anti-bias laws and the passage of Act 137 in February has centered on discrimination against the gay, bisexual and transgender community.
Carpenter said the state already recognizes sexual orientation and gender identity as attributes that a public school student or employee shouldn't be bullied for, citing the state's anti-bullying law, Arkansas Code Annotated 6-18-514.
State Sen. Bart Hester, R-Cave Springs, proposed Act 137 in response to a Fayetteville ordinance passed by the City Council there last year that listed sexual orientation and gender identity as protected classes that no business in the city could discriminate against. Voters repealed that ordinance in December. The Eureka Springs City Council passed a similar measure earlier this year, and voters there will decide in a May 12 special election whether to keep the local legislation.
The Little Rock ordinance doesn't apply to all private businesses. Instead, the measure requires Little Rock employees and businesses that contract with the city to agree to not discriminate on certain bases. Act 137 has an exception for rules enforced by localities that only apply to city or county employees.
All city commissions that handle vendor contracts will have to follow the new contract policy. That includes committees that govern Little Rock Wastewater, Bill and Hillary Clinton National Airport/Adams Field and the Little Rock Convention and Visitors Bureau. Both the airport and wastewater utility have issued statements in support of the ordinance.
The city and those entities contract for construction services, youth program providers, legal services and for other reasons.
Adcock left the meeting immediately after the passage of the ordinance before she could be asked why she called for an immediate vote. She had previously said that she would not vote for the ordinance if it forced businesses to agree to the city's contract language, but would support it if it merely suggested they adopt the anti-discrimination policy.
She said before leaving that Carpenter's opinion changed her mind. After the vote, she thanked him for his work over the weekend to issue the opinion, which she requested late Friday afternoon. She also said it would have been helpful to have the information earlier and that maybe that would have happened if Carpenter had written the ordinance.
Webb, who is gay and represents Ward 3, proposed the ordinance and had help in drafting it from the Little Rock Regional Chamber of Commerce. She responded to Adcock's comments, saying she could have done a better job with the first draft, but she thanked all of those who had a role in writing the legislation and those who supported it.
"I think it's a really good moment in the city of Little Rock, and I'm real proud to be a part of this board and be a part of what we did tonight," Webb said.
The Little Rock Convention and Visitors Bureau changed the lighting scheme of the downtown bridge over the Arkansas River to multicolored in recognition of the passage of the ordinance. It posted a picture on the Little Rock, Arkansas, Facebook page.
Print Headline: LR board OKs tougher anti-bias clause for workers
Sponsor Content