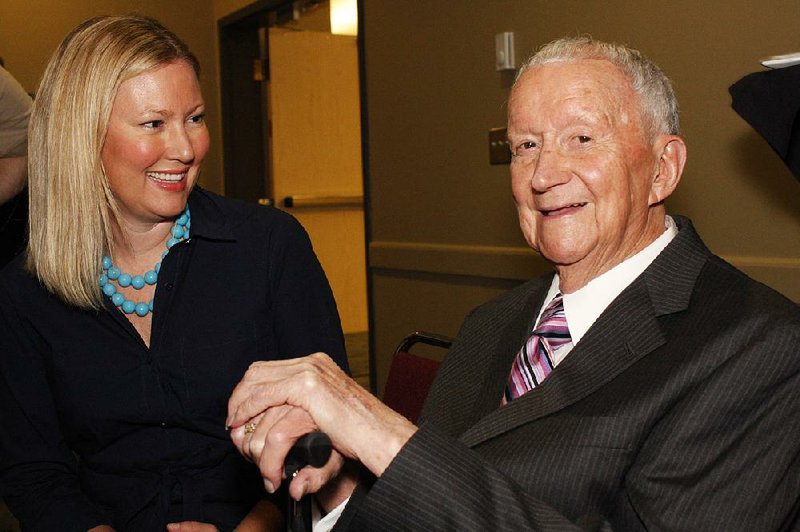 John Paul Hammerschmidt, right, is shown in this file photo. ( Arkansas Democrat-Gazette / Bobby Ampezzan)
WASHINGTON — Members of Arkansas' Republican congressional delegation honored John Paul Hammerschmidt — the longtime Arkansas lawmaker who helped shape the state's Republican Party during his quarter-century in office — in a series of speeches Tuesday.
Hammerschmidt died April 1 at age 92.
He was the first Republican elected to Congress from Arkansas since Reconstruction. He served the state's 3rd Congressional District from 1967-93, and for decades was the only Republican in Arkansas' federal delegation. Also, he defeated Bill Clinton in the future president's first bid for public office.
On the Senate floor Tuesday, U.S. Sen. John Boozman — a former U.S. representative from the state's 3rd District, which is in Northwest Arkansas — called Hammerschmidt a mentor and a friend.
"His dedication to his constituents during his career in public service was unmatched and is a marker we should all strive to meet," Boozman said. "During his time in Congress, he served in the minority, but he would disagree without being disagreeable. I always valued John Paul's friendship and his continued advice."
The four Republican members of Arkansas' House delegation stood together at the front of the House chamber Tuesday as they each spoke about Hammerschmidt.
Rep. Steve Womack, who represents much of Hammerschmidt's former district, asked his colleagues for a moment of silence in Hammerschmidt's memory.
"John Paul never spent a single day in the majority, but he didn't let that stand in the way of serving his constituents to the best of his ability. He worked with all colleagues, Democrat and Republican alike, to our state's benefit and is responsible for bringing the critical transportation infrastructure to Northwest Arkansas that enabled its explosive growth," Womack said. "However, he will truly be remembered for defining the gold standard of constituent service. Simply put, no one did it better."
Rep. Bruce Westerman said Hammerschmidt set a high bar for the congressmen who followed him.
"He was a tireless advocate for all constituents from the 3rd District and across Arkansas. He was friends with men and women on both sides of the aisle and worked hardest to do what was right for the citizens of Arkansas, regardless of political identification. He served his country and fellow man with honor both in the military and in Congress, leaving a lasting legacy," he said.
Rep. Rick Crawford called Hammerschmidt an inspiration.
"We will all remember him for his humble dedication to our country and to our state. His leadership inspired new generations of Arkansans, including all of us rising today to honor his memory," he said.
Rep. French Hill spoke about Hammerschmidt's friendship with President George HW. Bush.
"The two men shared victories, defeats, joys and sorrows throughout their decades of friendship. President Bush once said of John Paul, 'he did something I could never do, beat Bill Clinton,'" Hill said. "I am humbled to have had the opportunity to know and learn so much from Congressman Hammerschmidt."
Print Headline: 5 in D.C. honor predecessor, say he set a high bar
Sponsor Content