This fall, the Natural State will be the first in which every high school and charter school offers at least one computer-science course.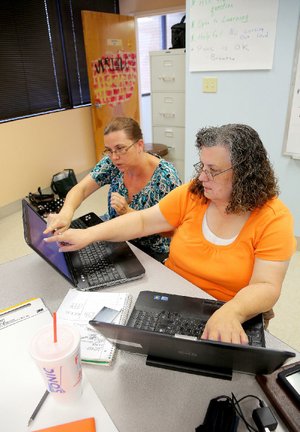 Photo by Stephen B. Thornton
Brinkley High School teacher Miranda Stanbery (left) and Lynette Penn of Rivercrest High School in Wilson receive training Wednesday at a computer coding camp in Hot Springs. Under Gov. Asa Hutchinson's Computer Science Initiative, schools must offer at least one computer-science course, but the number of teachers qualified to teach the courses is far short of what is needed.
But for the inaugural year of Gov. Asa Hutchinson's Computer Science Initiative, much of the instruction about what goes on behind a computer screen will be delivered through one, via digital courses offered by Virtual Arkansas or by the Arkansas School for Mathematics, Sciences and the Arts in Hot Springs.
Virtual Arkansas is an Arkansas-based program that provides digital instruction through a partnership between the state Department of Education and the Arkansas Education Service Cooperatives.
Virtual Arkansas' digital course in Essentials of Computer Programming was the most popular choice for districts this year, Hutchinson said. More than 1,200 students have enrolled in it.
"I'm very pleased with those numbers," Hutchinson said.
The total number of students enrolled in computer-science courses across the state will not be available until October, when districts submit their reports.
Five districts will offer the computer-science essentials course taught by instructors at the School for Mathematics, Sciences and the Arts and delivered through videoconference software.
The school in Hot Springs also offered a week of training for 15 teachers from across the state. A partnership with the school's instructors will continue through the school year, with the goal of preparing the teachers for leading the course independently next year.
"[The school] has always had the mission of being a resource to the state," said Daniel Moix, the school's computer-science education specialist and the instructor for the week of teacher training. "This is very exciting for us -- for the longest time, we've been trying to find an audience for the innovative and effective work we do. Now we have the stage -- we can have a presence in every [high] school in the state."
Moix said the virtual classes will be necessary for the next few years while the state works to build the number of teachers who are prepared to teach computer-science courses.
"Maybe 10 percent of the [288] school districts in the state have the capacity to teach computer science without these other options," Moix said.
That lack of capacity leaves many school officials lacking the confidence to offer computer-science classes. But the technology is already there, and students -- if they know about the courses -- are interested in them, Moix said.
"The simple reality is that we are really starting off with a current teacher force that's just not comfortable with computer science," said Carl Frank, a computer-science instructor at the school and a member of the Governor's Computer Science Task Force. "Much of the problem is that nobody knows what computer science is or what it can apply to. When even the administration doesn't have a solid understanding of what these courses are, they are left to wonder 'how do I get my teachers ready?'"
In addition to the School for Mathematics, Sciences and the Arts, 14 other cooperatives are offering professional development programs to prepare teachers for computer-science curricula, Hutchinson said. Though there's no tally on how many teachers signed up for the courses, Moix said, some districts didn't send any teachers this year.
"I don't fault them for it," he said. "I would guess they look at the digital option as the easy option this first year. Nobody is opposed to [teaching computer science], but some of these schools are just trying to put out the fires closest to them. This was just added to their list."
Hutchinson said the virtual courses have "laid a strong foundation," but there's still a lot of work to do to reach his goal of having 20 percent of the state's high schoolers taking a computer-science class, which he said would equate to 6,000 students a year with coding skills to add to the workforce.
"We need to remind ourselves that we are on the right track, and we've got to continue to build and strengthen what we have," he said.
The 15-member Computer Science Task Force met July 22 to discuss its recommendations for the governor. As the task force looks toward the future, Frank said, it has identified some challenges in this first year.
To ensure that a high number of teachers are prepared to teach computer-science courses, the task force and the governor agree that the state's colleges and universities need to develop programs of study for education students who aspire to teach computer science.
"We won't see that for a few years," Frank said. "This is all coming so accelerated. Normally new courses and licenses develop over time. It's hard to solve all of the problems with a shotgun pace."
A new licensure plan, which requires teachers to pass a Praxis computer-science exam, can be used to "address unusual emergency situations when licensed educators are asked to teach in areas/levels for which they are not licensed," according to the state's Department of Education website.
The Education Department did not yet have the numbers for the first round of teachers who applied for computer-science licenses under the plan, but the governor said the number "was not as great as [he] would like to see."
Members of the task force also are working to identify a way to test and measure student achievement. There is no national standard test for computer science, Moix said.
At the meeting July 22, the task force decided to recommend that the state Department of Education assemble a committee to begin development of computer-science standards for students in kindergarten through sixth grade. The standards would be modeled after the Computer Science Teaching Association's national recommendations for those grade levels.
Exposing youths to computer science is important for engaging students who are underrepresented in the science, technology, engineering and mathematics fields -- namely girls and members of minority groups, Frank said.
"The reason young kids say they want to be doctors or librarians or veterinarians is because they can identify with those careers," he said. "With computer science, they don't know what that is yet. We want to move in a direction to change that."
Promoting student awareness is important for high school grades, as well, Moix said. Once students are aware of the course offerings, there will be high levels of interest, he said.
To promote the courses, the governor spoke to students at 10 high schools across the state in May.
"We worked hard to get the word out," Hutchinson said, adding that he expects enrollment numbers to be high in the schools he visited.
But the governor's initiative began this year after most districts had published their course catalogs and students had turned in course request forms for the next school year, Moix said.
"I just don't think in this first year we will see a full cycle of student interest and awareness," he said.
Deb Horn, a math teacher at Hot Springs High School, was given the task of finding at least five students who would be interested in taking the computer-science course that she volunteered to teach in the fall.
"Before I knew it, I had 50 students wanting to take the class," she said. "I can only seat 20. It's clear the students aren't scared of this -- they are excited."
Horn said that although she did have several girls and minority-group students interested in the course, she imagines that in this first year, her class will "look like a class of older, senior-level male students."
But that will change, she said. "There's going to be 20 students saying 'this class is so cool.' Their friends are going to hear that and sign up."
Horn is one of the 15 teachers who attended the teacher training at the School for Mathematics, Sciences and the Arts last week. She said she's preparing for the new course just like any other she teaches.
"I'm not scared of this," she said. "I'm just excited about what this means for students."
Under the governor's initiative, students can swap a computer-science course for a fourth-year math course, which she said is appealing to a lot of students. Computer science will be more relevant to many students than an upper-level math class, Horn said.
Moix agreed.
"We pitch this to students as a way to 'go behind the screen,'" he said. "We don't expect them to all go out and become coders. But the skills will empower them to be more-aware consumers, who have an understanding of what is under the hood of everything we touch and do."
At the basic level, Moix said, that means getting students to understand what clicking "like" on Facebook actually does. At the highest level, it means teaching skills that can "change the world" and create an "empowered workforce to drive the state's economy, as Hutchinson envisions," Moix said.
Horn already has a speech ready for students who enter her classroom expressing an interest in computer science: "I look at them and ask 'can you feel the breeze?'" she said. "That's the breeze from the doors and windows opening. That's the feeling of all the opportunities that just opened up for you."
SundayMonday on 08/02/2015