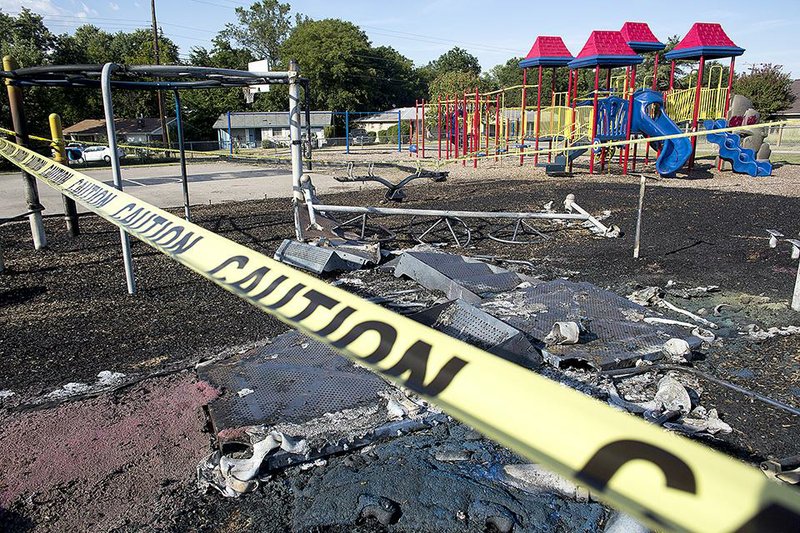 The playground at Geyer Springs Elementary School off Mabelvale Pike sustained damage from a midday fire Sunday. A Little Rock Fire Department official said arson is suspected. ( Melissa Gerrits)
For the second time in less than two days, the Little Rock Fire Department is investigating a fire that destroyed playground equipment at a local elementary school.
Capt. Edwin Woolf with the department said firefighters were called shortly before noon Sunday to Geyer Springs Elementary, 5240 Mabelvale Pike, where they found playground equipment on fire.
Sunday afternoon, yellow caution tape surrounded what had been metal monkey bars and a seesaw and small rock climbing wall made of hard plastic.
The monkey bars, with a hint of ash on its silver frame, stood beside a small section of black melted plastic near the playground's entrance.
Firefighters responded to a similar fire Friday evening at Franklin Incentive Elementary School, 1701 S. Harrison St.
Capt. Randy Hickmon of the Little Rock Fire Department said it took about 30 minutes to extinguish the fire there.
Investigators are looking at video footage from cameras near both schools to see who and what might have caused the fires, Woolf said.
Until a suspect has been identified, officials will not know if the two cases are connected, he said.
Woolf said there is reason to believe that both fires were set intentionally, and the fire marshal is investigating both cases.
Baker Kurrus, the superintendent of the Little Rock School District, said he believes the fires were the work of at least one arsonist but that they may not have been caused by the same person or people.
"Somebody's bound to know something that will help us," he said from an airport in Chicago.
Despite being out of state for a short vacation, Kurrus said he has been updated on the fires by officials, adding that they have not told him if the fires were accidental or arson.
Kurrus said the playground equipment at both elementary schools will be replaced as soon as possible. He added that insurance should cover the costs.
"It'll be replaced with first-class equipment, just as good as it was when we started," he said.
No definitive plans to replace the equipment at the schools had been made Sunday.
Both playgrounds remain open, Kurrus said.
"These places where kids like to play; kids can play there without fear of any impact on them," he said. "The more people there, the least likely there will be another crime."
Kurrus said he is asking all central Arkansas gas stations to review their recent video footage for anyone buying gasoline in cans.
Willie Hicks, who lives near Geyer Springs Elementary, said the school's playground is a "real nice place for the kids."
"They could lock those gates if they wanted to," Hicks said, referring to the chain-link fence surrounding the playground.
Hicks, 31, remembered playing basketball on the school's court when he was a student there -- it was the only playground equipment students had at that time, he said. Children continued to play on the court Sunday evening.
"This ain't no accident," said Hicks. "To me, it's an act of terror. ... What's the benefit of it?"
State Desk on 08/03/2015
Print Headline: Fire marshal probing blazes at 2 LR schools
Sponsor Content