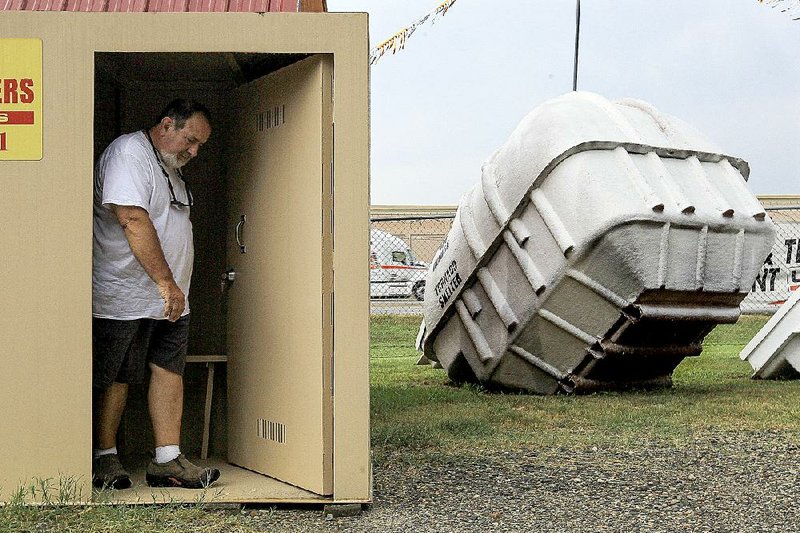 Robert Toll started selling underground and above-ground storm shelters at his Bryant company, Arkansas Tornado Shelters, in 1997 after surviving a direct hit from a tornado that killed more than 30 people. The Arkansas Department of Emergency Management is reinstating its rebate program for homeowners who purchase storm shelters and will process applicants "as funds become available." ( Arkansas Democrat-Gazette / Benjamin Krain)
The Arkansas Department of Emergency Management is reinstating its storm-shelter rebate program after ending it in March over a lack of funding.
Residents who installed shelters on or before June 30 are eligible to receive up to $1,000 through the program, department spokesman Krista Guthrie said. Applications will be accepted until Jan. 29, 2016.
The program was developed to assist Arkansas homeowners who install storm shelters or safe rooms on their property and covers up to 50 percent of the cost and installation, not to exceed $1,000.
The program doled out $1.25 million each year to those eligible for the rebates.
During the past fiscal year, 2,781 homeowners applied for the storm shelter rebates. The year before, 1,800 applied.
Since 1999, when the rebate program began, a total of 22,788 homeowners have asked for rebates.
"We came to the difficult conclusion that we had more applicants than money allowed," Guthrie said.
This week, however, the department announced that it would resume the program.
"After hearing the concerns of Arkansans, the [department] will begin accepting applications for shelters installed on or before June 30, 2015," a news release said.
"Bear in mind, additional funding is not anticipated until July 2016 at the earliest," the release said. "Any eligible applications received from now through Jan. 29, 2016, will be processed as funds become available."
Scott Rutstein of Austin bought a storm shelter and installed it April 27 with the $1,000 rebate in mind. He said he purchased a large one for $6,000 that can hold 12 to 14 people so his neighbors could use it during storms, as well.
The April 28, 2014, tornado that killed 16 people in central Arkansas cut a path about 5 miles from Rutstein's home in Lonoke County. He had applied for the rebate but learned that the program had been discontinued before his paperwork got to the department.
When he heard about the situation, he called news organizations and legislators.
"I wanted the governor to hear I was not happy about it," he said. "I wanted to find out who made the decision and appeal. I spent a lot of money on the shelter that I didn't have."
Jim Garner, owner of Cozy Storm Shelters in Lonoke County, said he was pleased that the rebate program was reinstated.
In the week that followed last year's tornado -- which the National Weather Service in North Little Rock rated as an EF4 with wind speeds of 200 mph -- Garner installed 25 shelters in Arkansas.
Within a few months of the twister, he placed 170 shelters in homes.
"That tornado stirred things up," he said. "A lot of people saw how dangerous it was not to have a shelter."
He said those who bought shelters from him weren't as motivated by the rebate as they were about safety, however.
"They'd say that they were just trying to keep their family safe," Garner said. "The $1,000 rebate was a plus, but their families were the main concern."
Guthrie said for residents to be eligible for the rebates, the shelter's installation must be verified by their county's emergency management coordinator. Homeowners can download applications from the Arkansas Department of Emergency Management's website at www.adem.arkansas.gov.
The applications will be accepted from either local emergency coordinators or directly from the applicants and must be mailed to the department by 4:30 p.m., Jan. 29, 2016.
"I think people can get bigger shelters if they know they can get the rebate," Rutstein said. "Not everyone in my neighborhood has a shelter. If you come to my door during a storm, I'll let you in."
State Desk on 08/06/2015
Print Headline: Agency revives storm-shelter incentive
Sponsor Content