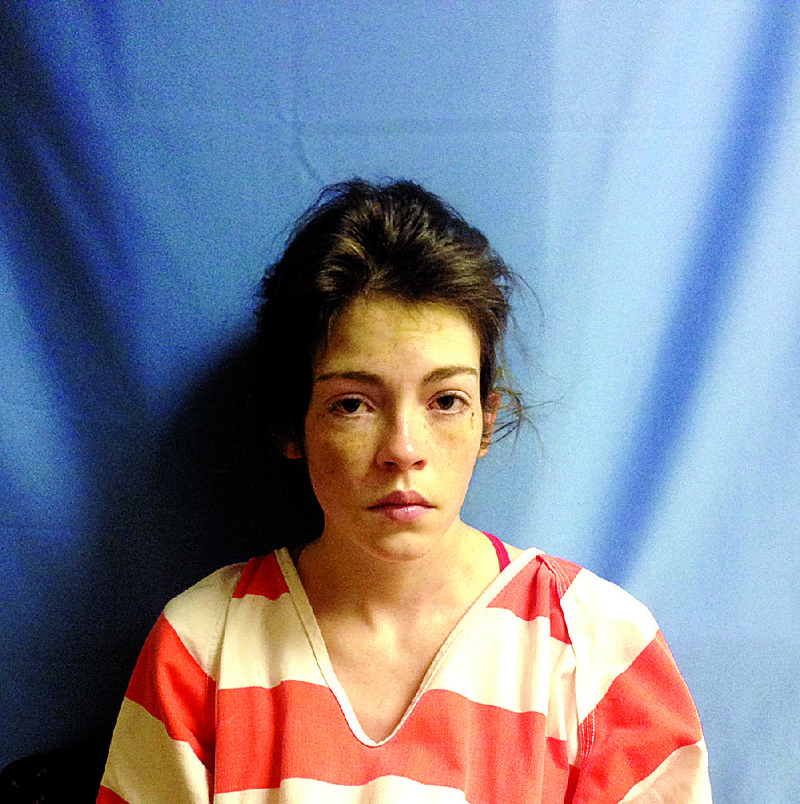 Brooke Floyd
Correction: Jennifer Boye is a licensed forensic psychologist with the Arkansas Department of Human Services. Her last name was misspelled this article.
MORRILTON -- A judge Wednesday found a Greenwood woman charged with manslaughter in the death last summer of her 10-month-old son in the Ouachita Mountains mentally competent to stand trial in September.
Authorities believe methamphetamine-induced hallucinations led Brooke Sueann Floyd, 22, to abandon her son, Harper Alexander Floyd, and her husband, Brian Floyd, 33, in the woods. She is not charged in her husband's death.
Floyd is scheduled for hearings Sept. 3, Sept. 21 and Sept. 22 in Yell County Circuit Court in Danville. She is out on bond after pleading innocent by reason of mental disease or defect.
Additional time was requested July 2 at a pretrial hearing for preparation, pending Floyd's mental competency, according to a court document.
Floyd's mental-evaluation report, conducted in April, concluded she did not show symptoms of mental disease or defect at the time of the events.
Jennifer Boyd, who has performed more than 60 mental evaluations for the Arkansas Department of Human Services, told defense attorney Lee Short of the Little Rock-based James Law Firm on Wednesday that she based her conclusion on documents the prosecution had provided her and an interview with Floyd.
Floyd has a "factual and rational" understanding of legal proceedings and a "rational ability to assist her attorney in her defense," Boyd told Circuit Judge Jerry Don Ramey during a hearing in a Morrilton courtroom.
Short stood by Floyd's plea and questioned the reliability of the documents Boyd reviewed for Floyd's mental-health evaluation.
"It seems like most of your information of the offense, most of the information that was provided, comes from what [Floyd] told the officers," Short said. "The only person that can really tell anyone about what actually happened is Ms. Floyd."
Short repeatedly asked Boyd whether sleep deprivation, dehydration, starvation, methamphetamine use and the length of interrogation could have affected Floyd's memory.
If any or all of these factors affected Floyd's ability to "perceive and recollect accurately," then Boyd relied on inaccurate information, Short said.
"Whether she's telling the officers something, whether she can accurately remember what she perceived at the time, whether she's able to impart that perception to the officers accurately is important," Short said.
Autopsy results released after Harper's body was found July 29, 2014, indicated his cause of death was "exposure and abandonment."
Toxicology tests were run on Brian Floyd's body, but Charles Kokes, the state's chief medical examiner, said the report cannot be released because homicide has not been ruled out as a cause of death.
Defense attorney Bill James said he doesn't expect Brooke Floyd to be charged in the death of her husband.
U.S. Forest Service personnel found Brooke Floyd scratched, bruised and barefoot in a ditch in the Ouachita National Forest on July 25, 2014, according to an affidavit signed by Yell County sheriff's office Capt. John Foster.
A ground and air search by the Arkansas State Police, the FBI, and the Arkansas Game and Fish Commission for her husband and son followed. They were found four days later in a remote area of the Ouachita Mountains.
When authorities first located Brooke Floyd, she told officers that she had left her son with her husband so she could seek help because people were chasing her family, according to the affidavit. Later, she said she and her husband had been hallucinating and fighting, the affidavit added.
State Desk on 08/06/2015
Print Headline: Mom of dead boy ruled fit for trial
Sponsor Content