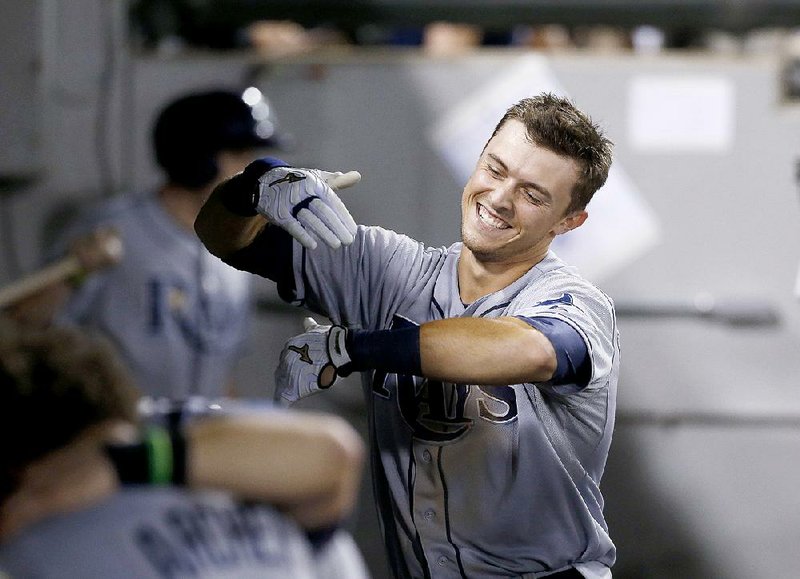 Tampa Bay third baseman Richie Shaffer picked up his first hit, a home run, in the Rays 11-3 victory over the Chicago White Sox on Tuesday, but his teammates game him the cold shoulder when he came into the dugout prompting a pretend celebration. (AP / Charles Rex Arbogast )
No one was going to spoil Richie Shaffer's moment.
The Tampa Bay Rays third baseman picked up his first major-league hit, a solo home run, in an 11-3 victory over the Chicago White Sox on Tuesday, but Shaffer's teammates had a little surprise for him when he returned to the dugout.
Instead of lining up for high-fives and congratulatory hugs, Shaffer's teammates gave him a good-natured cold shoulder, gathering in a huddle and giving him the silent treatment as he walked into the dugout fresh off his home run trot.
No high-fives. No hugs. Not even a slap on the tush.
That didn't stop Shaffer from celebrating. In fact, he sort of expected it since the move has become somewhat common when a rookie hits his first home run.
So Shaffer, 24, simply made his way through an imaginary line of teammates, smiling, hugging, high-fiving and happily pointing at no one in particular as he made his way past his actual teammates who paid him no mind as they remained huddled up with their backs turned toward him.
Appropriately, once Shaffer made it through his imaginary teammates his actual teammates pulled him into their huddle and everyone celebrated accordingly.
Little did Shaffer know that his one-man celebration would become an instant Internet hit.
"I was just trying to have fun," Shaffer told Marc Topkin of the Tampa Bay Times. "Stay loose. Just be me."
Camp Cupcake?
NFL training camp isn't supposed to be a vacation, but it feels a little like that for some of the Arizona Cardinals.
Several NFL teams still conduct training camp at colleges and put players up in dorms, but accommodations are little better for Cardinals players. Arizona practices at University of Phoenix Stadium and players stay in a nearby hotel.
Instead of a crowded dorm room with a tiny bed, Cardinals players enjoy a nice room with a large, comfortable bed.
"I wouldn't call it Camp Cupcake," defensive lineman Corey Peters told Robby Baker told NBC affiliate 12 News of Phoenix. "There's still very long days. You just sleep a little more comfortable at night, but you're still going to be on the move from 7 a.m. to 9:30 p.m."
Of course, Cardinals players also have to deal with their biggest enemy.
Room service.
"You got to love the room service, but that can be tough on you when you're trying to make weight," linebacker Sean Witherspoon said. "You have that menu sitting, looking at you, late night with the ice cream and Haagen-Dazs right there."
They said it
• From Brad Dickson of the Omaha World-Herald in Nebraska on the Princeton Review naming the University of Illinois as the No. 1 party school in the United States: "I suspected this when I saw that the new alternate football uniform at Illinois was the toga."
• Comedian Argus Hamilton on UFC superstar Ronda Rousey knocking out Bethe Correia in the first round of their fight Saturday night in Brazil: "Ronda knocked out the woman in 34 seconds. This breaks Bill Cosby's record by a minute and a half."
Sport quiz
Where did Richie Shaffer attend college?
Sports quiz answer
Clemson
Sports on 08/07/2015
Print Headline: Home run is shunned just for fun
Sponsor Content