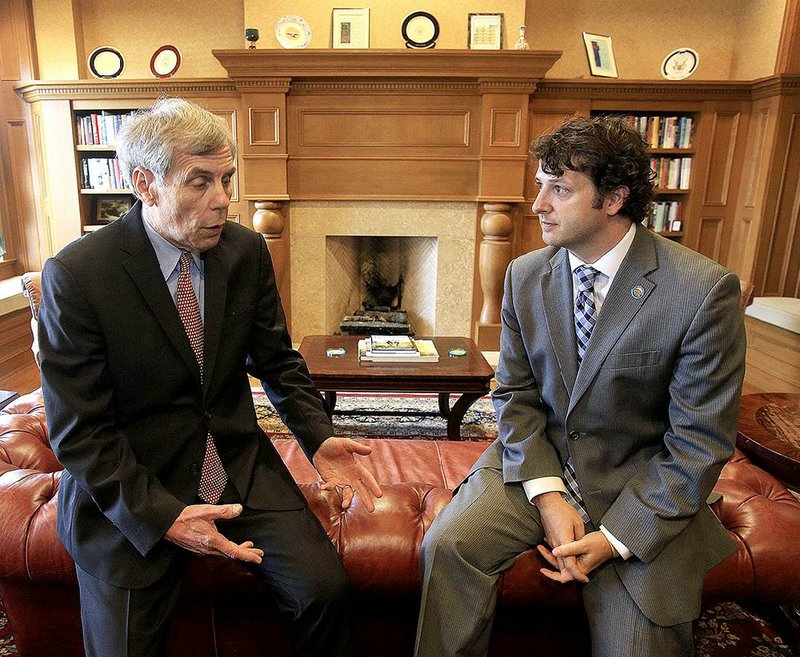 Dean Skip Rutherford (left) and Director of Public Programs Nikolai DiPippa will host the 1,000th speaker in the Clinton School of Public Service Distinguished Lecture Series next month. ( Staton Breidenthal)
Actress Fran Drescher. Chinese civil activist Chen Guangcheng. Sen. John McCain. Dr. Phil McGraw. House Minority Leader Nancy Pelosi.
Those are just some of the people who have traveled to Little Rock to speak at the University of Arkansas Clinton School of Public Service through the school's Distinguished Lecture Series. Sometime in September, the 1,000th name will be added to the list.
Though Dean Skip Rutherford said he knows who it will be, it won't be publicly announced for another couple of weeks, after the school counts down its top 50 lectures on its Twitter page.
The series began in September 2004 with a speech by former Sen. Bob Dole, R-Kan. Since then, the school has hosted nine presidents and prime ministers, two Supreme Court justices, 22 Pulitzer Prize winners, 13 U.S. senators, 41 ambassadors, four Oscar winners, two astronauts and four NFL players, among many others. The series also screens films and documentaries and hosts panel discussions for every Arkansas Repertory Theatre production.
Now averaging more than 100 speakers per year, the free lecture series has attracted more than 167,000 attendees and more than 370,000 visitors to the website, where the speeches can be viewed online.
Having the speeches posted online extends their reach beyond Clinton School students and members of the public who attend, Rutherford said.
"A student in a small town in Arkansas can pull it up and have a primary source," he said. "This really is an important free public resource."
Rutherford said many of the lectures have attracted attendees from neighboring states and even as far as England once, when a woman flew in to see astronaut Buzz Aldrin.
The lecture topics have varied widely, including invasive pythons, U.S.-Korea relations, the effects of climate change on duck hunting and the H1N1 flu. The speakers vary, too.
Once, in October 2008, three lecturers spoke on the same day: Jean Picker Firstenberg, the former chief executive officer and director of the American Film Institute; Leonard Steinhord, a communications professor at American University; and Jerry Springer, host of The Jerry Springer Show.
"We do manage to get quite the variety," said Nikolai DiPippa, the director of public programs and the man who handles the logistics of attracting speakers, some of whom have never before spoken publicly and some of whom travel on national speaking circuits.
"Asking to pick my favorite speech is like asking me to pick my favorite child out of almost 1,000," he said. "I've got an eclectic taste. I consider what would be beneficial to the students and community, but I also think about what kinds of things would interest me."
DiPippa and Rutherford take suggestions from the public and often receive requests from those who want to speak, DiPippa said.
The school also tries to get speakers from both sides of an issue, he said.
At the Little Rock Regional Chamber of Commerce Banquet last year, Rutherford said, Bill Clinton joked that Rutherford must have written a list of every enemy Clinton had ever made and then invited all of them to speak at the Clinton School.
The school does not pay a speaker fee, but it does cover travel and lodging expenses, Rutherford said. That averages about $1,000 a speaker, he said, "far less than some campuses pay for honorarium alone for just one speaker."
"We really have a great program -- it provides our students and the public with unprecedented access to leaders."
DiPippa said the series has given him the opportunity to meet and learn from hundreds of influential people and experts. He said he hopes to book Ta-Nehisi Coates, national correspondent for The Atlantic, and former President George W. Bush.
Rutherford's dream speakers are less political.
"I want to see Meryl Streep," he said. "Oh, and [Los Angeles Dodgers pitcher] Clayton Kershaw."
DiPippa said he wouldn't be too surprised to hear his dream guests were speaking. Every year, he said, he is a little surprised by the diversity of names and topics.
"The storage tank is never empty -- there are always new ideas," he said.
Metro on 08/10/2015
Print Headline: Clinton School lecture series nears milestone
Sponsor Content