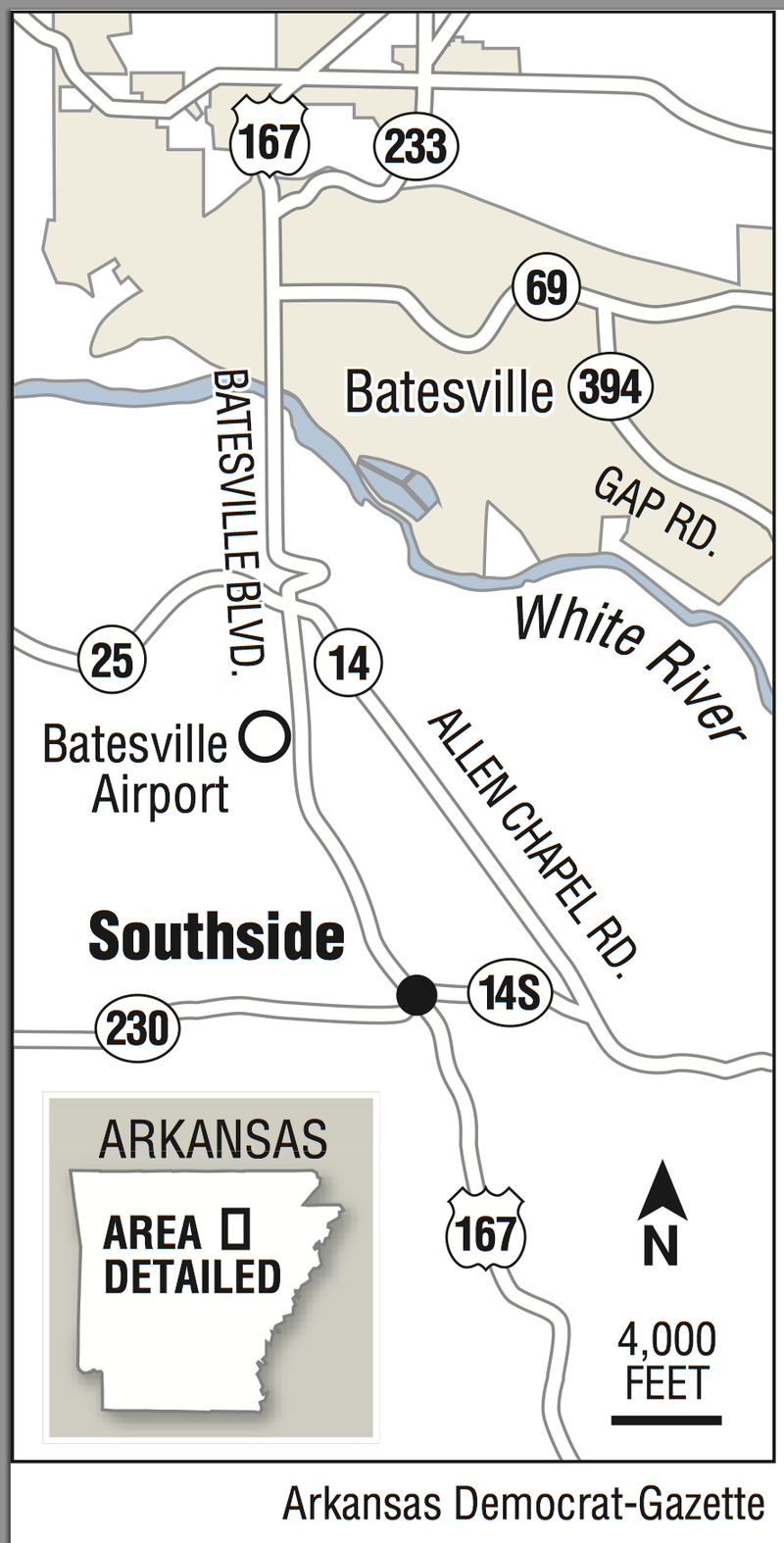 This graphic shows the location of Southside, which was recently incorporated in Independence County.
Voters in Southside will select the town's first mayor, aldermen and other positions Tuesday. But rather than revel in the historic election in the recently incorporated Independence County town, candidates are keeping the campaigns subdued.
All of the candidates have agreed not to put up campaign signs and instead merely pass out business cards bearing their names while talking to prospective voters.
"It's shoe leather and knocking doors," said Ray Bowman, a candidate for mayor. "We're wanting to keep it low-key."
Bowman, who owns a handle-making company in Batesville, will face Sheri Cavaness, who used to own a photography studio and works in payroll and business management.
Voters first tried to incorporate the area just south of Batesville atop Ramsey Mountain in 2006, but failed.
Batesville expressed interest in annexing the 1,400 residents of Southside during the summer of last year, but residents opposed the annexation, saying they feared property taxes would increase if the larger city took over.
They also said they didn't want Batesville altering their way of life by imposing regulations and ordinances.
"You couldn't shoot fireworks," Bowman said of the Batesville ordinances that would be imposed in the annexation. "You couldn't shoot a rabbit in your yard if you wanted to."
Residents fought back against the proposal, gathering petitions to incorporate. Within a few weeks, volunteers collected 780 signatures from the 900 or so residents who were registered to vote.
Batesville leaders placed the annexation proposal on the November general election and challenged the way the Southside petitions were gathered.
During a hearing in October, Robert Griffin, county judge for Independence County, ruled petition gatherers did nothing wrong and granted Southside's request to incorporate.
A week later, voters turned down Batesville's annexation proposal. In February, Batesville City Council members voted to drop the city's lawsuit that challenged the petitions.
The quiet campaign this summer is in contrast with the path Southside took to incorporate.
During several meetings and hearings last year, residents raised voices and several booed when Batesville Mayor Rick Elumbaugh spoke of creating a "partnership" between Batesville and Southside. One woman shook her fist at Arkansas Municipal League attorney Mark Hayes, who represented Batesville during a hearing.
In April, 16 candidates filed for the nine Southside municipal positions. Those running are:
• Mayor — Bowman, 52, and Cavaness, 55.
• Alderman, Position 1 — Beth Altman, 56, and Jerry Byrd, 68.
• Alderman, Position 2 — Vince Gay, 66.
• Alderman, Position 3 — Mary Beth Bowen, 71.
• Alderman, Position 4 — Nolan Garrett, 64; Charles Lawson, 20; and Joey Sample, 51.
• Alderman, Position 5 — Fern Phillips, 78, and Tim Fairchild, 54.
• City marshal — Dennis Gordon, 64, and Bobby Mize, 80.
• City recorder — Jessica Altman, 29, and Vera Byrd, 66.
• City treasurer — Byron Southerland, 65.
"This is a historic time for Southside," Griffin said. "This is the first time they will hold an election. They'll choose their City Council, and we'll see what they want to do."
Southside will contract police, f ire and garbage collection services from the county, paying about $1 million a year — the same amount the county received in property taxes from the previously unincorporated area. The area already has a water and sewage-treatment system.
"As long as we are able to return the revenue back, we'll continue to do what we're doing," Griffin said. "As long as there's no loss of money, there's no reason to change that.
"If Southside wants enhanced police services, they can take that over and no longer pay us."
Bowman said he decided to run for mayor because he wanted to ensure that residents would maintain the lifestyles they had before Batesville's annexation bid. He has never run for office before.
"I want to fulfill what we promised to do in the first place when we talked about incorporating," he said.
"Government is a needed thing, but if you provide too much, you've got to fund it somehow. It opens Pandora's box."
He said he filed as a mayoral candidate when he saw no one else was going to oppose Cavaness.
Cavaness did not return several telephone messages seeking interviews.
Southerland, an accountant, said he decided to run for city treasurer after several people asked him to run for mayor.
"I'm not all that strongwilled to be mayor," Southerland said. "I ran for treasurer to make sure our money is handled well."
He said he agrees with the candidates' low-key approach to campaigning.
"Nobody wants to spend a lot of money on this," he said. "There's no reason for anybody to go crazy."
One of the first things the new Southside administration will do is seek to annex an area of about 2,000 people, Southerland said.
The area is to the north and east of the current city limits and was left out of the original city design to serve as a "buffer" between Batesville and Southside. Since the incorporation, Southside no longer needs that buffer, he said.
The town also will get a $1.2 million clinic within the next few months, and a large apartment complex will soon be built, Southerland said.
As for the historic value of Tuesday's election, Southerland is keeping that low-key as well.
"I'm working in Newport," he said. "We're going to get sworn in on Wednesday, so I'll take that day off.
"I'm sure a picture or two will be taken then."
Print Headline: Southside keeping 1st election 'low-key'
Sponsor Content