BENTONVILLE -- The International Mountain Biking Association has given Northwest Arkansas a new designation recognizing the region's trail systems and can be used as a marketing tool to increase tourism, according to officials.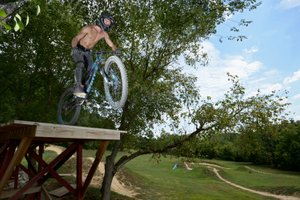 Photo by BEN GOFF • @NWABENGOFF / NWA Democrat-Gazette
Tylar Furr of Fayetteville rides at the Slaughter Pen free ride park in Bentonville. For more photos, go to www.nwadg.com/photos.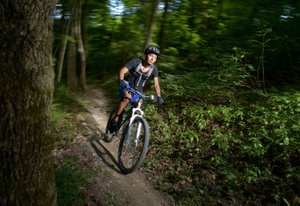 Photo by Ben Goff
David Galvez of Rogers rides Friday on the Urban Trail at the Slaughter Pen trail system in Bentonville. For photo galleries, go to nwadg.com/photos.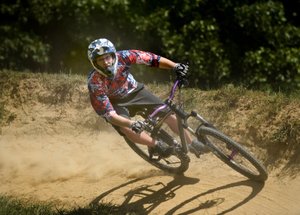 Photo by Ben Goff
Spencer Brown of Pea Ridge rides Friday at the Slaughter Pen free ride park in Bentonville.
Northwest Arkansas was named the first Regional Ride Center when the association announced its 2015 class of Epic Trails and Ride Centers this month.
International Mountain Biking Association
The International Mountain Biking Association was founded in California in 1988 and is headquartered in Boulder, Colo. It's a 501c3 nonprofit group whose mission is "to create, enhance and preserve great mountain biking experiences." It has more than 180 chapters globally, most of which are in the United States. Ozark Off Road Cyclists in Fayetteville and Friends of Arkansas Singletrack in Bella Vista are two Northwest Arkansas chapters.
Source: Staff report
Regional Ride Center designations are part of the association's Model Trails program that recognizes "outstanding facilities for mountain biking and hold(s) them up as models so other communities can learn from them," said Mark Eller, IMBA communications director.
Bentonville and Fayetteville previously received the silver level and bronze level in the Ride Center program. There are 37 Ride Centers through out the world.
With those centers "located less than 30 miles apart, the two towns have formed the first and only regionwide Ride Center designation," the IMBA news release states.
It's unusual to have two ride centers "essentially in each other's back yards" so the association created the Regional Ride Center designation to recognize what was happening in Northwest Arkansas, Eller said.
Trail length and diversity are two of the criteria association officials look at when evaluating trails.
"What we want to see in Ride Centers is diversity of riding so that any mountain biker from beginner to expert could find a lot of great options," Eller said.
Bentonville has about 20 miles of mountain biking trails at Slaughter Pen, but the association includes the 7 miles at Blowing Springs Trail in Bella Vista and 24 miles at Hobbs State Park on its website.
Fayetteville has just less than 29 miles of mountain biking trails, according to Matt Mihalevich, trails coordinator.
The most popular is a 6.5-mile loop around Lake Fayetteville that's more for beginners and less intense than other trails, he said.
That trail sees an average of 600 users a day, according to Mihalevich. It peaked at 3,549 users on March 15.
"It must have been a really nice day," he said.
Kyle Urquhart enjoyed the Lake Fayetteville mountain biking trails Saturday. He recently moved from Colorado, and this weekend was his third visit to the trail.
"It's definitely different than Colorado," he said, comparing Fayetteville's wooded trail with roots and trees as the obstacles to Colorado's more technical trails with large rocks.
"Because it's not that technical, I can knock it out in a few hours and go home," he said. "It's sort of like a regular workout place."
Urquhart said he's heard of the region's other trails and is planning to ride them soon.
The completion of the 37-mile Razorback Greenway also played a role in obtaining the region designation as it created a car-free option to get to different mountain biking trails and also closed the gap between on-road and off-road biking communities, Eller added.
Mountain bikers are always looking for new challenges and new trails to ride and often use the IMBA website as a resource, said Alan Ley, executive director of the newly formed Arkansas chapter of National Interscholastic Cycling Association.
"People will want to come here to ride. It will definitely drive tourism," he said of the Regional Ride Center status.
The regional designation can be used as a marketing tool, said Kalene Griffith, Visit Bentonville president and CEO. It's to mountain biking trails what the James Beard recognition is to restaurants, she said.
"Most cyclists know exactly what the International Mountain Biking Association is, so if they're designating us as a Regional Ride Center they're saying that we're a high-quality trail system that people can come to, enjoy and have a great experience," she said.
The desination makes Northwest Arkansas collectively more marketable as people not familiar with the area may not know how close Fayetteville and Bentonville are, said David Wright, Bentonville Parks and Recreation director.
"It brings attention to the rest of the world that we're side by side," he said.
Chuck Maxwell, president of the Ozark Off Road Cyclists in Fayetteville, said he believes the draw from the IMBA recognition also will attract trail runners, hikers and other recreationalists.
"I think it will be more wide spread than just cyclists," he said.
Visit Bentonville has identified bicycle tourism as a priority and will discuss its direction more at the Advertising and Promotion Commission's strategic planning meeting later this month, Griffith said.
Fayetteville will also add mountain biking trails to Mount Kessler as the city develops it, according to Mihalevich. Mount Kessler has about 7 miles of trails.
NW News on 08/16/2015