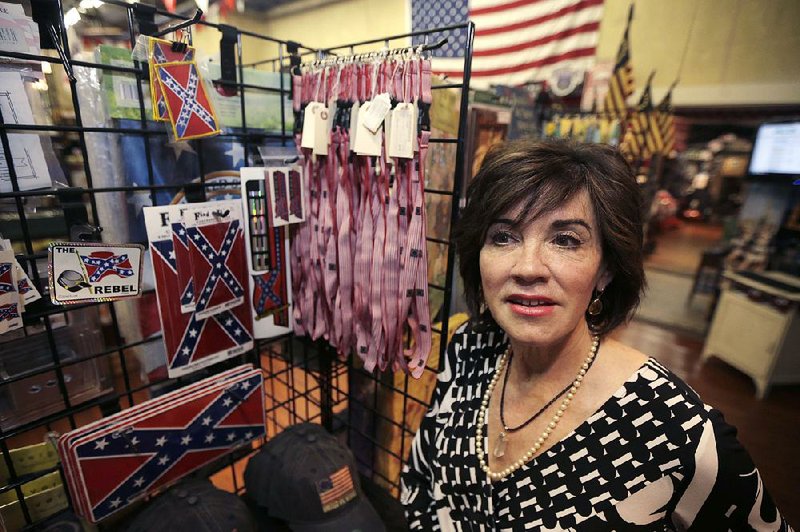 Kerry McCoy stands in Arkansas Flag and Banner in Little Rock. (AP / DANNY JOHNSTON )
A Little Rock-based flag business said sales have increased 50 percent in part because of increased demand for the Confederate flag after other retailers stopped selling it.
Arkansas Flag and Banner, which is located on West 9th Street in downtown Little Rock and also operates an online store, said in a statement Tuesday that overall sales — including the Confederate flag and other products — were up 50 percent in June and July. New customers were up 63 percent.
"The day [Wal-Mart] and Amazon discontinued the sale of confederate flags, my internet business exploded with orders from all across the country," owner Kerry McCoy wrote in the statement.
McCoy estimated the business sold some 2,000 Confederate flags during the stretch, up from maybe 50 it typically sells in a year's time. She said that flag was the best-seller for the period, though higher sales on non-Confederate affiliated, more expensive products actually generated more revenue.
The business also added two new employees during the stretch, bringing its total staff to 22.
McCoy defended her decision to sell the flag even as other retailers stripped it from shelves, saying it's a freedom-of-speech issue for a business that specializes in flags.
"When your core business is selling flags, you can't stop selling flags to any group of Americans," McCoy said. "Because it's your core business ... I don't fly the Confederate flag; I don't have any intention of flying the Confederate flag. But that doesn't mean I'm into censorship. I'm in the business of selling flags."
McCoy likened it to the gay pride flag, which she said some religious groups have asked her to stop selling. She said she has declined to do so.
"That's just the business of the flag business," McCoy said.
Sponsor Content