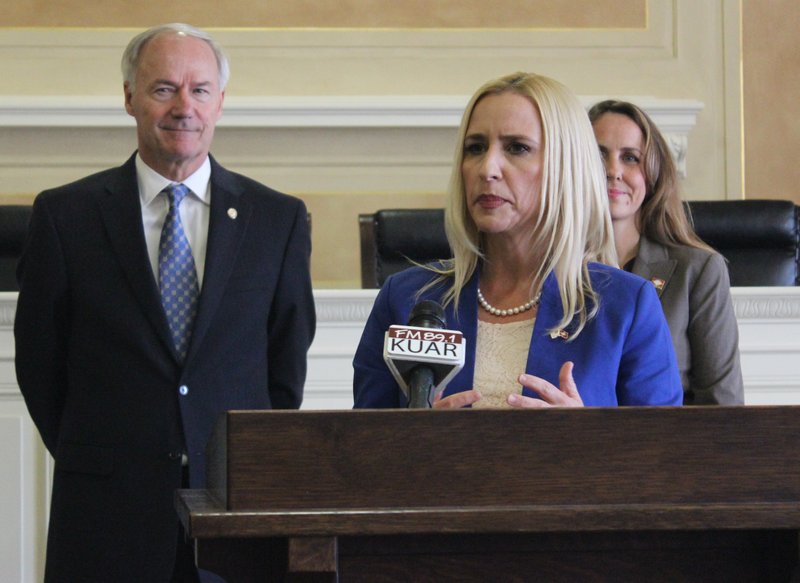 Arkansas Attorney General Leslie Rutledge speaks Tuesday, Aug. 18, 2015, about a new federal-state partnership program that will identify and investigate disability benefits fraud. Looking on are Arkansas Gov. Asa Hutchinson and state Sen. Missy Irvin, R-Mountain Home. ( Gavin Lesnick)
A new federal-state partnership program in Arkansas will attempt to ferret out fraud in Social Security and other disability programs.
Arkansas Attorney General Leslie Rutledge and Gov. Asa Hutchinson on Tuesday announced the creation of the Arkansas Cooperative Disability Investigations Program. The new Little Rock-based unit will be paid for by the Social Security Administration and will investigate fraud and potential fraud in disability claims.
Officials said similar efforts already created in 24 other states and Puerto Rico are credited with saving $3.1 billion in Social Security programs and $1.9 billion in other initiatives, including Medicaid.
"I want to send a strong message that Arkansas and Arkansans will not tolerate fraud," Rutledge said. "We will not tolerate those who cheat the system and steal from those who deserve it."
State Sen. Missy Irvin, R-Mountain View, who Rutledge credited with helping bring the initiative to the state, noted Arkansas' rate of residents receiving disability benefits stands at around 11 percent, well above a national average under 7 percent.
Rutledge said the rate ranks Arkansas among the five states with highest per-capita disability claims received.
"With that high ranking also comes the probability that there are a number of those who are cheating the system and scamming the system," she said. "It's hard to go to a community and talk to folks there about fraud and abuse without someone saying to me, 'Well, let me tell you a story about someone receiving a check who doesn't qualify or doesn't deserve it.'"
Rutledge said investigators will look into "investigating questionable statements and activities of claimants, medical providers and third parties." She said investigations in other states, for example, turned up disability recipients who claimed not to be able to walk but were then spotted or captured on video out shopping or performing strenuous activities.
Officials said at the news conference that the office would also work to identify possible problems before benefits are ever issued, preventing claims from being granted if fraud is detected.
Hutchinson called the work an "important initiative" that will help ensure disability benefits go to those who need them.
"We've got to do better," he said. "We've got to protect the integrity of the program."
See Wednesday's Arkansas Democrat-Gazette for full details.
Sponsor Content