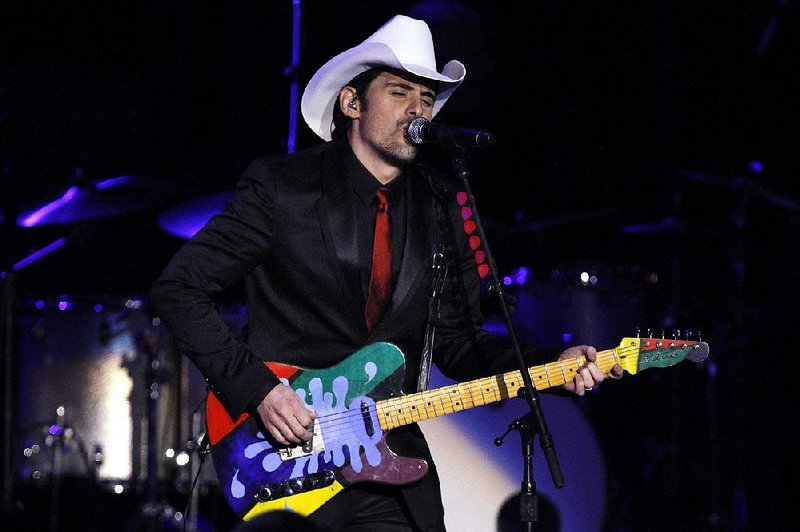 Brad Paisley performs at the Commander-in-Chief's Inaugural Ball in Washington, at the Washington Convention Center during the 57th Presidential Inauguration Monday, Jan. 21, 2013. (AP Photo/Jacquelyn Martin)
Country music star Brad Paisley will play a free postgame concert outside War Memorial Stadium in Little Rock after the Razorbacks play next month.
The University of Arkansas said in a statement that Paisley would play Sept. 12 outside the stadium after the Razorbacks take on the University of Toledo.
Arkansas Athletic Director Jeff Long said in a statement that Paisley will be part of "an unforgettable weekend in Central Arkansas."
"We continue to look for ways to enhance our game day experience and this weekend of outstanding college football and country music is a winning combination for our fans," he said.
Paisley's show is part of a college tour that also features stops at Virginia Tech, the University of Texas and Baylor University.
All of those schools and Arkansas are partnered with IMG College, a division of the WME talent agency that also represents Paisley. IMG "brokered" the tour, the statement said, and chicken chain restaurant Zaxby's is sponsoring it.
Andrew Giangola, a spokesman for IMG College, in an email described the show as a "gift to Razorback fans from Zaxby's, IMG, and Razorback Athletics."
"Zaxby's and IMG are covering expenses," he wrote. "We are not breaking out particulars."
The Little Rock football game starts at 3 p.m., and tickets for it are still available for $55 apiece. The university said more details on the Paisley show would be released soon.
Paisley and Razorback fans have something of a history. In 2011, Eden's Edge, a band from Arkansas, was touring with Paisley and stole a West Virginia rug from his tour bus as a prank.
Paisley responded by taking the Razorbacks rug from Eden's Edge and setting it on fire, an act that was uploaded to YouTube and quickly drew the ire of Arkansas fans.
Paisley, a West Virginia native and fan of the Mountaineers, later apologized on Twitter and said he'd be "rooting for the Razorbacks this year."
"Lord knows you have a better shot at the title than we do," he tweeted then. "May you win em all."
Sponsor Content