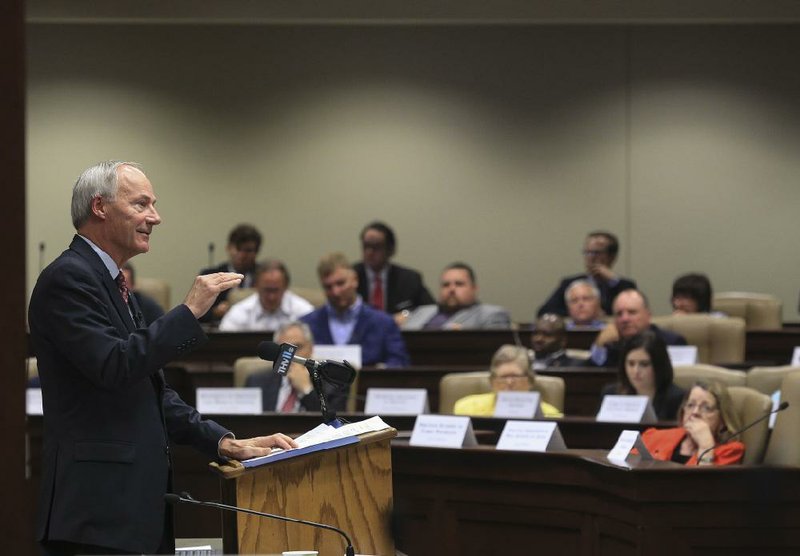 "People who work should not look at those who are not and say, 'Why am I doing this?'" Gov. Asa Hutchinson said Wednesday. ( Staton Breidenthal)
Arkansas should continue using Medicaid funds to buy private insurance for low-income residents, but limit coverage to those earning a minimum income, Gov. Asa Hutchinson recommended Wednesday.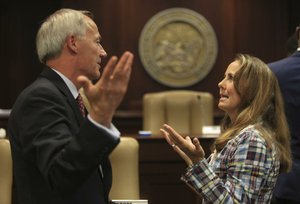 Photo by Staton Breidenthal
Gov. Asa Hutchinson talks with state Sen. Missy Irvin, R-Mountain Home, after Wednesday's joint meeting of the Health Reform Legislative Task Force and the 40-member Governor's Advisory Council on Medicaid Reform.
Hutchinson also proposed using the state's Medicaid program to subsidize employer-sponsored health coverage for low-income workers and requiring those who qualify to sign up.
Hutchinson offered the proposals in a speech to the Health Reform Legislative Task Force and the 40-member Governor's Advisory Council on Medicaid Reform, which met jointly in Little Rock.
None of his proposals would require Arkansas to establish a state-based health insurance exchange, he said. A board created by the Legislature has been taking steps to create a state-run exchange with money from a $99.9 million federal grant.
"I'm asking the question, 'Why are we building the state exchange rather than relying upon the continued partnership with the federal exchange?'" Hutchinson said.
The task force should recommend whether the state should continue with the exchange project, he said.
The 16-member task force and the advisory panel are exploring changes to the state's Medicaid program at Hutchinson's behest.
One of the goals of both panels is developing a replacement program for the so-called private option.
Under the private option, the state uses Medicaid funds to buy insurance on the federally run exchange for more than 200,000 Arkansans.
The state created the private-option program as the primary way to extend health coverage to Arkansans with incomes of up to 138 percent of the poverty level: $16,105 for an individual, for instance, or $32,913 for a family of four.
The 2010 Patient Protection and Affordable Care Act authorized the expansion of Medicaid to people in that income range.
More than 20,000 Arkansans whose incomes qualify them for coverage and are considered to have exceptional health needs are covered under the traditional Medicaid program.
The federal government is paying the full cost of coverage for the newly eligible adults until 2017, when Arkansas will be required to pay 5 percent of the cost.
The state's share will then rise every year until it reaches 10 percent in 2020.
Citing the eventual cost to the state and opposition to the program by some legislators and others, Hutchinson earlier this year called on the task force to recommend a program that will replace the private option starting in 2017.
Task force members have said they expect to make recommendations by the end of this year.
Although he opposes the Affordable Care Act, Hutchinson said Wednesday, ending the state's Medicaid expansion would leave 220,000 Arkansans without coverage and forfeit more than $1 billion a year in federal funding.
But he said that improvements to the private option are needed to reduce the eventual cost to the state and encourage beneficiaries to stay employed.
"People who work should not look at those who are not and say, 'Why am I doing this?'" Hutchinson said.
As one reward to enrollees who stay employed, private, subsidized coverage could be limited to those at a minimum income level, perhaps 20 percent or 25 percent of the poverty level, the governor suggested.
That level could be adjusted to keep the subsidized coverage capped at a certain level, such as 150,000 people, Hutchinson said.
Those earning less than the minimum level would be covered by the traditional Medicaid program, he said.
Parents with incomes of up to 17 percent of the poverty level already are covered by traditional Medicaid under rules that were in place before Arkansas expanded Medicaid.
In addition to subsidizing job-based coverage, the seven-point plan Hutchinson presented to lawmakers includes charging a premium of up to 2 percent of income to enrollees earning at least the poverty level.
He also proposed strengthening procedures for verifying recipients' eligibility for benefits, and requiring referrals to job training programs for unemployed or "underemployed" enrollees.
The state should also end Medicaid-funded nonemergency transportation for those now covered under the private option, which he said would save more than $14 million annually.
Additionally, the private-option program should discourage unnecessary visits for medical care and make Medicaid coverage more comparable to private insurance.
Lawmakers should also cut enough from the overall Medicaid program to offset the cost to the state of covering the newly eligible adults, he said.
According to estimates by a consultant to the state Department of Human Services, the state's cost in the fiscal year that ends on June 30, 2021, will be $218 million.
That cost, however, will be offset by $80.6 million in reduced spending in the traditional Medicaid program, a $40.2 million savings on medical care for the uninsured and an increase in state insurance-premium tax revenue of $46.3 million, according to the consultant's estimates.
To cover the remaining $51 million, lawmakers should consider reducing reimbursement to providers, expansion of the state's health care payment overhaul or hiring managed-care companies to take over parts of the Medicaid program, the governor recommended.
"You can't say no to all" the possible cost-cutting measures, Hutchinson said. "You've got to say yes to some of them."
All of the proposed changes to the expanded Medicaid program, except for referring enrollees to job-training programs, would require waivers from federal rules, he said.
He said he was offering the ideas for lawmakers to consider but acknowledged they may reject some of them or substitute their own ideas as they craft recommendations.
"Sometimes, as governor, you need to put some ideas out there that can be shot at," he said.
A sponsor of the private-option law, Sen. David Sanders, R-Little Rock, said he supports some elements of Hutchinson's plan, such as eliminating Medicaid-funded nonemergency medical transportation.
But he said he is concerned that moving private-option enrollees to traditional Medicaid would hurt the state's insurance market and cause disruptions for enrollees whose incomes change.
Instead of setting a minimum income level for private-option enrollees, he said, the state could impose a work requirement for food stamp recipients, many of whom also are covered by the private option.
"I want to be careful that we're not making Medicaid coverage punitive," Sanders said.
He would also be concerned about abandoning the state's efforts to establish a state-based exchange, he said.
Such an exchange, he said, would give the state more flexibility in crafting insurance programs and allow it to set the fee that is charged to insurance companies to pay for exchange operations.
Currently, Arkansas pays a 3.5 percent fee to the federal government for use of the federal exchange.
"I'm not ready to wholesale farm out significant parts of state-based insurance regulation to the federal government," Sanders said.
The state exchange board also is expected to use revenue from the fee it imposes to take over duties that the state Insurance Department had performed under a partnership with the federal government.
If the Insurance Department takes over those duties instead of the state exchange board, it would cost the state $6 million to $7 million, he said.
Sen. Jim Hendren, R-Sulphur Springs and a chairman of the legislative task force, said the panel's consultant, The Stephen Group of Manchester, N.H., will study Hutchinson's proposals, as well as issue its own recommendations to the task force in a report expected in October.
A Section on 08/20/2015
Print Headline: Governor: Realign Medicaid
Sponsor Content