Like its title character, Hitman: Agent 47 has been specially engineered to be quick, strong and lethal. Somehow, the mad scientists behind the character and the film have inadvertently created an entity that's guaranteed to remove any trace of excitement from the screen for its entire running time.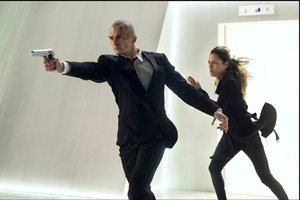 A genetically engineered assassin (Rupert Friend) teams up with fugitive Katia (Hannah Ware) in the video game-derived Hitman: Agent 47.
Relative screen novice Aleksander Bach seems to be working from some type of checklist to ensure he meets his quota for explosions, blood, gun play and peel outs. If that weren't enough, even establishing shots move like a NASCAR driver's qualifying run. To ensure that viewers never lose a sense of freneticism, he loads the film with enough flashbacks to ensure that another film could be made from leftover footage.
Hitman: Agent 47
47 (they asked for it)
Cast: Rupert Friend, Hannah Ware, Zachary Quinto, Ciaran Hinds, Angelababy, Dan Bakkedahl, Thomas Kretschmann, Jurgen Prochnow
Director: Aleksander Bach
Rating: R, for sequences of strong violence and some language
Running time: 96 minutes
If one were to take the excess and piece it together blindfolded, chances are excellent that the final result would be more coherent and thrilling than what Bach and his collaborators have done.
As with its predecessor 2007's Hitman, the new film is adapted from a video game. Those actors and crew (save for screenwriter Skip Woods) are all gone from this effort. The only thing that has returned this time is the tattooed bar code on the back of Agent 47's head. It makes him look as if he could be bought with a sack of potatoes at the supermarket.
Perhaps a better movie could be made about that bag.
Timothy Olyphant must have found something better to do, but his successor Rupert Friend can't make much an impression either, with the high-end suit and the case full of guns and knives. Agent 47 is so anonymous that it's hard to care if he kills or gets killed. Friend's facial features don't help. With his beady little eyes, he looks more like a forest creature than a hardened killer.
This time around he's after a young fugitive named Katia (Hannah Ware) who has been frantically searching Berlin (the titles tell us Germany, in case we'd mistake it for another Berlin) for information on a man she barely remembers. In more capable hands, her quest for the mystery man could have made an interesting movie.
Despite his disorienting cutting and hyperactive camera work, it's still painfully obvious that she's looking for her long-missing father. Other people want him, too. Agent 47 is certainly eager to find the man because he's a result of genetic modifications that have turned the follicularly challenged fellow into a killing machine.
As can be expected, getting away from Agent 47 is a tall order, and Katia takes vials full of psychotropic medicines to keep up enough composure to get away from him. Right when the killer's scalp shines with impending doom, a mysterious American named John Smith (Zachary Quinto) whisks Katia to safety in the U.S. Embassy.
Because he works for a corporation called Syndicate and has a name that seems a tad too common, it's plain to see that his heroics might not be genuine. Agent 47 and his pursuers are supposed to be hyper-intelligent, but a consistent failing of the film that bears his name is that it frequently insults the intellect of even the most undemanding of action fans.
The previous movie was dull, too, but it's hard to hold back the chuckles after observing that Berlin seems to have a surplus of unattached jet engines. They don't make anything fly but they do tear things apart, and several are loaded with volatile explodeum. Like the red-shirted guys in Star Trek, each of these engines is guaranteed to come to a sad end, even if there are no incendiary devices around.
If Bach never makes another film, he can rest assured that he has accomplished something unique with this offering. It's a rare movie that manages to be simultaneously confusing and predictable. Few of his predecessors have managed to make exotic locales and deadly combat look so tedious.
MovieStyle on 08/21/2015