WASHINGTON -- President Barack Obama's nuclear agreement with Iran gained momentum in Congress on Friday as a key Jewish Democrat from New York bucked home-state opposition to support the deal.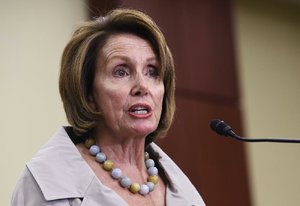 Photo by SUSAN WALSH / AP
In this July 29, 2015 file photo, House Minority Leader Nancy Pelosi of Calif. speaks on Capitol Hill in Washington.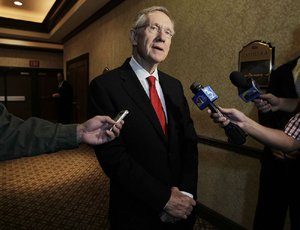 Photo by JULIE JACOBSON / AP
In this Aug. 25, 2010 file photo U.S. Sen. Majority Leader Harry Reid answers questions for a member of the media in Las Vegas, Nev.
Rep. Jerrold Nadler's endorsement followed a personal appeal in a letter from Obama earlier this week and came despite opposition from New York's senior senator, Charles Schumer, and other Jewish members in the New York congressional delegation. Iran has threatened to destroy Israel, and Prime Minister Benjamin Netanyahu is vehemently opposed to the deal.
Nadler became the latest undeclared Democrat to break in favor of the agreement, which seeks to keep Iran from building a nuclear bomb in exchange for billions of dollars in international sanctions relief.
"I bring to my analysis the full weight of my responsibilities as a member of Congress, and my perspective as an American Jew who is both a Democrat and a strong supporter of Israel," Nadler said in a statement.
He said he'd concluded that of the alternatives, the agreement "gives us the best chance of stopping Iran from developing a nuclear weapon."
Nadler, who's the first Jewish lawmaker from New York to back the deal, received a lengthy personal letter from Obama earlier this week defending the deal and pledging the U.S. will continue to put economic pressure on Iran and keep military options open.
"In our conversations, Jerry raised specific concerns relating to Israeli security and the U.S. commitment to countering Iran's destabilizing activities in the region," Obama said Friday. "I wanted to respond to the thoughtful questions Jerry raised, and I am pleased that our discussions were ultimately productive."
Nadler's announcement comes at the end of a week that's seen the deal pick up a steady stream of Democratic support in the House and Senate despite opposition from the Israeli government and Republicans who say it makes too many concessions to Iran and could enable that country to become a nuclear-armed state.
Congress is to vote next month on a resolution to disapprove of the deal, and Obama has promised to veto such legislation if it prevails. Congressional Republicans would need to muster two-thirds majorities in both the House and Senate to overturn Obama's veto.
House Minority Leader Nancy Pelosi, a strong supporter of the deal signed by the U.S., Iran and five world powers, declared this week that House Democratic supporters have the votes necessary to sustain Obama's veto, despite unanimous GOP opposition.
She reiterated that assertion in a letter Friday to fellow Democrats in which she trumpeted Nadler's endorsement and declared, "I feel confident that we will sustain the president's veto, and we will all work together to hold Iran accountable to honoring the agreement."
The list of public Democratic supporters in the House is approaching 60, with only a dozen opposed. In the Senate, only two Democrats -- Schumer and Robert Menendez of New Jersey -- have announced opposition to the deal; 26 have announced their support.
This week, moderate Democrats from Republican-leaning states, such as Sens. Claire McCaskill of Missouri on Thursday and Joe Donnelly of Indiana on Wednesday, declared support for the deal.
"This was not an easy call. It was a close call," McCaskill said Thursday. "It's wrong for anybody, including the president, to accuse those who don't support this deal of bad faith or war mongering."
Some key Democrats have not made their positions known. Among them: Senate Democratic Leader Harry Reid of Nevada; Sen. Ben Cardin of Maryland, the top Democrat on the Senate Foreign Relations Committee; and House Minority Whip Steny Hoyer of Maryland, the No. 2 House Democrat.
Obama's letter
In his letter directed to Nadler, sent Wednesday and later obtained by The New York Times, Obama addressed all of Congress, saying the United States unilaterally would maintain economic pressure and deploy military options if needed to deter Iranian aggression, both during and beyond the proposed nuclear accord.
"Should Iran seek to dash toward a nuclear weapon, all of the options available to the United States -- including the military option -- will remain available through the life of the deal and beyond," Obama wrote.
He pledged to increase missile defense funding for Israel, accelerate co-development of missile defense systems, and boost tunnel detection and mapping technologies. He also vowed to increase cooperation with Israel and Persian Gulf allies to counter Iran's efforts to support Shiite rebels in Yemen, its support for Hezbollah in Lebanon, and its efforts to preserve the government of Bashar Assad in Syria.
The letter was aimed at Democrats with concerns about the deal. For Obama, it reflects steps the administration could take outside of the agreement. The president repeatedly has said the deal between Iran and six world powers -- the U.S., the United Kingdom, Germany, France, Russia and China -- cannot be changed.
While many of the promises have been made before by Obama, Secretary of State John Kerry and others, White House officials say the letter represents the first time the president himself has compiled them under his name and in writing. It commits explicitly to establishing an office within the State Department to implement the nuclear accord.
In addition, Rep. Adam Schiff of California, the ranking Democrat on the House Intelligence Committee, said the letter expanded assurances that sanctions lifted under the nuclear accord could be reimposed piece by piece, not all at once, to keep Iran in compliance.
Obama's pledge to use the multinational commission policing the accord to block Iranian procurement of nuclear-related technology is new, as is the president's pledge "to enhance the already intensive joint efforts" of the U.S. and Israel in the region, said Schiff, a supporter of the deal.
Earlier this week, Republicans pounced on an Associated Press report that revealed a side deal between the International Atomic Energy Agency and Iran that would let Iranians conduct parts of the inspections themselves at the disputed military site of Parchin, where the agency suspects that some nuclear weapons-related experiments may have been conducted years ago.
"This side agreement shows that true verification is a sham, and it begs the question of what else the administration is keeping from Congress," said Rep. Kevin McCarthy of California, the House majority leader.
The head of the nuclear agency, Yukiya Amano, issued a statement Thursday saying the reports were "misleading." But because those agreements are confidential, he did not explain how the inspections would proceed.
Sen. Bob Corker of Tennessee -- the Republican Senate Foreign Relations Committee chairman who is working to kill the overall nuclear accord -- said by agreeing to the self-reporting procedures, the nuclear agency was establishing a dangerous precedent for future disputes with Iran.
A transcript of the nuclear agency's original draft agreement was published Friday.
Key militant killed
In other news from the White House, Ned Price -- a spokesman for the National Security Council -- announced that the No. 2 leader of the Islamic State militant group was killed in a U.S. military airstrike in Iraq earlier this week.
Price said Fadhil Ahmad al-Hayali was traveling in a vehicle near Mosul, in northern Iraq, when he was killed Tuesday.
As the senior deputy to Islamic State leader Abu Bakr al-Baghdadi, al-Hayali was the primary coordinator for moving large amounts of weapons, explosives, vehicles and people between Iraq and Syria, where Islamic State militants control vast amounts of territory.
The United States is leading a coalition of countries that has spent the past year striking at the militants from the air.
Al-Hayali oversaw the extremist group in Iraq, where he planned operations over the past two years, including an offensive the group started in Mosul in June 2014.
Also killed in Tuesday's airstrike was an Islamic State media operative known as Abu Abdullah.
Price characterized al-Hayali's death as a blow to the organization because his influence spanned finance, media, operations and logistics for the group.
An Iraqi official said al-Baghdadi's deputy was traveling in a white SUV with Abdullah and two escorts when they were hit by the U.S. airstrike at 8:30 a.m. Baghdad time. The two escorts also were killed, the official said.
A Pentagon spokesman, Navy Capt. Jeff Davis, said al-Hayali was an Iraqi national and had been a member al-Qaida's Iraq affiliate during the U.S. war in Iraq. Davis said al-Hayali had been detained by U.S. forces in early 2005 for his al-Qaida connection and turned over to the Iraqi government a short time later.
"He admitted at this time, in 2005, to being a bookkeeper for al-Qaida in Iraq, and involvement in weapons trafficking and support for extremist operations," Davis said.
Davis said it is believed al-Hayali served as military emir for the Islamic State in Baghdad, then headed the group's presence in Iraq's Ninewa province between 2011 and 2012. Al-Hayali also was a conduit between al-Qaida in the Arabian Peninsula and the Islamic State's senior leadership, Davis said.
Davis would not provide additional details about the U.S. airstrike that killed al-Hayali, saying only that a fixed-wing aircraft carried it out. He would not say whether it was a drone or piloted aircraft.
Information for this article was contributed by Erica Werner, Darlene Superville, Hamza Hendawi, Robert Burns and Qassim Abdul-Zahra of The Associated Press and by Jonathan Weisman and David E. Sanger of The New York Times.
A Section on 08/22/2015