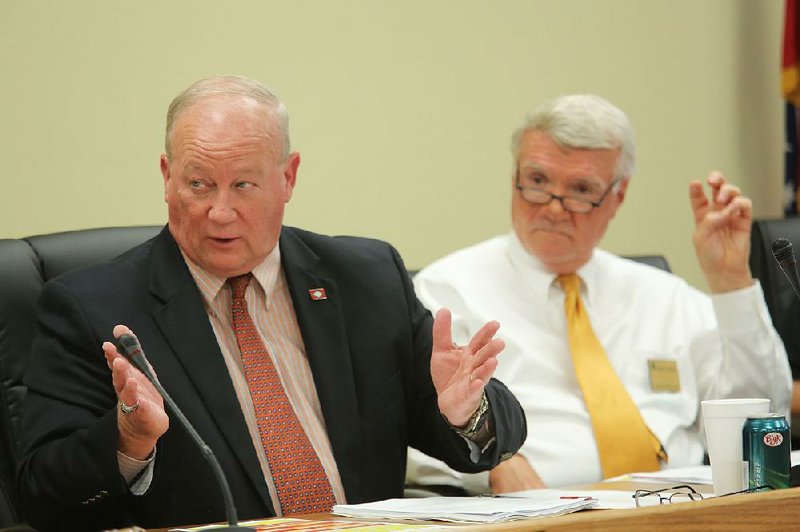 Arkansas Board of Corrections members John Felts (left) and Buddy Chadick discuss parole-revocation policies at a meeting Friday in Little Rock. ( John Sykes Jr.)
State officials unanimously approved a plan Friday to reduce the number of parole violators sent back to prison, potentially easing the system's crowded conditions.
The changes to the Arkansas Department of Community Correction's "Offender Violation Guide" could mean the release of about 400 inmates if the Parole Board agrees Thursday to make the new policy retroactive.
"We will not unilaterally set them loose all at once," Parole Board administrator Solomon Graves said in an interview Friday after the Board of Corrections approved the revised document. "We are not going to do anything to compromise public safety. There will be an individual review before any release."
The new policy establishes a "weighted" sanction guide that assigns a certain number of points based on the severity of a new offense by a parole violator. Also, violations older than 12 months drop from the accumulated points.
Currently, all "technical violations" -- which include skipping a meeting with a parole officer, failing a drug test, and associating with people the offender was ordered to avoid -- are weighted the same regardless of the severity, and the offender is re-incarcerated. Violators also are referred to the Parole Board for possible revocation after three violations, regardless of how minor the offenses.
In 2013, parole policies were changed. A series of stories in the Arkansas Democrat-Gazette highlighted failures in the state's parole system in the handling of an eight-time parole absconder, Darrell Dennis, who kidnapped and killed a teenager in Little Rock.
The existing policy has resulted in many parole violators "waiving" their right to a Parole Board hearing and instead returning to prison without being convicted in a court for the new charge. Defense attorneys often advise their clients to return to prison on the parole violation because, if later convicted of a new charge, an inmate will receive credit for time served.
"They're waiving the hearing because your possibility is 85 percent that you're going back," said Parole Board Chairman John Felts, who also serves on the Board of Corrections.
Of the 1,494 parole violators in custody as of Aug. 13, nearly 73 percent -- or 1,089 -- had waived their right to a revocation hearing. Of that number, more than 400 were incarcerated for technical violations -- not new crimes.
"It's troubling to me as an attorney how a parolee can be sent back to prison without being convicted," board member Buddy Chadick said. "We are putting too many people back in the Department of Correction."
Community Correction Director Sheila Sharp said she was told by prison consultant Wendy Ware of JFA Associates of Colorado that Arkansas has the most stringent parole policies of any state.
According to statistics from the Council of State Governments Justice Center, the number of Arkansans on parole increased from 14,770 in 2004 to 24,523 in 2013. During that same period, the state's crime rate dropped by 3 percent.
Under the new system, parole officers will submit a violation report to the Parole Board only after an offender's combined violations reach 40 points using the new weighted guidelines.
The offenses are categorized as low-level, five points; medium level, 15 points; or high level, 40 points.
Low-level offenses include failure to perform community service, not maintaining employment and travel violations.
Medium-level offenses include evading supervision, an out-of-state travel violation, or a new felony arrest.
High-level offenses earn a parole violator an immediate 40 points and include a new felony arrest that is violent or sexual, a third-offense evading supervision, or a sex offender who changes residences without permission.
Chairman Benny Magness emphasized that system was not going soft on parole violators and that the changes reflected a "zero tolerance" to violent crimes.
The new guidelines require that offenders charged with a violent felony, a violent or sex-related misdemeanor, or those who used a weapon during the commission of a crime will be immediately jailed and held for a revocation hearing.
Other new felony charges will draw an automatic three-day hold. During that time, the parole officer will notify the Parole Board of the new arrest and the board will determine if the offender will remain in jail.
A judge in the jurisdiction where the crime occurred will decide the bail for the felony offense. If the offender is released from jail, he is placed on 30 days of electronic supervision.
Board member Dubs Byers questioned whether there was "enough teeth" in the new policy for those violators who fail to make the court-ordered financial restitution.
Failure to pay court fees, fines, costs or restitution is a "low violation" under the new weighted system. If an inmate is 60 days delinquent, the parole violator will be given a written warning, be subject to increased reporting and the court of jurisdiction or the Parole Board will be notified.
With a delinquency of 90 days or over, the offender could be sent to jail for up to two days.
"Everybody does restitution differently, so we notify the courts if it is delinquent," Sharp said.
Board member Mary Parker-Reed said the issue was complex and would require more research to "do it right and do it well."
"I think we can come up with other ways," she said.
Magness said the "two days in jail won't make a difference." He added that he has a deep passion for ensuring offenders pay full victim restitution and he "will be back to address this."
"I will not forget the victims," Magness said.
Magness called the revised Offender Violation Guide a well-balanced, good "working document" that would require regular review and tracking of the results.
Graves said in an interview after the meeting that he was very pleased with the changes and expects the Parole Board to vote Thursday at its regular meeting on whether to apply the policy to parole violators currently incarcerated.
The new guidelines, however, do not require approval by the Parole Board and can be immediately implemented for any new violations.
A Section on 08/22/2015
Print Headline: Board reworks rules for parolees
Sponsor Content