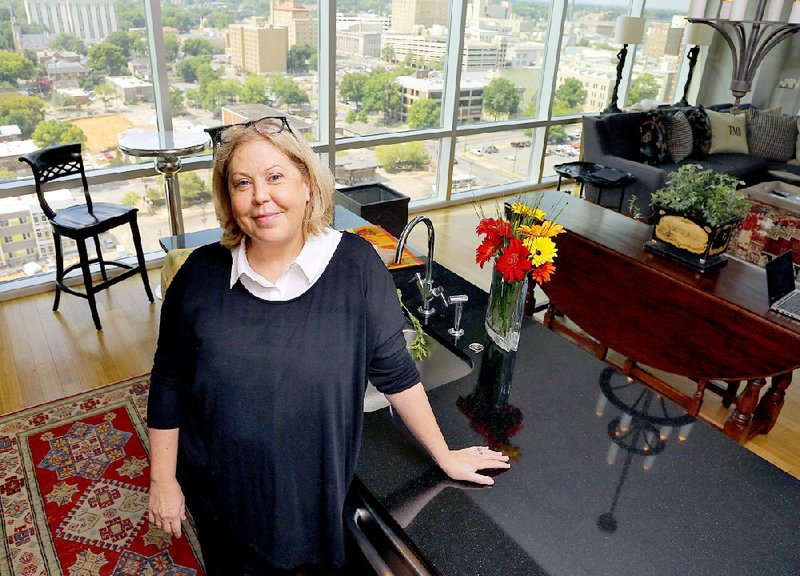 Bev Foster ( John Sykes Jr.)
Bev Foster
Where I live: downtown Little Rock.
Occupation: chiropractic physician
My favorite space is: the kitchen.
Why? I have always been a cook and, frankly, I can cook anywhere. But my downtown high-rise kitchen affords all of the luxury of a gourmet space with a terrific view of downtown. I turn on the music, my HUE lighting system and enjoy the city lights while I make dinner.
The kitchen is galley style, small and very easy to work in.
Today I made portobello mushrooms with goat cheese, a pasta salad and prepped a spinach filling for a stuffed chicken in a phyllo dough recipe for tomorrow.
I typically keep a stock of fresh organic produce and spices, perhaps some fish or chicken and whip up a new dish or an old standby while my husband acts as sous chef. I am often inspired to "use the ingredients at hand" as discussed in the 1997 book Instructions to the Cook: A Zen Master's Lessons in Living a Life That Matters.
Stratton's Market and the Little Rock Farmers Market are handy if the cupboards are bare.
If I could make one change to improve this space, I would: My kitchen is always evolving as I rearrange the space to best use my limited storage. I like the challenge, but doesn't every cook want just one more cabinet? Another change I would really enjoy would be to extend the time the holiday lights are up. The downtown view is an integral part of this space, and keeping the Capitol dome brightly lit for an extra month would suit me fine.
HomeStyle on 08/22/2015
Print Headline: Personal Space
Sponsor Content