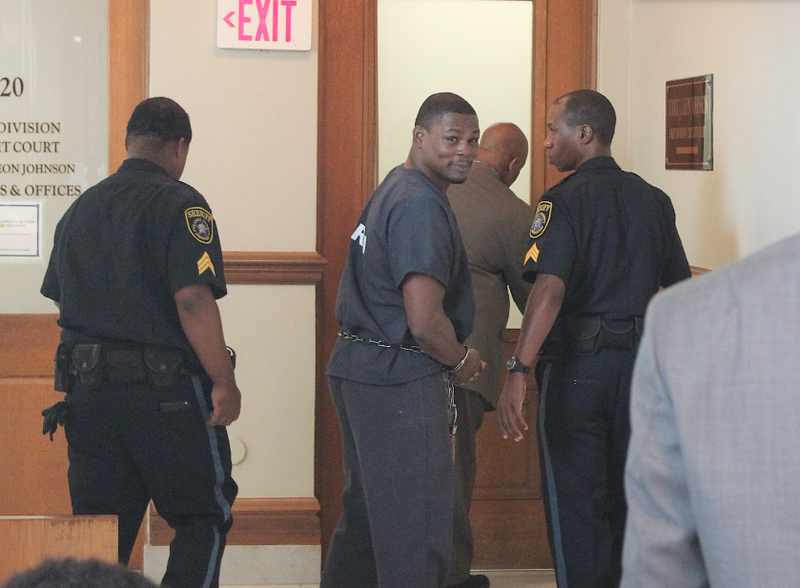 Boxer Jermain Taylor looks back at family members outside the courtroom as he's led out after a hearing Monday, Aug. 24, 2015, in Pulaski County Circuit Court. ( Gavin Lesnick)
Boxer Jermain Taylor was back in court Monday for a hearing on a pending mental evaluation requested by his attorneys, but the report wasn't complete, and a judge set a new date for next month.
Taylor, who faces charges in three criminal proceedings, didn't speak during the brief hearing before Pulaski County Circuit Court Judge Leon Johnson.
His attorney, Hubert Alexander, said afterward that two of three reports that comprise the evaluation are finished but a third was still pending. Johnson set a Sept. 14 court date to take up the evaluation then.
Alexander declined to speak about what the first two reports revealed.
"We plan on boxing again, if that tells you something," he added.
Johnson said he will also take up Taylor's bail at that hearing, provided the mental evaluation is complete then. Taylor is being held without bail at the Pulaski County jail. He had been receiving treatment at a lockdown rehabilitation center, but Johnson ordered him returned to jail after he was accused of battering a fellow patient there.
In addition to that case, Taylor is accused of shooting his cousin outside Taylor's Pulaski County home last August and opening fire and threatening a family after a Martin Luther King Jr. parade in Little Rock in January.
Sponsor Content