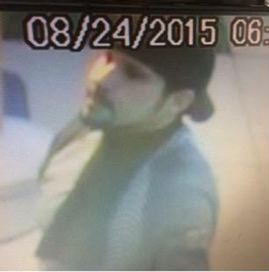 Police say this photo from surveillance shows a man who robbed a Cupid's Lingerie early Monday, Aug. 25, 2015. ( Little Rock Police Department )
Authorities in Little Rock are searching for a man who robbed a Little Rock lingerie store early Monday with a gun now believed to have been a fake.
The Little Rock Police Department said the robber brandished the apparent firearm while holding up Cupid's Lingerie at 3920 W. 65th St. shortly before 6:15 a.m.
Police reviewed the video surveillance from the store and said the man's "large blue steel revolver" is "now believed to have been a toy gun."
The agency said the man did manage to take the clerk's real handgun during the robbery. A spokesman for the police department said he didn't immediately have information on what else the robber took.
The assailant is described as a 25- to 30-year-old Hispanic or white man who stood 5 feet 10 inches tall with a medium build. He was wearing a gray shirt with blue sleeves, a ball cap, blue jeans and black tennis shoes with white soles and orange laces.
Anyone with information is asked to call police at (501) 404-3032.
Sponsor Content