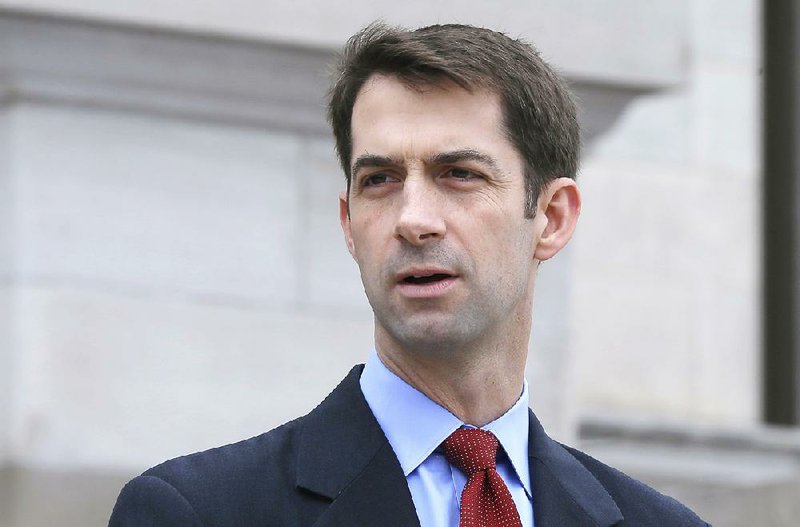 U.S. Sen. Tom Cotton, R-Ark., speaks in front of the Arkansas state Capitol in Little Rock, Ark., Tuesday, May 26, 2015. (AP / DANNY JOHNSTON )
Sen. Tom Cotton on Tuesday derided the Environmental Protection Agency as a "rogue agency" and said it should release in full all documents tied to the major spill this month of toxic wastewater from an inactive gold mine in Colorado.
The Associated Press reported that the EPA released some documents late Friday showing it was aware of the potential for such a disaster but had little by way of a plan to address it.
The spill sent some 3 million gallons of the toxic substance into a tributary of the Animas and San Juan rivers.
"I am deeply troubled by EPA's continued lack of responsibility and integrity with its response to the disaster it caused in the Animas River," Cotton said in a statement Tuesday. "Rather than actually take responsibility, the EPA continues to hide behind its bureaucracy."
The wire service's story on the EPA documents noted that it was provided after "weeks of prodding from The Associated Press and other media organizations."
Cotton called that unacceptable and said the agency should "immediately release in full all documents" tied to the spill.
"Waiting weeks to release documents related to the spill late on a Friday night and subsequently redacting relevant information in those documents is absurd," he said in the statement. "If a private company acted like the EPA, it would likely be facing criminal charges — brought about by the EPA ... The American taxpayers deserve answers from this rogue agency."
The Associated Press contributed to this story.
Sponsor Content