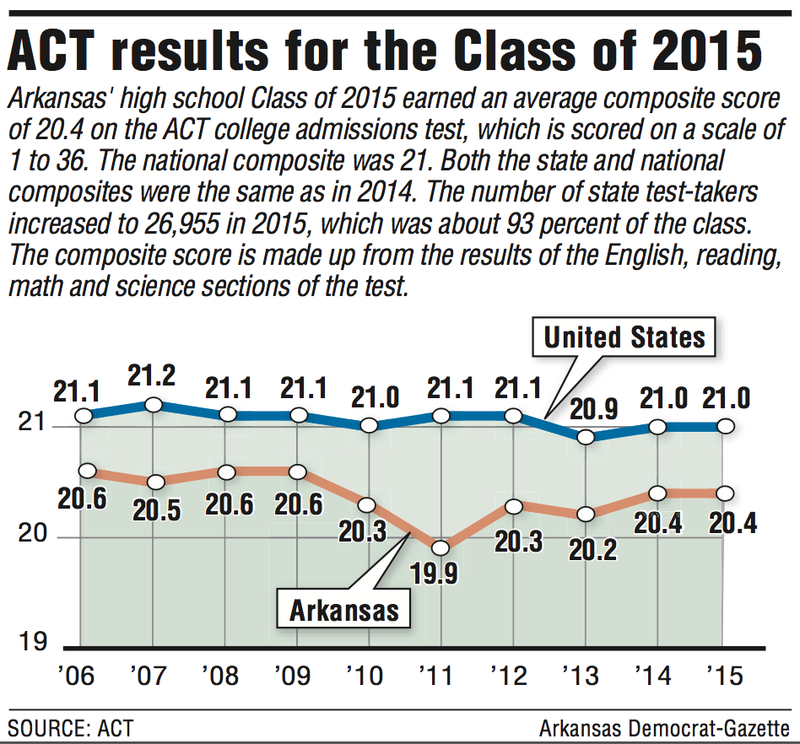 This graphic shows how Arkansas' ACT composite scores have compared with the national composite scores since 2006. (Arkansas Democrat-Gazette / ACT )
Arkansas' high school class of 2015 earned a composite ACT college-entrance exam score of 20.4, duplicating the average earned by the previous year's class but falling short of the national composite average of 21.
Document
Arkansas 2015 ACT report
View
The national average also remained unchanged from a year ago.
The state and national scores, which are reported on a scale of 1 to 36, were released by ACT, a nonprofit student testing organization based in Iowa City, Iowa.
Just one in five of Arkansas' test-takers -- 21 percent -- met ACT's college-readiness benchmarks in all four tested subjects: English, reading, math and science. The percentage meeting those college-ready benchmarks -- an indication of a student's likelihood of earning a B or C in a first-year college course -- also is unchanged from the previous year.
In response to the nationally stagnant scores, ACT leaders this week issued "a call to action to policymakers, educators, students and parents" to do their parts to improve student preparedness for college and jobs.
"The needle is barely moving on college and career readiness, and that means far too many young people will continue to struggle after they graduate from high school," Jon Whitmore, ACT chief executive officer, said in releasing the results of the exams taken by more than 1.9 million of last year's high school class.
"This should be a wake-up call for our nation," Whitmore said.
Debbie Jones, the Arkansas Department of Education's assistant commissioner for learning services, said everyone shares in the responsibility in the academic preparation of students. She also said there are clear steps to be taken to improve.
"I think that we haven't had time yet to see full implementation of the standards," Jones said about the statewide bases for instruction. "We will continue to have strong education standards, but we have to set the bar high across the board.
"It is not just what is the teacher teaching, it is follow-through on quality assignments. It is about students being at school every day. It's about encouraging students to at least take core academic courses every year but also encouraging them to take the higher-level courses, whether that is Advanced Placement or International Baccalaureate courses or concurrent college courses. They need to take a rigorous set of classes."
In Arkansas, where 26,955 students, or 93 percent, of the most recent high school graduating class took the ACT test at least once, the ACT scores are used to determine whether a student must take noncredit remedial courses in college. The scores are also used as criteria for admission to colleges and universities, and for scholarships.
Students must earn a 19 or better on an ACT subject test to avoid a college remedial course in a corresponding subject. Students must have a 19 composite score to be eligible for the Arkansas Challenge Scholarship, which is funded largely by the Arkansas Scholarship Lottery. The University of Arkansas at Fayetteville, the state's largest university, has set a minimum ACT score of 20 as one of the requirements for automatic admission.
In the individual subject areas, the 2015 high school class earned an average score of 20 on a scale of 1 to 36 on the English test, down from 20.1 in 2014. The gap between the state and nation widened on the English test because the national result improved from 20.3 to 20.4.
In math, the Arkansas test-takers showed a gain, going from 19.9 to 20. Nationally, the average fell from 20.9 to 20.8.
In reading, both the state and nation advanced. Arkansas' result went from 20.8 to 20.9 and the nation went from 21.3 to 21.4.
In science, Arkansas' 20.3 in 2014 remained the same in 2015. Nationally, the score went from 20.8 to 20.9.
ACT calculates the minimum scores that students should earn on an ACT test subject to have a 50 percent chance of obtaining a B or higher or a 75 percent chance of a C or higher in the corresponding college courses. Those minimum scores are the ACT's college readiness "benchmarks."
Sixty-two percent of Arkansas students and 64 percent of students nationally met or exceeded the college-ready benchmark of 18 on the ACT English test.
Thirty-five percent of the state's test-takers and 42 percent of the national test-takers met the college-ready benchmark score of 22 on the math portion of the exam.
Forty-two percent of the state's students and 46 percent nationally met or exceeded the 22 score on the reading exam that is necessary to be considered college ready. And, on the science exam, 32 percent of Arkansas students and 38 percent of test-takers nationally met or bettered the ACT benchmark score of 23.
While 21 percent of Arkansas students were prepared for college and jobs in all four academic areas, the national percentage of students ready for college in all four subject areas improved from 26 percent to 28 percent over the previous year.
Jones said Arkansas has the most ground to make up in math and science. That can be helped by students taking challenging core academic courses in all four years of high school instead of forgoing math and science courses in their senior years, she said.
Additionally, the state is requiring all school districts to give the ACT Aspire standardized tests in grades three through 10 for the first time in this 2015-16 school year. As a result, students will be tested at every grade in science. That's in contrast to fifth-, seventh- and 10th-grade science tests in the past. Jones said the annual science test will lead to better student achievement in science on the ACT college entrance exam.
Arkansas is one of 15 states in which 90 percent or more of its 2015 high school graduates took the ACT. Typically, the greater the percentage of test-takers in a state, the flatter or lower the average scores.
Of those 15 states, Colorado, Illinois and North Dakota -- where 100 percent of students in the most recent graduating class took the exams -- earned composite scores of 20.7 or 20.6, topping Arkansas' 20.4. Montana equaled the Arkansas score.
Connecticut and Massachusetts had the highest composite scores in the nation at 24.4. However, only 32 percent of the seniors in Connecticut and 28 percent of the Massachusetts class took the exam.
The numbers of test-takers in Arkansas increased by 134 over the past year. That number is expected to increase again in the coming years, because the state will for the first time pay for one administration of the exam for each 11th-grader.
One of the questions that the schools are asking is whether the universal test for 11th-graders will lower the state averages, Jones said.
"The answer is possibly," Jones said. "Generally when states go to statewide assessment -- using the ACT -- the scores drop but then they rebound. It won't be that significant for Arkansas because we test most of the state already. When you test 93 percent, you aren't going to see significant drops."
The free college-admissions test for every 11th-grader will open up the possibility of college for students, including black and Hispanic students who may not otherwise consider themselves candidates for higher education, Jones said.
"We want to grab those kids who didn't register independently to take the ACT. Maybe they didn't see themselves as college bound. Just going through the process of getting registered is an extra step that people don't take. We will catch many more of those first-generation, college-bound students. Many of them will perform better than they expected, which may open the door to college for them."
Studies by ACT indicate that statewide assessment resulted in larger numbers of students enrolling in colleges and universities. Statewide ACT testing in Michigan resulted in an additional 30,500 low-income students enrolled in post-secondary education over five years.
"We will see more students enroll in post-secondary education, Jones said. "We're excited about that potential."
The ACT results also are reported in regard to race and ethnicity of the students. Arkansas' Hispanic students -- 85 percent of whom took the recommended ACT core courses -- showed gains. The number of Hispanic test-takers increased from 2,179 in 2014 to 2,342 in 2015, and the average composite score moved from 18.8 to 19.0.
The ACT's recommended core includes four years of high school English and three or more years each of science, math, and social studies.
White students -- 87 percent of whom took the recommended core courses -- had an average composite score of 21.6 in both 2014 and 2015.
Black students -- 77 percent of whom took the recommended core academic courses -- earned a composite score of 16.9 in both years. The number of black test-takers increased from 4,452 to 4,540. Only 4 percent of black test-takers met the benchmark standards for college readiness in all four tested areas.
Whitmore of the ACT said research shows that 60 percent of students who met at least three of the benchmarks will graduate from college. Less than 20 percent of students who meet none of the benchmarks will graduate from a two- or four-year college.
"We've got to move past the numbers and focus on how this will impact students' lives," he said about low-achieving students. "In the increasingly competitive job market, where decent jobs are requiring more advanced skills and training, this is a huge problem."
A Section on 08/26/2015
Print Headline: State's ACT average same as 2014: 20.4
Sponsor Content