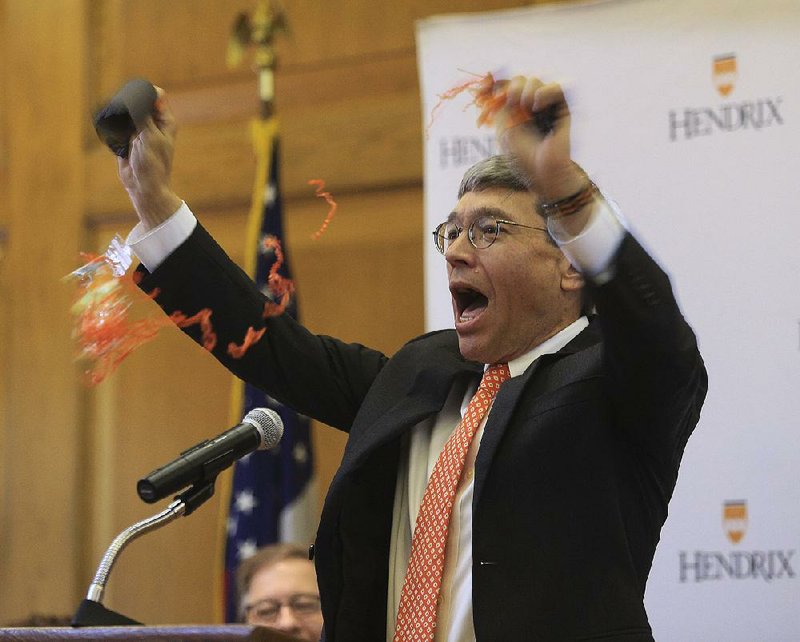 Hendrix College President Bill Tsutsui leads a celebration Wednesday after announcing the gift from the estate of Mary Ann Dawkins, the largest ever to the private institution in Conway. ( Staton Breidenthal)
CONWAY -- An heir of the founders of Coulson Oil Co. bequeathed $26 million to Hendrix College, the largest gift in the private Methodist-affiliated college's history, the school announced Wednesday.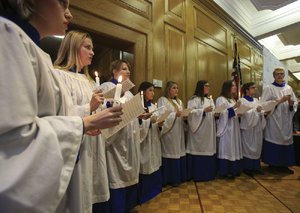 Photo by Staton Breidenthal
The Hendrix College choir performs Wednesday at the Methodist-affiliated school in Conway before the announcement of a $26 million gift from the estate of Mary Ann Dawkins, an heir of the founders of Coulson Oil Co.
The donation by the estate of Mary Ann Dawkins, a member of the United Methodist Church, is more than twice as large as the college's previous biggest gift -- almost $11 million from the Donald W. Reynolds Foundation in 1998, Hendrix President Bill Tsutsui said.
"I wish I could have said this to her personally: Thank you truly, Mary Ann," Tsutsui told a large audience of students, faculty and staff members, and others who welcomed the news by popping open paper rolls wrapped in the school's orange-and-black colors and stuffed with candy and Hendrix key rings.
The donation "will first and foremost support student scholarships," promote college affordability and boost the school's recently increased focus on helping students with financial needs attend Hendrix, Tsutsui said. The money also will help further recently announced diversity efforts, he said.
The college also plans to use some of the money to start a fundraising effort to build a welcome center at the northeast corner of the campus. That center, which already was a dream of campus leaders, would house admissions and financial aid, replace Raney Hall and provide a "warm" welcome to prospective students, Tsutsui said.
The building would be named in honor of Dawkins and her late husband, Dr. David Dawkins.
"Not only is today's announcement a historic moment for Hendrix, it's an incredible moment for future students," Tsutsui said.
"Her generosity will help keep Hendrix affordable and accessible," he said.
Dawkins died in Little Rock on Dec. 29 at age 68. Her husband and her parents, Lois and Ray Coulson, preceded her in death, according to her obituary.
"But her legacy and generosity lives on" and will be felt on the Hendrix campus "forever," Tsutsui said.
Moments before the announcement, Hendrix College choir members, each wearing a white robe and carrying a lighted white candle, walked into the room and performed a brief candlelight carol service in honor of Dawkins.
"Christmas may have just come a little bit early this year," Tsutsui said.
Later, he explained that "almost 30 years ago" in 1986, Dawkins had attended a performance of the Hendrix College Choir's candlelight carol service at First United Methodist Church in North Little Rock. That experience inspired her to establish the Dr. David and Mary Ann Dawkins Endowed Scholarship Fund at Hendrix in memory of her late husband.
Neither she nor her husband nor her parents were Hendrix alumni, Tsutsui said. The couple had no children, college spokesman Rob O'Connor said.
Her earlier gifts prompted scholarship recipients and others to send her thank-you notes. The school began sending her newsletters and information, including "all the propaganda" colleges tend to mail prospective donors, Tsutsui said to much laughter.
Dawkins, a philanthropist, became a long-term donor to the college and other organizations, Hendrix board Chairman David Knight said.
Knight said the Dawkinses' gift "substantially strengthens our endowment," which Tsutsui said now exceeds $200 million.
"This is clearly the most exciting development in the life of the college," Knight said.
"I would assure her, we will be good stewards" of her money," Knight said.
Mary Ann Dawkins had retired from Coulson Oil Co. of North Little Rock after working there 41 years. She had worked as a corporate secretary and previously was on the company's board of directors. She was also on boards of the Arkansas Oil Marketers Association and the Mid-South Make-A-Wish Foundation. She was a Special Olympics supporter.
Mike Coulson, board chairman of Coulson Oil, released a statement through the company, saying, "On behalf of all members of the Coulson family, we are very pleased and proud that my late sister, Mary Ann Dawkins, chose to bestow such a major contribution to higher education in Arkansas, especially to a progressive and life-changing institution like Hendrix College.
"Our family, along with our professional family at Coulson Oil, is eager to see how Mary Ann's gift will support the Hendrix community's long-recognized culture of vision, innovation and life encouragement," he added.
In the past decade, Hendrix has increased the annual amount of scholarships and financial assistance it provides from $6 million to $36 million, a college news release said.
The college created the Hendrix Arkansas Advantage financial-aid program for Arkansas high school students earlier this year.
Hendrix also has established partnerships with the League of United Latin American Citizens, also known as LULAC, and the Knowledge Is Power Program, or KIPP, Delta Public Schools. Those partnerships are intended to create scholarship opportunities for students who are members of minority groups.
A Section on 08/27/2015
Print Headline: Oil heiress leaves Hendrix College $26M
Sponsor Content