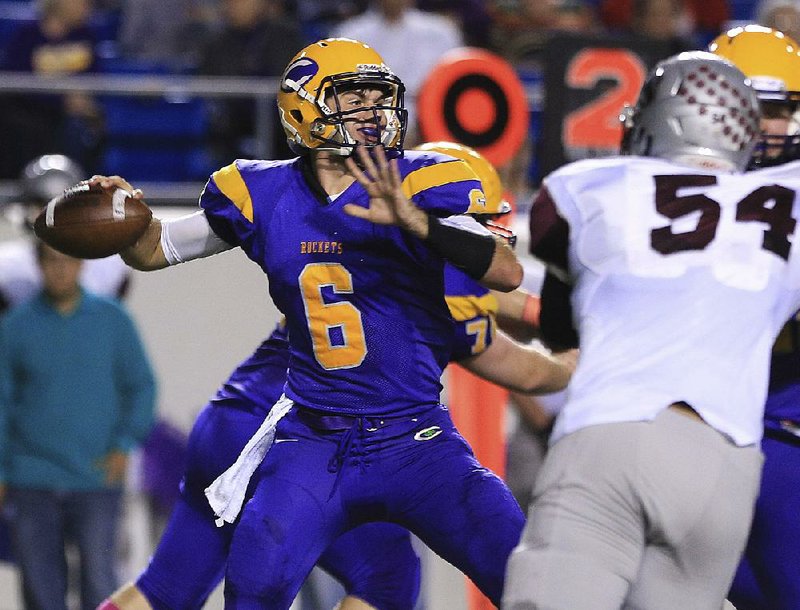 Little Rock Catholic quarterback Andre Sale, a senior, completed 161 of 274 passes last season for 2,002 yards and 19 touchdowns last season for the Bruins, who finished 5-6. ( Staton Breidenthal)
The Catholic Rockets are seeking a bigger payoff in 2015 after back-to-back five-victory seasons.
Limiting injuries and turnovers will be a key in helping them achieve that goal.
At at glance
COACH John Fogleman
CONFERENCE 7A-Central
2014 RECORD 5-6
KEY RETURNERS QB Andre Sale, 6-3, 206; WR Zack Gee, 6-1, 180; WR Justin Temple, 6-2, 170; G/C James Rose, 6-0, 215; LB Forrest Dunkum, 6-1, 190; LB Josh Pinter 5-11, 190; DL Noah Black-Ocken, 5-10, 215; LB Bryce Ward, 5-10, 185.
2015 schedule
DATE;OPPONENT
Sept. 4;at North Little Rock
Sept. 10;Cabot
Sept. 18;at Little Rock Parkview
Sept. 25;Alma*
Oct. 2;at Bryant*
Oct. 9;Mountain Home*
Oct. 16;at Siloam Springs*
Oct. 23;Conway*
Oct. 30;Greenwood*
Nov. 6;at Van Buren*
*7A/6A-Central game
"The numbers we have, compared to the other teams we play, is about half," said Catholic Coach John Fogleman, who is starting his third year with the program. "So obviously we need to stay healthy. We have some experience back from last season, but we can't make mistakes. We had too many turnovers at inopportune times last year. And defensively, we've got a whole new secondary and they are going to have to grow up fast."
Catholic finished 5-6 last season. The Rockets knocked off Van Buren in the final week of the regular season to qualify for the postseason and played Fort Smith Northside to within 24-14 in a first-round playoff loss.
Quarterback Andre Sale completed 14 of 24 passes for 218 yards and 2 touchdowns against Northside, but three second-half turnovers doomed Catholic's chances.
"Hopefully, we'll see a calmer presence when the game is on the line," Fogleman said. "He didn't make a whole lot of mistakes last year, but when you're the quarterback and you make mistakes, they are sometimes glaring mistakes.
"With a year experience under his belt, hopefully he'll be prepared for that situation when the game's on the line."
Sale, a 6-3, 215 senior, completed 161 of 274 passes last season for 2,002 yards and 19 touchdowns.
Fogleman said running back Lance Harville-Thomas started fast and had a good finish to the season. The coach is counting on the 6-2, 220-pound senior to be more consistent this fall.
"He's got a low running style," Fogleman said. "He runs tough. He's a load."
Senior fullback Monroe McKay, 5-11, 195, and senior Austin Berry, 5-7, 180, should also get their fair share of carries.
Sale's top two targets are expected to be seniors Zach Gee, 6-1, 180, and Justin Temple, 6-1, 170. Fogleman said junior Thompson Olaimey, 6-0, 170, has "the best hands" on the team and "he's not afraid to get hit." Junior Taylor Price, 6-1, 160, will "play somewhere."
Senior James Rose, 6-0, 215, is the Rockets' "most athletic lineman" and will play at center or guard. Juniors Audry Horn, 6-3, 315, Jack Mathis, 6-4, 252, and senior Jesus Martinez, 6-2, 220, have size and could make a huge impact on the offensive line.
"We have some size and we have some players who have some experience, but they need to have that experience of playing together," Fogleman said. "We've got to get them together and on the same page."
Fogleman said senior defensive lineman Noah Black-Ocken, 5-10, 215, is the Rockets' defensive leader.
"He's one of our stronger players," Fogleman said. "He can penetrate and get in the backfield. He runs well."
Michael Price, 5-10, 257, and Zach Ridgeway, 5-6, 185, "are seniors who are very strong and have some experience" on the defensively line."
Catholic's strength defensively should be its linebackers. Seniors Forrest Dunkum, 6-1, 190, and Bryce Ward, 5-10, 185, are returning starters from last season.
Fogleman said senior linebacker/running back Josh Pinter, 5-11, 190, "needs him to be tough against the run."
The Rockets' inexperienced secondary may be put to the test early, although Fogleman said senior Drake Enderlin, 6-2, 185, "had a great effort" in Catholic's benefit game earlier this week.
Fogleman said both of his teams have started slow in both in his seasons at Catholic, but they managed to improve each week. This season, he said his team's goal is to return to the postseason and advance further into the playoffs.
"We've just got to take that next step," Fogleman said. "We've got to get over that hurdle of the first round. Some things are going to have to go our way. We have to stay healthy, improve every week and we've got to create some breaks for ourselves."
Catholic starts the season on the road at North Little Rock on Sept. 4.
Sports on 08/28/2015
Print Headline: Rockets wanting faster start, deeper run in the postseason
Sponsor Content