Famous for making the pistols carried by British secret agent James Bond, German gun-maker Walther is releasing its PPQ handgun chambered in the American .45-caliber ACP cartridge.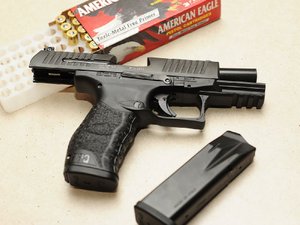 Photo by Andy Shupe
Fort Smith-based Walther Arms is releasing a PPQ handgun chambered in the American .45-caliber ACP cartridge, the company's first production of a semi-automatic model in that caliber.
Fort Smith-based Walther Arms, the U.S. division of Carl Walther GmbH, said the pistol is the 130-year-old company's first production semi-automatic model in .45 caliber. The new pistol, dubbed the PPQ 45, is designed for personal defense and recreational shooting,
In late 2012, Walther Arms Inc. moved its headquarters to Fort Smith. Walther Arms Inc. and Umarex USA are private companies owned by Arnsberg, Germany-based PW Group. Both companies share space in the Chaffee Crossing development where together they employ about 80 workers.
Everett Deger, director of marketing for Walther Arms, said offering the PPQ in the .45-caliber ACP cartridge, also commonly known as .45 Auto, was part of the gun-maker's continued effort to court American consumers. He called the company's decision to make a .45-caliber pistol monumental and one of the most significant moves it's made to date to capture customers from the important U.S. gun market.
The Walther PPQ is a striker-fired polymer-framed pistol. Earlier models were also configured to better fit American shooters' tastes, such as replacing its paddle-style magazine release, popular with European shooters, for the button release typically found on U.S. pistols.
The PPQ 45 has the signature Walther quick-defense trigger, ambidextrous controls, and an accessory rail to mount a light or laser-sighting system. It has a 4.25-inch barrel and a magazine capacity of 12 rounds. The pistol is expected to be in stores, including big box outlets like Cabelas and Bass Pro Shops, by Oct. 1, at a suggested retail price of $699.
"The PPQ 45 has the features American customers are demanding," Deger said.
He noted the .45-caliber ACP cartridge's size, weight and ballistics make it a popular self-defense round in the U.S.
In 2012, pistols chambered in .45-caliber ACP were included in the second most-produced pistol category in the U.S., totaling a few less than 982,000. The category ranked behind the 9mm pistols -- more 1.2 million produced -- but ahead of .22-caliber pistols, which came in third at nearly 676,000, according to the Annual Firearms Manufacturing and Export Report compiled by the Bureau of Alcohol, Tobacco, Firearms and Explosives. The report was released in 2014.
A survey commissioned by the National Shooting Sports Foundation -- the trade association for the firearms industry -- found that among first-time gun buyers, the single most important reason to buy a firearm was home defense at 38.6 percent, with self-defense coming in second at 19.5 percent. The type of gun most often purchased by the first-time buyers were semi-automatic pistols at 34 percent, followed by shotguns at 24.7 percent and revolvers at 19.5 percent.
The survey, by research company InfoManiacs, Inc., examined answers garnered from 663 interviews with respondents between the ages of 22 and 65 who had purchased their first gun in 2012.
The .45-caliber ACP cartridge was developed in the early 1900s when the U.S. Army's Ordnance board set out to find a replacement for the lackluster .38-caliber Long Colt cartridge. Sword-wielding Moro guerrillas intent on killing U.S. officers during the Philippine-American War were sometimes not deterred by the round, field reports stated.
The board determined there was a need for a semi-automatic pistol that shot a heavy, .45-caliber bullet capable of stopping an attacker in his tracks at close quarters. The eventual contract winner was John M. Browning, who developed the Colt M1911 semi-automatic pistol and the round it fired, the .45-caliber Automatic Colt Pistol, or ACP.
Ashley Hlebinsky, curator of Cody Firearms Museum in Wyoming, called Browning the greatest firearms designer in history, with more than 100 patents to his credit.
"He was an American designer whose work spoke to the entire world," she said.
She said American and European gun-makers have been trying to tap into foreign markets for over 100 years with varying degrees of success. She said in movies and popular culture, the .45-caliber ACP cartridge has an American pedigree, so it's not far-fetched for a European gun-maker to latch on to its mystique and popularity in an attempt to appeal to the American gun buyer.
In films, Ian Fleming's superspy James Bond traded a Beretta pistol for his signature Walther PPK in Dr. No, which hit theaters in 1962. In films, Bond carried the PPK and other Walther pistols on and off for the next 50 years, including the Walther PPK/S in 2012's Skyfall.
When asked, Walther Arm's Deger said he didn't think Bond would carry the PPQ 45 in the next film, Spectre, expected to be released in November. The gun company doesn't make those decisions, he said. Posters for the movie show actor Daniel Craig armed with Bond's signature PPK.
But could the British superspy ever carry the larger, more Americanized PPQ 45?
"I'd love to see it," Deger said.
SundayMonday Business on 08/30/2015