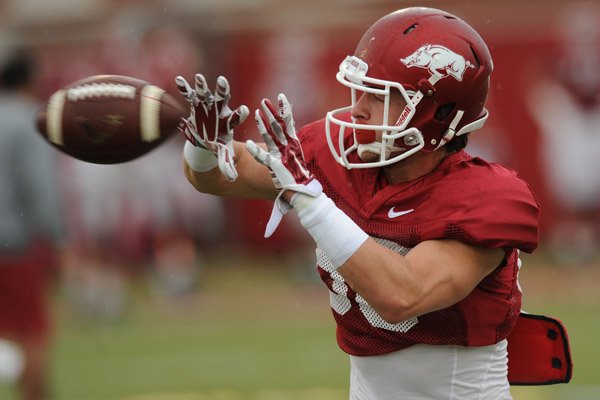 Drew Morgan of Arkansas works through a drill during practice Saturday, April 18, 2015, at the university's practice facility in Fayetteville. ( Andy Shupe)
FAYETTEVILLE -- Arkansas Coach Bret Bielema said he had a "spirited conversation" with receiver Drew Morgan early in camp.
Morgan had a more colorful description.
"I feel like I had a come-to-Jesus talk," Morgan said. "It was like, 'Is this going to be a year where I slack off and have somebody younger step ahead of me? Or am I going to step up and play?'
"I'm still in the mix right now. I can be a playmaker."
Receivers coach Michael Smith said Bielema lit into Morgan after the junior from Greenwood dropped three consecutive passes.
"Coach B just lost it," Smith said. "It was a real chewing out, but it had a good impact on Drew. He's responded very, very well."
Morgan has responded by having 10 receptions for 135 yards in two scrimmages while getting plenty of first-team work. He also had several impressive catches in practice periods open to the media.
"Drew knows where he's supposed to be at all times and has very sure hands," quarterback Brandon Allen said. "He can make great plays.
"He's a safety net a quarterback can trust."
Morgan said he's developed a good rapport with Allen, a fifth-year senior going into his third season as a starter.
"Brandon has definitely stepped up in the leadership role and just taken all of us on his shoulders and said, 'Hey, this is what we have to do to get where we want to go,' " Morgan said. "With him leading us right now, we're on a roll.
"As long as we keep this train going, everybody is aboard."
Bielema said that at the start of camp, he believed Morgan was being lazy with the ball. That hasn't been an issue since their talk.
"Drew is a competitive guy, and I think he needed to leave his ego at the door," Bielema said. "He continues to impress."
Morgan played in 10 games as a true freshman in 2013, but didn't have any receptions.
Last season he caught 10 passes for 181 yards and 1 touchdown. His best game was against Ole Miss -- three catches for 51 yards -- and he had two catches for 33 yards against Texas, but there were six games in which he didn't have a reception.
"One of the things that me and Coach Smith and Coach B have talked about is staying consistent," Morgan said. "That's my emphasis this year."
Morgan had a detailed answer for his definition of consistency this season.
"To me, staying consistent is knowing the plays, every position, what the quarterback's seeing, what I'm seeing, what the offensive line is seeing and what the running backs are reading," he said. "Catching the ball and running the right routes at the right depth at the right time.
"Basically being an all-round athlete on a daily basis."
Smith said Morgan has the skill set and experience to be one of the team's best receivers. He has worked at the outside and slot spots in camp.
"He's been here two years, so he has more understanding," Smith said, "and he's always been a competitor responding to challenges.
"So it hasn't been a surprise to me as well as he's been playing. We definitely hope he can carry it over to the games, because we're going to need him."
Morgan and the other receivers figure to see one-on-one coverage in Saturday's season opener against Texas-El Paso, which has a blitz-oriented defense.
"I'd like for them to keep playing one-on-one against us," Morgan said. "I feel we have a lot of size advantage on our side and we have a lot of smart athletes."
Sports on 08/31/2015
Print Headline: Tough talk gets Morgan moving
Sponsor Content