FAYETTEVILLE -- Basimise Shabani Thierry grew up carrying a gun in a country that hasn't known peace in decades. He met Charles Davidson of Fayetteville through browsing the internet, looking to change that fate for other children.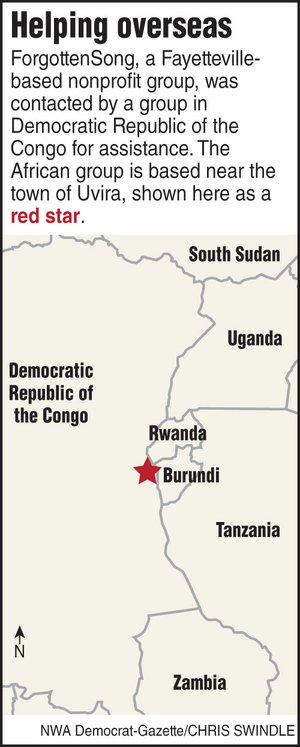 Photo by CHRIS SWINDLE / NWA Democrat-Gazette
ForgottenSong, a Fayetteville based nonprofit group, was contacted by a group in Democratic Republic of the Congo for assistance. The African group is based near the town of Uvira, shown here as a red star.
Thierry is a former child soldier from the Democratic Republic of the Congo, he confirmed through a translator in an email. A civil war began there in 1996 and tenuously ended in 2013. Even relatively peaceful, stable local communities organized "Mai-Mai," local militias for self defense, during the war. One faction or another pressed anyone who could carry a gun and shoot it into service.
Web Watch
• AJDC—Congo (in French): www.ajdc-rdc.org/
• FVS-AMADE Burundi (in French or English): www.fvs-amadeburundi.org/
• ForgottenSong: www.forgottensong.org/
Democratic Republic of Congo
Uvira is a port on the northern shore of Lake Tanganyika, the same lake where Europeans fought each other a hundred years ago. Belgians on the west fought Germans to the east while the British dragged two small motorboats up from the south over mountains and through swamps. This bizarre Royal Navy campaign later inspired the film The African Queen.
These militias and many of the groups they guard against never disbanded.
"A lot of those Mai-Mai turned into just more factions with guns," Davidson said.
Thierry works for AJDC--Congo, "L'Association des Jeunes pour le Développement Communautaire," or the Youth Association for Community Development, in Lubarika. This community is in the eastern borderlands of his country. Thierry and an unpaid staff of six, Davidson said, convince child soldiers to leave whatever armed force they are in, and the commanders of those armed forces to let those children go.
When he can, Thierry rides a motorcycle on a two- to three-hour trip one-way to Uvira, the nearest town with internet access. He searches the web for groups willing to help provide a livelihood for veterans who aren't adults and bring that assistance into a region that isn't at peace.
Thierry happened to find ForgottenSong, a nonprofit group founded by Davidson in 2008 and based in Fayetteville, on one of those browsing trips. ForgottenSong tries to help underdeveloped regions start a lasting, home-grown improvement by helping animal agriculture get a foothold, like the better-known and much bigger Heifer International based in Little Rock.
ForgottenSong stood out to Thierry because of its willingness to go into war zones. Davidson said he's an Arkansas National Guard veteran. He also worked for a private contractor teaching English in Afghanistan. He saw people trying to live in war zones, he said. He saw the difficulties of providing meaningful assistance, much less starting a self-sustaining food supply, in areas without peace.
A spokesman for U.S. Sen. John Boozman of Rogers confirmed ForgottenSong has worked with his office since at least 2013 on assistance projects, although the group requested no government funding. Rémy Nsengiyumva of Burundi confirmed by e-mail ForgottenSong worked with his group, FVS-AMADE, in starting poultry farms in that country. FVS-AMADE is a nongovernmental operation that cares for orphans and other vulnerable children. Nsengiyuma also provided translations for the Congo group and said he is preparing a full report on the success of the poultry project.
Davidson didn't come back from his Army service thinking he knew any answers, however. He talked to his pastor, Josh Foliart of the Christian Life Cathedral in Fayetteville, about helping those children in war zones. Davidson recalled Foliart replied it was a fine idea, but he needed to get out into the world and learn something first. Foliart, who later moved to Peru and recently returned to the United States, couldn't be reached for comment.
"I decided to get a knowledge of these places and not start anything for the next five years, until I tried to learn what was really needed," Davidson said. Part of that time was his English-teaching job in Afghanistan. That five-year journey started in 2008.
"I wound up going to Bolivia and went into a prison there," Davidson said. "There were children there. They were in jail because they had nowhere else to go because their parents were incarcerated. That struck me, that children were paying the price of their parents' crime."
Davidson realized a war zone is the most dangerous prison there is, and these zones trap children.
"I found out that while a lot is being done -- charitable things, Christian things, Muslim things -- very little was being done that's sustainable, that can make these places self-sustainable.
"I also figured out that anything I tried to do had to be not only self-sustainable, but replicable," Davidson said. "After working on a project, I realized I cannot do this again -- raise $60,000 to help just one area in northern Iraq."
ForgottenSong started aiding the development of chicken farming in peaceful areas of Uganda on the theory if it didn't work in a stable region, it wouldn't stand the added challenges of a war zone. One chicken farm would sell live birds to others, and the business would spread. ForgottenSong and its partners, such as FVS-AMADE in Burundi, branched out. ForgottenSong staff decided their model would work.
They were ready to try in a war zone. That's when the charity received an email from Thierry. The two groups and their leaders checked each other out over the worldwide web.
"With incredibly little funding, he was getting children out of soldiering," Davidson said of Thierry. "He was doing this when it was a struggle for him to raise $10 a month to rent his very basic metal building, all with six unpaid staff."
Thierry's group had also managed to open up barbering and tailoring schools.
Asked to describe the conflict in Thierry's region, Davidson replied: "If you can tell me that, I'll be done with my doctoral dissertation." Davidson is studying for a doctorate in international conflict analysis and resolution at George Mason University in Fairfax, Va. The groups in Thierry's region of the Congo have fought so long, any clear picture of who's fighting who or even who all the groups are is lost, he said.
"It was the connection we were looking for," Davidson said of Thierry. "We wanted to help child soldiers and, with him, we didn't have to learn child psychology. He was already convincing these children to come to him and convincing the armed groups who had them to let them go."
Davidson went to Lubarika in August. From Uvira, "it's two hours north by land cruiser over a long stretch of potholed asphalt where groups of children would pull a rope across the road to stop you and ask for payment to fill the potholes," Davidson said. "We never paid, and, after we left the asphalt, we had another half hour of driving down a dirt road that was only two or three miles long."
The meeting was held in a room with two guards armed with AK-47 assault rifles at the door. About 30 representatives of the various armed forces in the region from the national army to the rival groups to the local Mai-Mai were present. The room was in a European style schoolhouse with a concrete floor and one wooden desk, Davidson said.
The situation was "super tense" but not too dangerous, he said.
"If anybody had started anything with that many people from opposing forces in the same room, it would have been a lose-lose situation for everyone," he said. "It was a sort of 'mutually assured destruction' situation.
"A lot of that meeting, for me, was 'listen and don't talk,'" Davidson said.
Many of the attendees spoke in their native Congolese, he said. Almost all of it was translated for non-native speakers, though. ForgottenSong's offer of assistance got a warm reception, he said.
"Well, as warm as you can get when there are people in opposing armies in the same place."
The fact the meeting took place at all reflects that these groups do respond to the possibility of unflattering attention from the United Nations, Davidson said.
"The thing that surprised me most was how much they cared about what the United Nations thought of them," he said. "The influence of the U.N. is tangible. They feel like they're being watched, that they don't want to be picked out and targeted. They know using children as soldiers is looked down on by the U.N., and they are bending a knee to this influence. That was revelatory to me."
ForgottenSong was told it could launch its effort without interference.
The Lubarika trip also convinced Davidson a chicken farm wouldn't work. The region was too remote from the veterinary services and access to modern medicine for poultry to succeed. Goats, a hardier animal that can thrive without competing with humans for a grain supply, would be a better investment, he decided.
The price of the livestock is estimated to be $3,700 for roughly 125 animals, Davidson said. The project will rely on animals purchased from regions relatively close to Lubarika. This will save shipping costs and other expenses. The money needed for all project expenses will be raised privately, he said.
"I plan to go back in March, which gives us a definite deadline," he said.
"We don't do government grants," Davidson said. "We're pointed and on-purpose, and there are a lot of caveats with government money." ForgottenSong has a board "and we want to have a third-party audit, but they're really expensive."
"We're going to have fun trucking them down there, but that's part of the adventure," Davidson said of the goats.
NW News on 12/13/2015
Correction: A previous version of this story misstated Davidson's military experience. The error has been corrected.