Sometime this summer, beer aficionados in central Arkansas will be able to pick from nine different breweries, micro-breweries and taprooms as the state capital catches up with a national obsession with craft beers.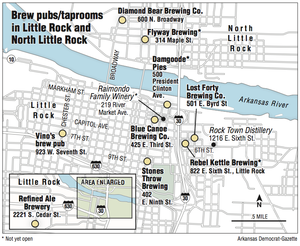 Photo by Arkansas Democrat-Gazette
A map showing the Brew pubs/taprooms in Little Rock and North Little Rock.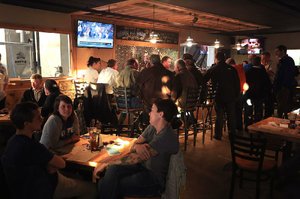 Photo by Rick McFarland
Patrons sample various Arkansas-produced craft brews during the Arkansas Brewers Guild's winter "tap-takeover" at the Diamond Bear Brewing Co. restaurant at 600 N. Broadway in North Little Rock.
Photo by Rick McFarland
Marisa Nelson and Alex Handfinger taste and then discuss samples of various craft brews last week in a North Little Rock brewery.
Currently, there are six such establishments on either side of the Arkansas River. They range in size from Diamond Bear Brewing Co. with its new brewery, restaurant and growing regional following to the tiny Blue Canoe Brewing Co., which opened a taproom in December in a small store that fronts Third Street in Little Rock's River Market District.
Central Arkansas' close-knit and growing brewing community is already looking for ways to promote its offerings to residents and tourists.
"Tourism is a big part of it. The more breweries that there are, the more they complement each other," said Diamond Bear President Russ Melton.
There are eight native brewery permits issued in Little Rock and North Little Rock. One, held by the now-closed Bosco's restaurant, will be surrendered later this month. At least two more are in the application process: Damgoode Pies (which is taking over the Bosco's location) has received conditional approval for its microbrewery restaurant permit, and Rebel Kettle Brewing, which plans to locate on Sixth Street, not far from Lost Forty Brewing and the Rock Town Distillery.
Melton said that to develop the brewery scene into a tourism draw, cooperation among the breweries will be key.
"We knew that tourism would be important, especially when we moved to this location," said Melton, who is also president of the Arkansas Brewers Guild. "We are a much more prominent and visible venue for tourism than we were in our other location. The other breweries are icing on the cake. They add to the whole attraction."
A 2012 study done for the Boulder, Colo.-based Brewers Association, indicated that the craft-beer industry contributed about $34 billion to the U.S. economy, said Bart Watson, the association's chief economist. Watson said that given the industry's growth, about 75 percent of all Americans live within 10 miles of a brewery.
"More and more local communities are figuring out that this is something that can bring money into communities as people who are visiting want to see local breweries," Watson said. And, breweries in communities "create good, high value jobs because of that manufacturing component."
Nationally, craft breweries control about 10 percent of the overall beer market, Watson said. In some specific markets, such as Portland, Ore., the market share can reach 30 percent to 40 percent.
"The demand trends for flavor and for local products don't appear to be going away," he said. "If anything, they're growing as the millennial generation comes on line as consumers."
Watson doesn't see the demand for local or regional craft brews disappearing anytime soon, which is good news for people looking to start a brewery. Compared with other small businesses, Watson said, microbreweries and brew pubs tend to have higher success rates in part because of the "untapped demand for locally produced beer."
Brew pubs and microbreweries are just the latest twist in the revitalization of downtown Asheville, N.C., said Marla Tambellini, deputy director and vice president of marketing for the Asheville Convention and Visitors Bureau.
In recent years, Asheville has developed a national reputation for its craft beers.
"There was a strong downtown revitalization effort that was hitting its peak and stride at the same time that our culinary offerings were growing and gaining a national reputation, and the craft beer industry was really emerging for this community as well," Tambellini said. "That triumvirate has really helped build downtown and certainly has created spectacular offerings that we can tout to visitors."
As part of that scenario, craft beer in particular, adds to the "authenticity of place," that visitors want when they travel, she said, adding that visitors aren't interested in experiencing things they could get anywhere.
"They want to get a taste of a place that they're getting to peek into, and they want to be able to have experiences that are the same experiences that we as people who live here get to have every day, and we love sharing that with our visitors, " Tambellini said.
Ian Beard, owner of Stones Throw Brewing at Ninth and Rock streets in Little Rock agreed that craft beers, combined with the atmosphere of local bars, attract visitors as well as a host of regulars.
"We've long been a tourist attraction. People have been stopping in from all over the country and the world while they've been passing through in Little Rock," Beard said. While word of mouth directs many people to his taproom, he said it's not unusual for people to see "Stones Throw" pop up when they do online searches for "brewery."
"Of course, we have our regulars," Beard said. "And, we do see some new folks, and actually a lot of our regulars are sort of doing the brewery circuit now where they'll go visit all the breweries on a Saturday afternoon or Sunday afternoon."
Matthew Foster, co-owner of Flyway Brewing Co., hopes to open a taproom/brewery/warehouse at 314 N. Maple St. in North Little Rock by midsummer. Currently the company, which holds a native brewer permit, distributes its beer to several restaurants and at events, such as festivals.
Foster said the growing number of brewers means that "everyone is raising their game" in terms of quality. And, it's important for the brewers to work together to promote their products, he said.
"It's already well underway. There's a good bit of coordination and collaboration among central Arkansas brewers," Foster said.
Beard said Stones Throw, like most small breweries, doesn't have much of an advertising budget. Instead, it relies on social media and a presence online. He said he and others are hoping that Little Rock will help promote craft-beer tourism like the Fayetteville Visitors Bureau does with the Fayetteville Ale Trail, which helps direct visitors to small breweries in Northwest Arkansas.
There's talk of a "brew bus" to take people from brew pub to brew pub on tours. And, some are talking about creating a regular gathering of bicyclists for taproom stops.
Gretchen Hall, president and chief executive of the Little Rock Convention and Visitors Bureau, said that given the popularity of wine, beer and bourbon trails in other parts of the country, the bureau hopes to create a "beverage tour" this year that features the breweries along with Rock Town Distillery and new wine retailer Arkansas-based Raimondo Family Winery, which is planning a shop at Third Street and River Market Avenue.
"We've had lots of national press on the foodie scene in Little Rock, including the artisanal food movement, but also including the brewery, distillery and beverage component of culinary," Hall said.
While tours and events such as "tap-takeovers" -- where a restaurant or bar changes out its taps to serve local brews -- are important, Beard said, craft brewers need support from both visitors and regular customers.
"The regulars are a huge part ... just kind of the atmosphere when you come to our taproom," Beard said. "We're very much a neighborhood bar. So most of our regulars walk in from the neighborhood. That's great to have that kind of old-neighborhood pub feel, which does make it feel a little more authentic for visitors."
SundayMonday Business on 02/15/2015