MOUNTAIN VIEW -- An old Lovin' Spoonful song about country music's ground zero -- "There's thirteen hundred and fifty-two guitar pickers in Nashville" -- could apply to this town, which calls itself the folk music capital of the world.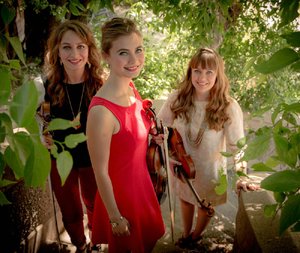 The Quebe Sisters (from left), Sophia, Grace and Hulda Quebe have performed at Ozark Folk Center State Park. Their performance is part of a demo for Ozark Highlands Radio.
There are two thousand, seven hundred and forty-eight people in Mountain View, and it's not too much of a stretch to say any one of them can pick more notes than the number of ants on a Stone County anthill.
If all goes according to a plan developed at Ozark Folk Center State Park, those notes will be picked on a weekly, hour-long broadcast called Ozark Highlands Radio. The goal is to start broadcasts in January 2016.
Interest has been shown by public radio stations in Little Rock, Jonesboro, Fayetteville and Springfield, Mo., Daren Dortin, the folk center's musical director, said.
"It's safe to say we've found a sympathetic ear in Arkansas," Dortin said. "From there we can develop and shape the program to take it outside the region."
One of those sympathetic ears belongs to Ben Fry, general manager of KUAR-FM, 89.1 in Little Rock. Based at the University of Arkansas at Little Rock, the station is an affiliate of National Public Radio.
"If we're happy with the quality and think they can produce enough shows, we want to carry it," Fry said at his office.
He's cautiously optimistic.
"I'm always hesitant when a show is proposed because people don't always know how much goes into a weekly radio show," Fry said. "I think this is likely to succeed because Daren knows what goes into it."
Dortin has been music director at the folk center since 2013. In 2011 he went to work there as a sound engineer. He's a veteran of the Memphis music scene, as a performer and co-host and producer for eight years of the radio program Beale Street Caravan.
He's a native of Cincinnati, "a drummer by trade" who moved to Memphis for the blues.
"Loose threads connect that music to music here," Dortin said.
Beale Street Caravan is a one-hour, noncommercial radio program that appears on about 400 stations around the world. About 300 public and community radio stations carry it in the United States. Anyone who thinks the idea for Ozark Highlands Radio came out of his experience with Beale Street Caravan "is 100 percent correct," Dortin said.
KUAR once carried Beale Street Caravan, Fry said.
"It's a really well-made show," he said, "contemporary and with archival recordings. Ozark Highlands Radio will be similar."
Fry sees Ozark Highlands Radio as a weekend or evening broadcast for KUAR. "It's nice to have a year to figure out what to do with the show."
Material for the show will come from this year's performances at the folk center.
"I thought it would be best to have a year's worth of material before we launched," Dortin said.
Park Superintendent John Morrow is confident about the content, given there are approximately 130 nights of music performance over the course of a year.
"Folk music is more alive here than any place in the United States," he said.
PITCHED TO STATIONS
A 10-minute demo tape was produced and pitched to NPR stations in Arkansas. The demo is a miniature version of the planned structure of the hour-long radio show. It opens with an acknowledgement, or pitch, for the state parks system and the Ozark Folk Center. Fiddle music leads into an introduction by host Dave Smith.
Smith tells listeners about forthcoming music from local group The Leatherwoods and the The Quebe Sisters Band of Texas. In between those musical acts is conversation with Stone County resident and hammered dulcimer player Joe Jewell. The hammered dulcimer dates to biblical times, Jewell says, and the first reference to it in America dates to 1611 and the settlement at Jamestown.
The Leatherwoods and the Quebe Sisters appeared at the folk center in 2014. Smith, of Stone County, is a performer and researcher.
For the hour-long programs, Dortin said, "segments will be recorded and gathered at different times and culled together." The hour will include 15-20 minutes of a featured artist, a host segment, 15-20 minutes of a second performer, local breaks, and a closing out with the featured artist.
Artists may include those on tour from outside Stone County, plus local and contract musicians. "Our goal is to feature the best of the best," Dortin said.
Artists will sign a radio release, Dortin said, to allow their performances to be recorded and incorporated into the radio show. "The music will not be sold. It will be rebroadcast on Ozark Highlands Radio only," Dortin said.
"We're not selling or profiting from this performance," Morrow added.
In fact, the program will be free to public and community radio stations. Plans are for 40 original shows and 12 reruns. The program is noncommercial, Dortin said, adding that commercial programming uses "dissimilar formats."
"I don't see any barrier to growth in other regions," Morrow said. "When they see a good product that's interesting, relevant and free -- that will be interesting to any radio manager."
MARKETING AND MUSIC
Ozark Highlands Radio is about marketing as well as music.
Dortin and Morrow observe that visitors to the folk center aren't getting any younger. Joe Jacobs, marketing and revenue manager for the state Department of Parks and Tourism, concurs.
The folk center seeks a new audience, Jacobs said in his office in Little Rock, folks who watch the PBS program Austin City Limits, which features plenty of the wide genre of roots-based music known as Americana.
"We hope to grab a little bit of that audience," Jacobs said. "This is an outreach program to let people know it's there."
There is a two-hour drive from Little Rock, or a little more.
There is a state park that has been around since 1973, located in a county contiguous to Baxter, Izard, Searcy, Independence, Van Buren and Cleburne counties, the most populous being Baxter, with 41,513 people.
There is 153 miles from Fayetteville, in booming Northwest Arkansas, a three-hour drive through the hills and hollows of northern Ark­ansas.
There's definitely a there there, but it's a long ways away from everywhere else.
Attendance at the folk center has decreased from 2006, when it had 150,000 visitors, to 2013, when 124,000 visitors came in. The low was 2010, with 120,000. (The center again had 150,000 visitors in 2009.)
Measuring usage at state parks isn't an exact science, Jacobs said, but for comparison, an informed estimate of visitors in 2014 at Pinnacle Mountain State Park in Little Rock was 668,000.
Jacobs has a personal interest in the folk center.
"My 18-year-old daughter loves going there," he said. They once saw folk singer Arlo Guthrie perform.
"It was nice for an old guy like me to take my daughter to see Arlo Guthrie. She loves Americana, folk. A lot of the music we listen to today originated there."
The radio program, Jacobs said, comports with the purpose of the folk center.
"The hope is -- the mission is -- the preservation of Ozark traditions and music."
Preservation of the music in Ozark Highlands Radio will no doubt include the annual concert of Stone County's young folk musicians, many of whom develop their chops in the Music Roots program for local schoolchildren. In operation for about a decade, it provides traditional instruments and instruction for kids in the fourth through eighth grades, said district Superintendent Rowdy Ross.
Stone County has one school district, and three campuses -- at Mountain View, Timbo and Fox.
Plenty of students participate, Ross said, and the program has other benefits. "Nothing gets parents involved like their kids playing music."
In addition to playing at the folk center, the kids play throughout the year at school events.
"Keeping the music alive," Ross said, "keeping the tradition going."
Jewell, the hammered dulcimer player who appears in the radio demo, was an early supporter and instructor in Music Roots. He's on the fringes now, he said, helping to procure instruments for the kids.
The youth concerts at the folk center are a treat, he said.
"The musical talent on that stage will blow your mind," he said. "Some of those kids are as young as 9, and their musical skill will blow you away."
The Music Roots concert, featuring young people from all the schools in Stone County, is April 16.
The Next Generation concert, described by Dortin as the cream of the crop, is June 19, and is one of the more popular shows at the folk center.
Jewell, 74, first encountered the hammered dulcimer in the Florida Keys 35 years ago. His wife got him one for his 42nd birthday.
He hasn't heard the demo, but recalls Dortin and Smith coming to his small recording studio in 2012 and recording that segment. Jewell is excited about Ozark Highlands Radio.
"It can't do anything but boost attendance and awareness," Jewell said. "The folk center is the best-kept secret in Arkansas, maybe the United States.
"People come to Mountain View and discover the folk center by accident because there's not much out there telling them about it.
"The radio program will be a huge step in the right direction."
Style on 02/15/2015