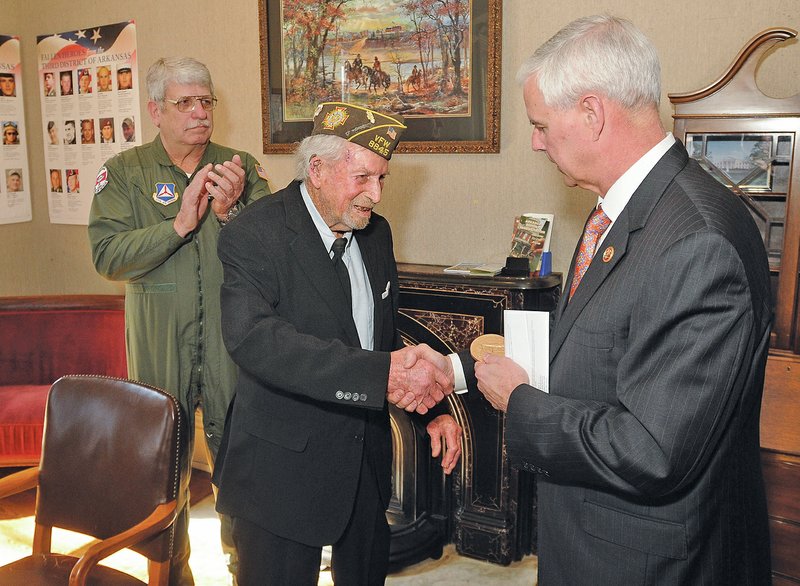 U.S. Rep. Steve Womack presents a bronze version of the Congressional Gold Medal to Manford "Manny" Redifer, 89, of Hackett, a World War II veteran who served in the Civil Air Patrol, during a Thursday ceremony in Fort Smith. ( Arkansas Democrat-Gazette / Michael Woods)
FORT SMITH -- Manny Redifer was ready to go before the ceremony even began Thursday.
"Are we through?" asked Redifer, 89, of Hackett after a flurry of handshaking and hellos.
No, he was told. 3rd District Rep. Steve Womack and Fort Smith Mayor Sandy Sanders weren't even there yet.
Redifer was being honored as Arkansas' only known Civil Air Patrol member from the World War II era.
Womack and Sanders soon arrived, and the ceremony began in the historic Victorian house on 6th Street that serves as the Rogers congressman's Fort Smith office.
Womack presented Redifer with a bronze version of the Congressional Gold Medal.
The gold medal is in the Smithsonian Institution in Washington. It was awarded by Congress in 2014 symbolically to all World War II-era members of the Civil Air Patrol. But bronze replicas are available for ceremonies around the country.
"Normally, these presentations are done with a backdrop of the United States Capitol, many times in the capitol's rotunda, with the backdrop of a very patriotic scene," Womack said. "All too often, however, we have to move these ceremonies out across the country, where the recipients come from, because of obvious logistical restrictions in travel and age and those kinds of things."
Womack described Redifer as "the picture of nobility, patriotism and all of the goodness that is what America is all about."
Redifer volunteered for the Civil Air Patrol in South Bend, Ind., and later served in the Air Force, Womack said.
The congressman paraphrased a sentence from the forward of Tom Brokaw's book The Greatest Generation: "This generation won the war and saved the world."
"So it's on behalf of the United States Congress that I present to you this small token of our appreciation for what you've done through your work with the Civil Air Patrol and in support of the efforts that helped us win that war," Womack said.
Redifer spoke for about a minute after receiving the medal, saying, "Thank you for taking the time to put the ceremony together."
Manford "Manny" Belmont Redifer was born Aug. 25, 1925, the third of six children, to Burleigh and Alive Redifer of Plymouth, Ind. He followed his sister, Lorraine, to join the South Bend Civil Air Patrol squadron in 1942, hoping it would lead to flying for the Army Air Corps, where their brother was a pilot.
Manny Redifer and eight other members of his CAP unit bought a J-3 Cub, and he became a student pilot on July 7, 1943, at age 17. But two of the plane's owners died when they crashed the small aircraft, said 1st Lt. Brad Kidder, a spokesman for Fort Smith's 83rd Composite Squadron.
Redifer was a member of the South Bend squadron but wasn't a pilot there, Kidder said.
Redifer was drafted Oct. 5, 1943. During his military career, he worked a 40mm gun, was an amphibious "Duck" driver and a company bugler, Kidder said.
While serving in Antwerp, Belgium, Redifer suffered shrapnel wounds and frostbite after a German rocket attack, Kidder added.
By age 20, Redifer had served in 10 countries.
Redifer, a first sergeant, retired from the reserves in 1982 at a master sergeant, Kidder said.
Anyone who served in the Civil Air Patrol during World War II is eligible for a bronze replica medal, and family members can claim the medal on behalf of deceased members, said Steve Cox, a spokesman at the Civil Air Patrol National Headquarters.
Replica medals can also be purchased through the U.S. Mint.
Called the "Flying Minutemen," the more than 200,000 unpaid men and women of the Civil Air Patrol used their own aircraft to help spot German U-boats while patrolling the U.S. coasts, locate survivors of sunken ships or downed airplanes.
They were eventually armed by the military to attack submarines. The volunteers also ran mock air-raid drills, monitored forests and civilian airports, and flew people and equipment cross country.
Started days before the Pearl Harbor bombing, the Civil Air Patrol flew more than 24 million miles, couriered more than 4 million pounds of cargo for the Air Force, spotted 173 U-boats for the military and attacked 57 submarines themselves, officials said.
"Military members were obviously abroad at the time... and these folks volunteered and stepped forward and protected the homeland during a crucial time in our history," Cox said. "They are a unique bunch of men and women. They did all kinds of things that were needed to protect the homeland, and even if they didn't fly along the coast, they still played a vital role in protecting America."
Lt. Col. Cecil Engles with the Civil Air Patrol said most civilians who patrolled the coasts were doing so as observers, providing information to the military. But some dropped bombs on the enemy.
"They would tie a bomb between the struts," said Engles, who attended the ceremony Thursday in Fort Smith. "They had nothing more than a piece of bailing wire to let them go."
According to Civil Air Patrol's national headquarters, only 327 people have come forward to receive the medal. So far, Redifer is the only Arkansan, but Cox said Redifer probably isn't the only eligible Civil Air Patrolman in Arkansas.
"[The Patrol] started at least on the East Coast and the Gulf Coast, and so for that reason there's not a lot of candidates from some of the inland states. But I can't imagine there's not others either living in Arkansas, or who lived there during that period and served," he said."This happened so long ago it's been really hard to find the candidates, but they are slowly coming forward."
He said people who may be eligible or who think a family member may be eligible should contact the Patrol's Arkansas Wing Commander in Little Rock.
The Congressional Gold Medal is the highest civilian honor Congress can bestow. It is awarded for extraordinary deeds and contributions to society. Its recipients have included George Washington, Mother Theresa, Bob Hope and Frank Sinatra. In 1998, Congress awarded the medal to the members of the Little Rock Nine.
At least two-thirds of House and Senate members must co-sponsor legislation granting the medal before it can be considered.
Sanders said he has known Redifer since 1967. Redifer moved from Indiana to Fort Smith the previous year to help open the Whirlpool plant, Sanders said.
Redifer was an industrial engineer for Whirlpool, said Vernon Kennedy, a friend who attended Thursday's ceremony.
NW News on 02/20/2015
Print Headline: Fort Smith man honored with Congressional gold
Sponsor Content