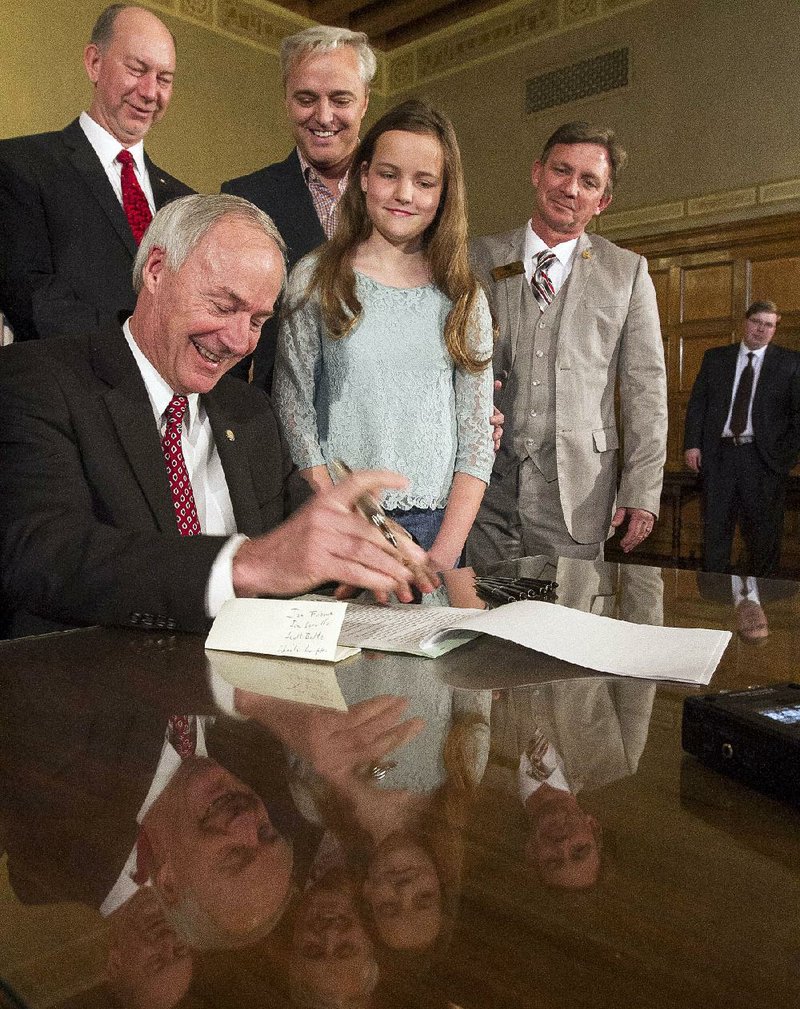 Gov. Asa Hutchinson signs a bill Tuesday requiring Arkansas high schools to offer computer science classes. The governor's granddaughter, Ella Beth Wengel, joins him for the ceremony. ( Arkansas Democrat-Gazette / Benjamin Krain)
Less than two months into his first year as governor, Asa Hutchinson made good on another campaign promise Tuesday by signing into law a measure requiring public high schools to offer courses in computer science.
Joined by lawmakers, education officials, and family, Hutchinson signed House Bill 1183, creating a mandate for more computer instruction at public high schools and charter schools as well as creating a commission to study how to further computer literacy in Arkansas education.
Earlier this week, Hutchinson also signed legislation mandating the teaching of cursive writing in the state's schools.
High school computer-science instruction in the country is inconsistent. But Hutchinson said that with millions of unfilled jobs in the science, technology, engineering and math fields and a computer and coding industry growing at twice the speed of other economic sectors, the bill is a good foundation for the state's future success.
"[The law] is simple, not complicated, it's one of low investment but high return for the young people of our state," Hutchinson said. "This will make a difference in our education but also for our economy in our state. It'll be a job driver we need."
The state's Department of Education does not track how many districts offer courses in computer science or coding, but Hutchinson said that nationally, about 1 in 10 schools offer such courses.
In Arkansas, Hutchinson said, that figure is even lower.
Hutchinson said computer science won't be deemed as an elective; students will be able to take it to satisfy a math course requirement, giving students an "incentive" to take on a new type of education.
Schools will be required to offer courses during the 2015-16 school year.
For districts unable to hire within their own schools, the law will provide the funding to pay for students to take classes through Virtual Arkansas, an online instruction program made possible by the Education Department and local education service cooperatives.
The law also creates the Computer Science and Technology in Public Schools Task Force, a 15-member group that will spend the coming months researching effective education standards and curricula in computer education and pinpointing education needs and opportunities in the state.
The task force must issue its recommendations by Nov. 1.
Tuesday's signing ceremony followed the governor's signing of a bill Monday that mandates elementary schools teach and test for cursive handwriting.
The sponsor of HB1044, Rep. Kim Hendren, R-Gravette, wanted to push the legislation because the state's Common Core, a set of math and literacy standards, does not address cursive, which Hendren feared would be lost in the everyday demands and pressures faced by public educators.
On Tuesday, Hutchinson said he thinks the cursive writing and computer sciences laws go hand in hand.
"I think it's a great balance. ... I don't think [mandated instruction of computer science and cursive is] inconsistent in my view or inconsistent in practice," Hutchinson said. "I work on my computer, but there is nothing more significant than being able to write a handwritten personal note to a friend or colleague ... to be able to utilize cursive handwriting."
Added Hutchinson: "It's a good balance for young people, blending the future with what is important in our society."
Metro on 02/25/2015
Print Headline: Hutchinson signs bill on computer courses
Sponsor Content