A Senate committee pushed forward legislation to end the state's death penalty. It also shot down legislation that would strengthen legal protections for religious objectors from government action.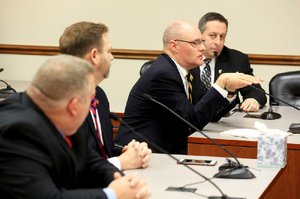 Photo by Rick McFarland
Prosecuting attorneys (from left) Tom Tatum, Cody Hiland and Daniel Shue along with Bob McMahan of the Arkansas Prosecutor Coordinator's Office, were on hand Wednesday when a legislative committee debated legislation ending capital punishment in Arkansas. Prosecutors spoke out against the proposal, but it passed in the Senate Judiciary Committee.
The Senate Judiciary Committee also pushed forward a bill filed to help stem prison crowding, improve parole services and cut overall recidivism.
Regarding the action on executions, Senate Bill 298, sponsored by Sen. David Burnett, D-Osceola, would end death sentences as an option in capital-crime sentences.
The former prosecutor and judge, who himself has imposed the penalty, as well as obtained death sentences as a prosecutor, echoed remarks from former Democratic Attorney General Dustin McDaniel by saying that the state's death sentence is "broken."
"It's no longer a deterrent," he said. "It's a punishment that's actually broken. It doesn't work. And it costs a huge amount of money to try and prosecute those cases."
The last execution in Arkansas was in 2005. Since then, the drugs required to perform lethal injections in Arkansas are hard to come by, and European makers of the drug refuse to sell to America because it will be used for lethal injections.
Burnett argued that murderers don't think about the consequences of their actions when they take lives, so the death penalty therefore provides little deterrent to the crime. He also pointed out the logistical challenges due to drug shortages.
"[The death sentence] came from our brethren in England. The rule of law [then] was extremely draconian. You could receive the death penalty for over 200 crimes," Burnett said. "Today, England does not have the death penalty. Maybe our ancestors are a bit more sophisticated or compassionate than we are."
A band of prosecutors testified against Burnett's bill, saying that if the current system is broken, then the Legislature should fix it.
Faulkner County Prosecuting Attorney Cody Hiland said the Legislature should not end executions.
"This is not a blood lust here. It's about effective justice and an effective system [of deterrence]," Hiland said. "What we need to say as a state is that you will pay with your life [for capital crimes] because we value life so much."
Hiland said that since the United Kingdom abolished the death penalty in 1964, homicide rates have doubled there.
Numerous defense attorneys testified, saying that litigation is extraordinarily expensive in death-sentence cases and that appeals go on for years.
One attorney, Jeff Rosenzweig, noted that innocent men have been placed on death row and that convicted murderers are sometimes exonerated.
"[Execution] is irreversible. There is no way to fix a mistake once it happens. Lawyers make mistakes. ... Judges make mistakes. ... Juries make mistakes," Rosenzweig said. "There's no way to fix it once someone's dead."
The bill passed through on a voice vote and will go to the Senate for consideration.
Conscience Protection Act
A bill that would expand religious protections against government action failed to capture a majority of the vote.
Known as the Conscience Protection Act, HB1228, sponsored by Rep. Bob Ballinger, R-Hindsville, seeks to protect Arkansans from laws, ordinances or other government rules and policies that would "substantially burden" an individual's right to exercise religion. Measures burdening religious beliefs would be allowed only if the government possesses a "compelling" interest in the regulation and if the regulation is the least restrictive option.
Committee members were deadlocked 3-3 on the legislation.
Ballinger said he was disappointed by the outcome, saying that many of the arguments made against his bill distorted what the bill did.
"Some people have said that it'll make it where anyone can sue anyone. ... That's not the case. There has to be a state action before that can happen," Ballinger said. "We believe a person's right to believe is something that we should put a higher scrutiny on."
The bill -- along with a companion bill that went into law without the governor's signature on Monday, SB202 -- has drawn organized opposition from groups that argued the bills amounted to approving discrimination against gays in the state.
SB202 will prohibit cities and counties from enacting anti-discrimination ordinances regarding gays. Eureka Springs has one in place right now, and the Conway City Council approved a similar ordinance Tuesday.
On Wednesday, lawmakers and attorneys echoed the concerns raised by Gov. Asa Hutchinson on Tuesday that HB1228 would create many unforeseen legal questions and problems.
An attorney representing the state's Municipal League, John Wilkerson, said that the language in the bill would open up cities to more lawsuits, as well as make it difficult to draft and enact basic legislation out of fear of "indirectly burdening" someone's faith.
"[With HB1228], there could be dozens of lawsuits, form the barber who wanted to discriminate ... from the baker who wants to discriminate [while saying] that violates my fundamental rights. That's troubling."
Testifying against the bill, Pulaski County Circuit Judge Wendell Griffen, who is also a pastor, reminded the audience that much of the evil of the Jim Crow era was justified by appeals to faith.
A veteran, Griffen said that a Quaker business owner, who would be a pacifist, would have moral or religious grounds for refusing to serve him a hamburger, sell him a movie ticket or give him a job.
"We have a system that has freedom not only of religion but also freedom from religion," Griffen said. "This bill violates it. Please do not take us back down this dark path."
Ballinger said that he'd try again with his bill and thinks that it will have Hutchinson's support.
Criminal Justice Reform
After some tweaks, a 30-page bill meant to further the prison and parole changes proposed last week by Hutchinson passed through the committee on a voice vote.
SB472, sponsored by Sen. Jeremy Hutchinson, R-Benton, would promote private-state partnerships to help with parolees' transitions, as well as expand access to drug and mental treatments for parolees and probationers through Medicaid funds and expand and unify alternative courts in order to curb recidivism in the state.
In all, Gov. Hutchinson's $32 million proposal over the next two years would increase bed space in the state's crowded prisons by 790 beds, as well as create community centers to house, treat and educate about 500 inmates while they make transitions back into society.
The bill would also give sworn law enforcement officers the same powers held by parole and probation officers to conduct no-warrant searches on parolees and probationers.
Sen. Hutchinson said police officers in a dozen states have the same expanded powers and that it is necessary in order to change parolee behavior.
"[To do otherwise] we'd have to increase our parole officers and probation officers substantially," Hutchinson said. "That would cost money we don't have."
Dina Tyler, the deputy director of the state Department of Community Correction, said that her agency has about 400 parole and probation officers to monitor about 52,000 clients. Little Rock, she pointed out, has more police officers than she has case officers.
Sen. Joyce Elliott, D-Little Rock, voiced concern that such a change to police powers could give rise to abuse and further alienate communities that already have strained relationships with law enforcement. She said she worried some "bad apple" police would harass parolees and probationers.
Hutchinson agreed that that could happen and said he would see to it that an amendment is made to ensure that law enforcement agencies devise policies and procedures to address how they handle the searches of parolees.