Smoked Salmon with a brown-sugar glaze and a little orange creme fraiche could serve as a small entree at Boulevard Bistro & Bar in the Heights. (Arkansas Democrat-Gazette / ERIC E. HARRISON )
It has been a natural progression for Boulevard Bread Co., from a fairly small-scale bakery/deli in the Heights, to a four-outlet mini-chain with an expanded menu, to the new, full-service, full-bar restaurant that recently opened next door to the original Heights bakery/deli.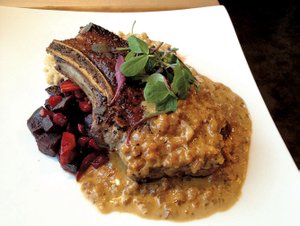 Photo by ERIC E. HARRISON / Arkansas Democrat-Gazette
The Bone-in Pan Roasted Local Pork Chop comes with risotto, roasted root vegetables and an apricot brandy sauce at Boulevard Bistro & Bar.
Taking over the other storefront, a former boutique, in the two-business -- can we call something that small a strip center? -- on Kavanaugh Boulevard, Boulevard Bistro & Bar continues and vastly expands the tradition of high-end cuisine that had been showing up in the delis in gourmet soups and panini sandwiches.
Boulevard Bistro & Bar
Address: 1920 N. Grant St., Little Rock
Hours: 7 a.m.-10 p.m. Monday-Wednesday, 7 a.m.-11 p.m. Thursday-Saturday, 8 a.m.-2 p.m. Sunday
Cuisine: Eclectic
Credit cards: V, MC, D, AE
Alcoholic beverages: Full bar
Reservations: Parties of eight or more
Wheelchair accessible: Slight step at the front door
Carryout: Yes
boulevardbread.com
Chef Chris McMillan has come up with an eclectic menu, using many locally sourced ingredients, that ranges from comfort-food items like Baked Pimento Cheese and a monster pork chop to tres hauter cuisine like Coq au Vin and Parisian Gnocchi.
Meanwhile, you can continue to get the "regular" stuff at the conjoined deli even during the bistro's off hours. A pass-through lets you order breakfast or lunch, meals that are not yet served in the bistro, in the deli and sit down to eat in the bistro. A bigger initial wave of customers and a brunch menu that didn't quite fit have forced the place to jettison its fledgling Sunday brunch for a few weeks.
The decor is classically simple -- dark gray walls accented with food-related artwork, a full bar that doesn't dominate the seating area (how rare nowadays!), seating at polyurethane-coated butcher-block tables with metal chairs or at white-upholstered window booths, plus a smaller, semi-enclosed secondary dining area. The unfinished ceiling, painted deep black, makes for a slightly noisy atmosphere, but the overall effect is more convivial than chain-loud.
Among McMillan's nine appetizers (even the ones we haven't tried yet are pretty intriguing), we particularly recommend the superb Smoked Salmon ($9) in a brown-sugar glaze, perked up with capers, some chopped onions and a little orange creme fraiche for accent (in lieu of cream cheese, we guess), served with four slices of olive-oiled bread. Like most of the appetizers we tried, this could serve as a small entree.
The Baked Pimento Cheese ($7) particularly pleased even the two folks at the table who avowed up front that they are not fans of pimento cheese. This is spiced just right and gloriously gooey, spreadable on the six pieces of side bread. It was hard to tell how much we'd actually dipped out of the iron casserole dish in which it's baked and served because as we removed some, the remainder spread out and filled the vacancy.
Boulevard's Portuguese Mussels -- close to two dozen for a very moderate $12 -- come with plentiful ground house chorizo partially submerged in a mild, white-wine-and-shallot-butter "soup" and toasted ciabatta with a garlic aioli drizzle.
We probably would not have taken a flier on the Arancini di Riso ($9) if we hadn't seen a couple noshing on them at the bar one evening. It's a trio of Sicilian-style fried risotto balls, served with a little shaved cheese for garnish. It comes on a bed (plus a large "thimble" for dipping) of harissa, a North African hot-chili paste in a bright orange oil that put a spicy charge into the otherwise bland risotto. (Some versions of this dish come filled with meat or tomato sauce, mozzarella and/or peas, something McMillan might consider experimenting with.)
The menu doesn't specify the size of the rib-eye in the Steak Frites ($27), but it's enormous, topped with shallot butter that helped keep our medium-rare cut tender, moist and tasty. An even larger pile of delicious, herbed, skin-on fries occupies the rest of the plate (they'll bring out a zippy curried ketchup on request); the kitchen happily agreed to substitute a welcome side of roasted Brussels sprouts for the kale that's supposed to come with it.
The Bone-in Pan Roasted Local Pork Chop ($18) is possibly the prettiest plate presentation we've seen in many months. And it was delicious, moist and tender, topped at one end with a very complementary apricot brandy sauce and served on a bed of creamy risotto and a side of roasted root vegetables.
We generally like our gnocchi (a dumpling-like potato pasta) fairly firm, but we were both surprised and delighted by the way the Parisian Gnocchi ($14) melted in our mouths. It comes with mushrooms and sauteed spinach in a sauce of truffled cream, herbs and comte (a cow's-milk cheese in roughly the same taste-and-texture league as Gruyere or Emmentaler).
And the kitchen turns out an excellent Coq au Vin ($18), two locally sourced (from Falling Sky Farm) chicken legs braised in a lovely red-wine sauce, garnished with mushrooms and cubes of ham or possibly tasso, served with a healthy side portion of mashed potatoes topped by two roasted baby carrots.
The wait staff continually refills or replaces complimentary bread baskets -- at least two types, a nice baguette style and a seeded whole grain, arrived at our tables during various visits. (As one waitress archly put it, "This is, after all, Boulevard Bread.") Which is as good an excuse as any why we didn't on any visit have any room for dessert.
Much of the staff -- waiters, managers, kitchen personnel -- have moved over from other Boulevard Bread locations or have worked at other high-end restaurants. Our service was universally good to excellent.
Weekend on 02/26/2015
Print Headline: Bistro is epicurean's delight
Sponsor Content