Gov.-elect Asa Hutchinson said Tuesday that he wants the Legislature to enact his plan for a $100 million income tax cut early in the session that starts Monday.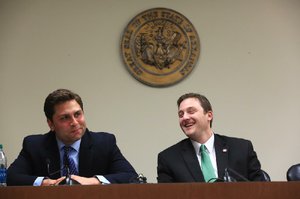 Photo by Rick McFarland
Senate President Pro Tempore Jonathan Dismang (left) and House Speaker-designate Jeremy Gillam, speaking Tuesday at an Arkansas Associated Press Managing Editors luncheon, said they haven't seen much support in the Legislature for a proposed $100 million high-security prison.
The Republican from Rogers said he also would like the Republican-controlled Legislature to change state law to allow high school students to earn core graduation credits in either math or science for taking a computer coding or computer science classes.
"I would like to have the session get off to a quick start with these agenda items that are important for creating jobs here in the state of Arkansas," Hutchinson told reporters at a luncheon organized by the Arkansas Associated Press Managing Editors.
"While I want the tax cut plan to move forward quickly, the Legislature is entitled to know my overall view of the budget, so I would expect very close in time to submit to the Legislature my outline of the budget parameters as well" by the end of this month, he said.
During his campaign, Hutchinson said he would ask the 2015 Legislature to cut the state's income tax rate from 7 percent to 6 percent for people earning between $34,00o and $75,000, and from 6 percent to 5 percent for those earning between $20,400 and $34,000.
Hutchinson has said his tax-cut plan would reduce state general revenue by $50 million in fiscal 2016 and $100 million in fiscal 2017.
Departing Democratic Gov. Mike Beebe has recommended that lawmakers delay the implementation of two previously approved tax cuts projected to reduce revenue by $29.4 million in fiscal 2016 and $24.5 million in fiscal 2017. Those cuts would reduce the sales tax on natural gas and electricity used by manufacturers, lower income taxes on capital gains and increase the standard personal income tax deduction.
Hutchinson said "some" of the tax cuts that Beebe has recommended delaying "will be on the table for discussion about delay" with state lawmakers, and he hasn't made final decisions yet.
He said he doesn't believe that the Legislature needs to decide the future of the private option under which the state uses federal Medicaid funds to purchase private health insurance for low-income Arkansans before enacting his proposed income tax cut for the middle class.
"I don't see any necessity for waiting until other issues are resolved," Hutchinson said.
He said he plans to make a major speech about health care and its future in Arkansas before the end of this month in which he'll say whether he'll ask the Legislature to reauthorize funding the private option, which requires a three-fourths vote of the state House and state Senate.
"I do think it's important to consider the private option in the context of overall health care reform," Hutchinson said. "I think the Legislature wants to see not just a piecemeal strategy, but a bigger picture of health care reform, including the private option, so that they can see the long-term cost and impact to the state."
The state's current fiscal 2015 budget anticipates $85 million in general revenue reductions from tax cuts enacted by the Legislature in 2013 and up to $89 million in savings from the use of the private option, according to state officials.
The current program extends insurance coverage to adults with incomes up to 138 percent of the poverty level -- $16,105 for an individual, for instance, or $32,913 for a family of four. More than 180,000 Arkansans have enrolled in private health insurance through the program, according to the state Department of Human Services.
Federal Medicaid funds pay for 100 percent of the program until fiscal 2017, when the state will pick up 5 percent of the cost. The state's share of the tab will gradually increase to 10 percent in fiscal 2020.
An executive for a major group backing the private option -- Bo Ryall, chief executive officer of the Arkansas Hospital Association -- said Tuesday in Little Rock that it's "hard to say" what the chances are of the program being reauthorized.
"We're certainly talking to legislators about some of the things they would like to see that would help them move from a no to a yes," he said. That could include tying coverage under the program to services that help people find jobs.
"The federal government won't allow you to mandate that someone have a job before they receive services, but there's job referral services that can work and hopefully will help some on the issues on personal responsibility," Ryall said.
Beebe and Hutchinson have disagreed about whether Hutchinson's $100 million tax-cut plan would affect critical state services such as nursing homes and prisons.
Hutchinson said he's asked his designee for state Department of Correction director, Wendy Kelley, to give him options to help resolve the state's prison crowding problem beyond building a $100-million prison.
House Speaker-designate Jeremy Gillam, R-Judsonia, and Senate President Pro Tempore Jonathan Dismang, R-Searcy, said they haven't seen much legislative support for the state Department of Correction's $100 million proposal to build a new high-security prison.
"If we are going to keep our streets safe [and] if we are going to not to build new prisons every five years, then we are going to have an effective parole system with accountability that has the capability of changing behavior of parolees," Hutchinson said. "We are going to have more [prison bed] space to accomplish this [and] we are going to have to invest some money in a re-entry program and most significantly in an effective parole system."
Hutchinson said he's "not enthralled with the idea of sending our prisoners to Louisiana. At the most, that is a temporary solution." The state's other options include expanding existing facilities, using private prisons and building a new prison, he said.
He said he doesn't intend to present a plan in this year's session to provide more funds to the state Highway and Transportation Department. "There will be some legislative efforts I assume in this session, but it is going to be hard to pull that together and develop the consensus that's needed in this regular session of the Legislature."
On other matters, Hutchinson said he supports legislation creating "a waiver opportunity" from the state law requiring school districts with fewer than 350 students to consolidate to allow "a deeper look at the equities of each individual circumstance."
He said the state's education commissioner will put together a task force of educators and parents to review the Common Core standards and what changes need to be made in Arkansas.
Information for this article was contributed by Andy Davis of the Arkansas Democrat-Gazette.
A section on 01/07/2015